Instead of following our regular afternoon schedule of activity periods, the girls stayed together in their cabin groups and enjoyed different special events planned by their counselors. This is an afternoon we call "Cabin Day." It's a long tradition at Rockbrook and is a nice change of pace that allows cabin groups to bond a bit more while doing something unusual. The variety of activities today was impressive, many tailored for the personalities and ages of the groups.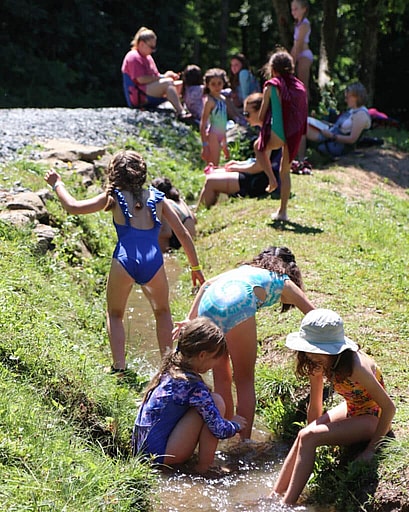 The entire upper line of cabins held a "Block Party." These Middlers, 5th and 6th graders, were first given a scavenger hunt task that sent them into the upper line cabins looking for a dozen different hidden items. One was to find the name of a camper written inside from 1943! They played music on the line, did face painting and hair braiding while enjoying popsicles too. One funny game was to use their feet to find a squirt gun in a pool of squishy beads, and once found use it to squirt the other players. Pretty silly, but also hilarious fun.
The weather this afternoon was full on summer— bright, almost blinding, sunshine, a little humidity and temperatures around 86 degrees. This led several groups to find one of the many water spots at camp to hang out and cool off. A group of Juniors played in one end of the creek near Curosity, racing small boats they made from Rhododendron leaves and other found bits and pieces. At the other end of the creek, a cabin of Seniors did facial treatments and fairy hair, hanging out, reading with their feet in the cool running water.
Of course a couple of groups headed to the lake to play there, doing tricks off the diving board, and goofing around on the floats and tubes. Another cabin of Juniors hiked to Rockbrook falls, one of the waterfalls on the camp property, to wade in the pool below. Nearby, a cabin took a dip in "the Cove," a secret forest swimming spot, also on the camp property. It's a magical place where a creek forms a deep, sandy-bottomed pool after splashing down a small waterfall. With a large rock face on one side and lush forest on the other, it's a really unique place to take a dip.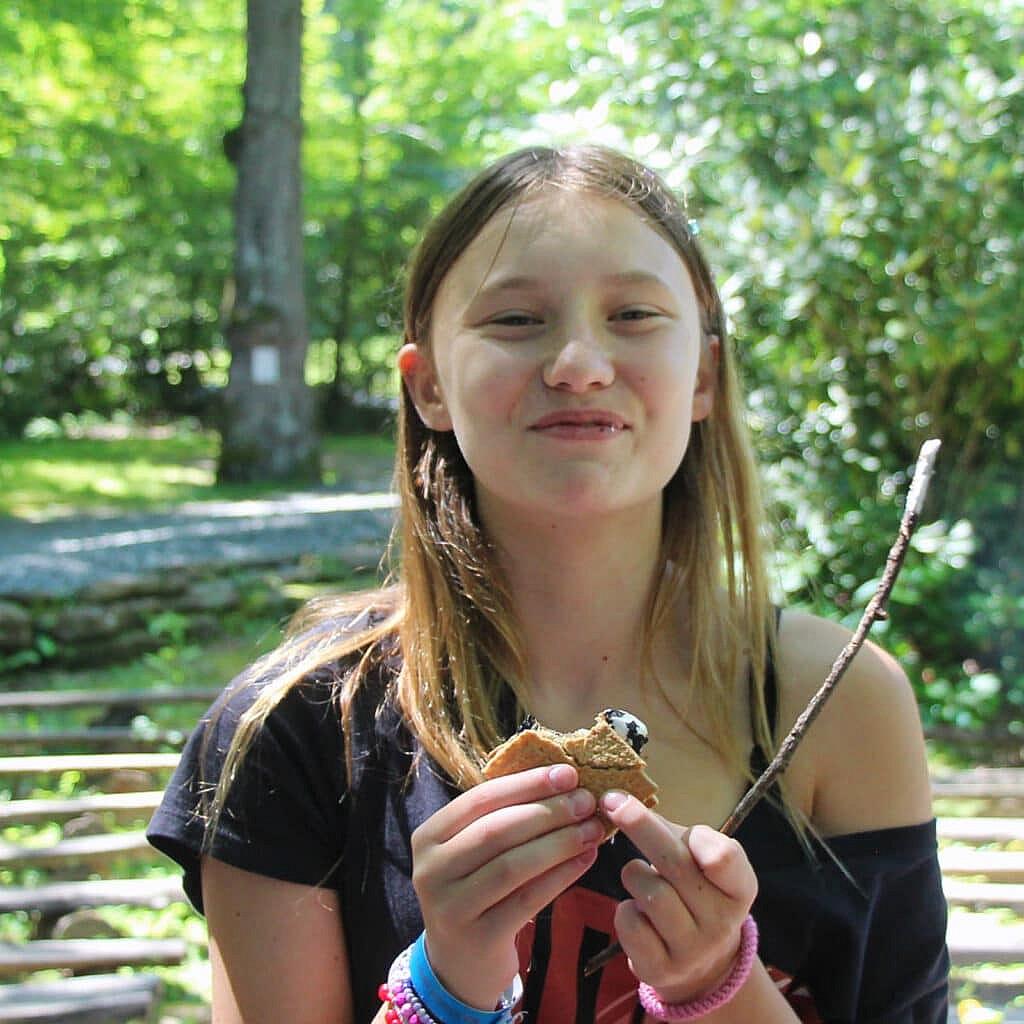 A cabin group of Senior girls decided to spend their time sunbathing on the hill after making snow-cones. Still another group headed down to the lower pottery building to draw and paint self portraits, while yet another group had a fairy tea party on the dining hall porch, complete with tea, cookies, fairy hair and beaded bracelet making. Down on the land sports field, two cabins had a wild "color battle" using paint bombs and squirt guns of (washable!) tempura paint.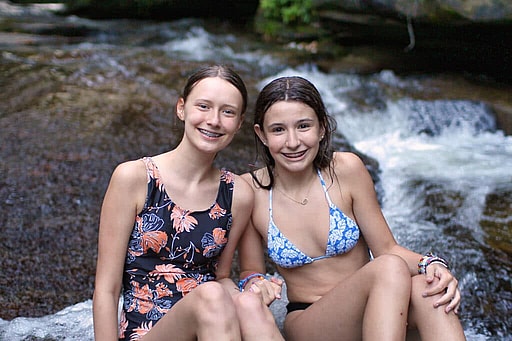 A few cabins of Juniors took their trip to the Pucker Up Berry farm and later to Dolly's for ice cream. The beautiful weather made playing with the rabbits and chickens at the farm, exploring its many plants, and assembling cut flower arrangements even more enjoyable.
The big outing happened in the evening when we took all of the second mini session Middlers and Seniors, 90 people in all, to Sliding Rock. This experience of accelerating down a natural waterside and splashing into the pool below never fails to thrill the girls. Since we go in the late evening, the fading light adds to the excitement of the crowd cheering each pair of girls as they sat in the brisk 55-degree water. When we were done sliding and driving our convoy of buses out of the forest, we stopped at Dolly's for our favorite ice cream treat. Dolly's ice cream is so good, we take every camper there at least once. It's become a fixture of everyone's camp experience that they look forward to each summer. You should definitely plan to stop by on closing day after picking up your daughter. You'll love it too!