As we've clicked along this week, it's been wonderfully busy, I'd say delightfully busy with adventure trips, activities here in camp, and a full dose of costume, song-fueled silliness. Take all the crafts for example. Camp is like a multimedia arts studio run by kids because at any minute of everyday you're bound to see t-shirts being tied and dyed, sparkly beads strung on wire for jewelry, and soft yarns woven into mats on a floor loom or carefully knitted into a hat. In the two pottery studios today, the wheels were spinning and coils of cool, brown clay were being stacked neatly to make bowls. Watercolor paintings, hand-dipped candles, and highly decorated collage memory boxes are some of the other items being created.
There are four scheduled activity periods each day, allowing our girls to balance the creativity of arts and crafts with more physical pursuits too. Today both the Alpine climbing tower and the zip line course had groups of girls scrambling. As some climbed up 50 feet using ropes, logs and stone-like handholds, others zipped down about 1000 feet of steel cable and over 3 different suspension bridges in the woods. In the gym, there was a game of volleyball on one end, while on the other, the gymnastics girls worked on the balance beam. Just down the hill from the gym at the riflery range, other girls were firing away, and according to the instructors, shooting really well with several bullseyes announced at lunch. Likewise for archery— we heard that 3 girls this morning each shot a bullseye with their bow and arrows.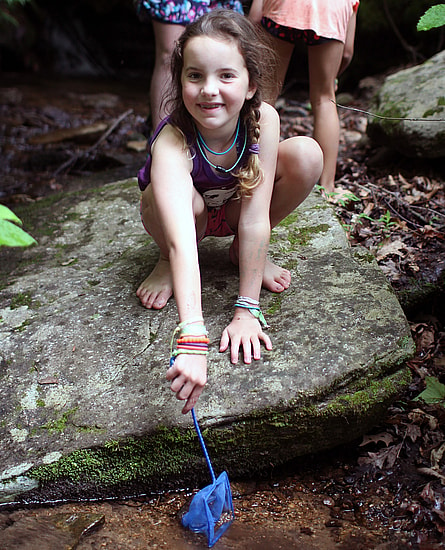 Several trips headed out of camp today as well. For hikes, Clyde led a group of Middlers on a high-altitude hike near the Shining Rock Wilderness area, topping out at over 6000 feet on Black Balsam and Tennent mountains. The weather was perfect making the views from that height absolutely gorgeous! Meanwhile, a small group of Junior campers traveled to the Dupont State Forest to visit Bridle Veil Falls, an amazing portion of the Little River that flows over 120′ or so of gently sloping rock. It has multiple pools and cascading falls, all brightly exposed to the sun. With the great weather we had today, it was magical. After lunch, the paddling staff and a group of Senior girls loaded up a trailer of canoes and floated a section of the French Broad River not far from camp. Again, the excellent, dry sunny weather made the trip both relaxing and fun as the group followed the meandering tree-lined banks of the river through the valley.
Our evening program tonight happened in the gym where we all dressed up for an all-camp game of "Family Feud," or for us, "Cabin Feud." First, to give the event a true Rockbrook feel, we added costumes inviting everyone to dress up with the theme "When I Grow Up" in mind. In costume, answer the question, "what do you want to be when you grow up?" Of course there were several doctors in the house, but also a few clowns, farmers, and hippies. Two campers dressed as their own counselors— the epitome of admiration! Like the famous TV game show, in our "Cabin Feud," two groups squared off by providing answers to questions like: Name a fruit that you ordinarily can't buy just one; Name something that makes you itch; Name a popular trip at Rockbrook; or Name places on your body that often get sunburned, for example. Each question has multiple answers, of course, so when teams answered correctly they were awarded points with the highest tally winning in the end. Part of the excitement came from the girls shouting their outrageous answers to the questions, and from the audience's reactions, but with a giant cookie cake trophy at stake for the winning cabins (one for each age group), everyone was fired up! It was a night of good camp fun. Sure it was silly and loud, wacky and pretty outrageous, but that's exactly how we like it.