This is the time during a camp session when girls can be seen spending some of their free time doing crafts. You see, some of the craft projects can take quite a bit of time to complete. Take weaving, knitting or friendship bracelet making for example where a basic unit— passing the weft, knitting stitches, tying overhand knots —is repeated over and over again. Depending on the size of the project, this can require extra effort to complete. Likewise, other crafts have multiple steps involved. A painting may require a simple pencil sketch before layering on paint, for example. In pottery, there's shaping the clay (on the wheel, using coils or slabs, etc.), letting it dry, applying different colored glazes, and then firing the pieces in a kiln. The pottery instructors want to fire the kilns on Monday, in time for the girls to pick up their finished work before going home, so there seemed to be a non-stop glazing party in the upper pottery studio today. Both kilns will fire two times over the next few days producing several hundred pieces of colorful ceramic works of art. At least one of them is bound to be yours!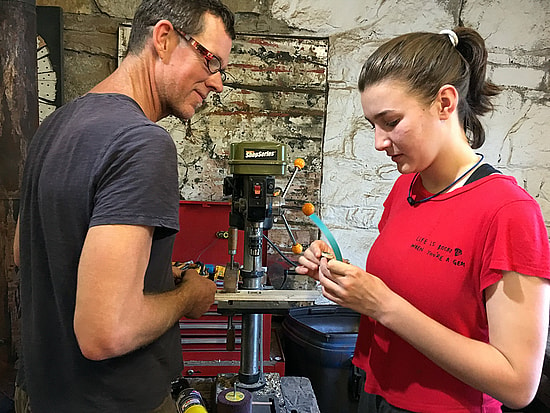 There's always something special, out of the ordinary, being offered at Rockbrook, and today it was a visit to George Peterson's woodworking studio for a tour and project workshop. Two groups would spend either the morning or the afternoon learning from George and his wife Margaret who is an Alumna of Rockbrook. George is a successful working artist here in Brevard who creates sculpture and functional pieces from different species of wood, old wooden skateboards and skis. He's displayed his work in galleries across the United States and abroad. It's no surprise when you see his work. Take a look at his portfolio: The Circle Factory.
Visiting George's studio is fascinating. He has stacks of raw materials, powerful cutting tools, drills, torches and other scraps of metal he uses to shape and scar wood. There are piles of saw dust, paints and ink, straps of leather, completed projects displayed and works in progress. Today's project had the girls making a leather and wood bracelet from a chip of a multilayered skateboard. George and Margaret helped the girls use a drill press, a vibrating carving tool, sandpaper and a metal "RBC" brand to shape a colorful chip that they then sewed to a leather strap. As they completed each step, the girls soon had very cool "wrap around" bracelets to wear, and an exciting story to tell when they arrived back at camp.
There's a rumor circulating among the campers that there was a midnight party last night. Some of the campers remember being woken long after they went to bed and being coaxed out to the hill where they found glittering fairies dancing, food and drink, and loud Beyonce music. Still half asleep, disoriented by glowing balloons, multicolored glow sticks, and the antics of the fairies, the campers soon found themselves having a fun, outdoor, nighttime dance party! Then as suddenly as it began, the fairies disappeared and the girls were back in bed. It's just a rumor whether this fairy party happened or not, but I think I spotted some glitter on the hill the next morning. That makes sense, since at Rockbrook, we all know fairies are real.