This is the moment at camp when the energy everywhere becomes absolutely electric. The campers are enjoying their last rotation of activities and everyone is clinging to these precious opportunities to make their beautiful crafts, reach new heights, hit bulls eyes, be with the horses, go on the zip line, or learn to roll a kayak. The ceramics have been glazed and are in the kilns being fired. The bird houses, tie-dyes, and weavings are being finished up, rinsed out, and tied off. Campers and counselors are squeezing in last rehearsals before their big performances on Wednesday. At just about every minute something is culminating in completed creations, hard-earned accomplishments, and mini-celebrations. Truck loads of campers went off to Dolly's Ice Cream Bar today to celebrate swimming enough laps to become "Mermaids," and for running enough miles to make "Rockbrook Runners."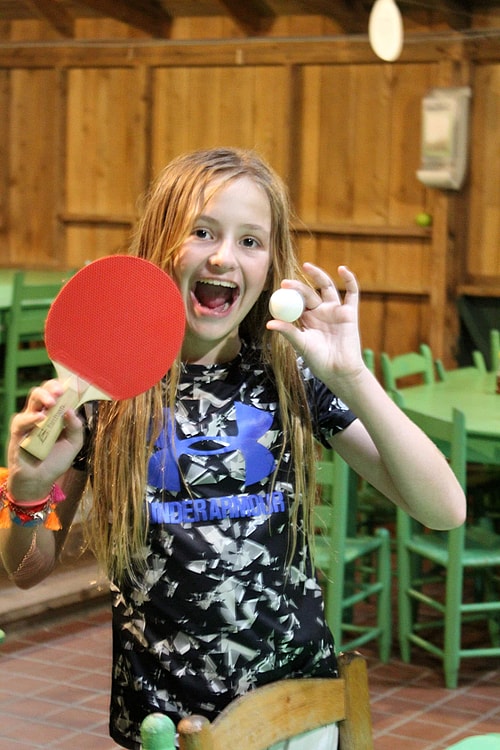 In the dining hall at dinner, the excitement from the thrills of today gave way to crackling anticipation for tomorrow. Sharp shooting campers will be competing in Riflery, Archery, and Tennis Tournaments with the boys from Camp Carolina. Campers will finish up their last day of the activity rotation. And tomorrow night we will all get to experience the long-awaited CA Banquet! The fun and mystery of this favorite end-of-session celebration is already beginning as the CAs wrap the dining hall in sheets to conceal the hard work of their Banquet theme and decorations as they set up. The dining hall will remain cloaked from view until they are ready to welcome everyone into the dining hall for their big surprise dinner event tomorrow night.
The cheers and squeals of excitement continued to echo over the hill side past sundown as campers shared their last evening programs together with their individual Junior, Middler and Senior lines.
It's so hard to imagine how much is packed into a session here at Rockbrook. And theses last few days of our camps, the air everywhere is utterly sparking with enthusiastic activity, friendships in full bloom and a collective commitment to cherish every split second of every last moment together.