It started way back on the first day of camp this session, the day all of the 9th grade girls, our "CAs," began talking about the party they'd be planning. To be fair, many of these girls probably had been thinking about this party for months prior to camp. Some even began talking about how they'd throw this party last summer. Of course, I'm referring to the "Banquet," the end-of-session blow out party everyone at camp looks forward to. Ask anyone and you'll quickly learn that the Banquet is a big deal at Rockbrook.
That first day weeks ago is when the CAs took a hike out of camp where they could brainstorm ideas privately and narrow down options to a single theme for their party. This group started with about 60 different ideas, but by the end of the hike had landed on the idea of a county fair. They wanted a country aesthetic with farm animals, boots and hats, but also the festivities of a fair. Ultimately, they settled on the title, "Rockbrook County Fair."
But this was no ordinary county fair. It had folks dressed in western wear like flannel shirts, jeans, cowboy boots and hats, but also attending were quite a few world famous celebrities. It's hard to say who was more popular, but we had both Taylor Swift and Dolly Parton at the Rockbrook fair, each dressed up and ready to perform. Also attending was Hannah Montana and Miley Stewart.
Of course, there were also plenty of animals, including Jessie the cow, Gary the goat, Rufus the dog, Fried the chicken, and Betty the black sheep. There was a particularly pink prize pig, too.
Attending the fair, there was granny Meemaw and old man Peepaw. All of these characters were played by the CA girls. Their costumes were fantastic! They also made a fun sticker shaped like a fair entrance ticket, and gave one to all of the campers.
They also had the entire interior of the dining hall decorated with scenes from a county fair. There were signs for county fair games, fair food, and song lyrics. They painted large colorful scenes on paper that covered every inch of the dining hall walls. With streamers and strings of lights strung in the rafters, it was a a fun, festive scene. They had arranged the tables to leave a large area open in the middle of the floor, which quickly became a dance floor whenever a new song was played. On the tables was a colorful program, plus a surprise treat of some candy and a variety of sodas.
The CA campers, in between dance numbers, served county fair food too, things like fresh watermelon slices, "Farmer Toby's Tots," Meemaw's mac and cheese, with Peepaw's Fried chicken, and homemade apple crumble with real whipped cream for dessert.
There was plenty of dancing, but suddenly a plot began to unfold. During the auctioning of a pig, a bidding war broke out between Taylor Swift and the other celebrities, rapidly increasing the price to more than a million dollars! Just when everyone thought Taylor had won the pig, two robbers burst in and stole the pig! Soon there were two sheriffs on the hunt to recover the stolen pig. With the help of others, they searched for the pig.
While the sheriffs and others were looking for the pig, others in the ensemble performed the "Hoedown Throwdown," "Our Song," and finally "9 to 5" as a dance showdown to determine who got the pig. Eventually, the missing pig was located and the entire cast celebrated with more dancing and singing.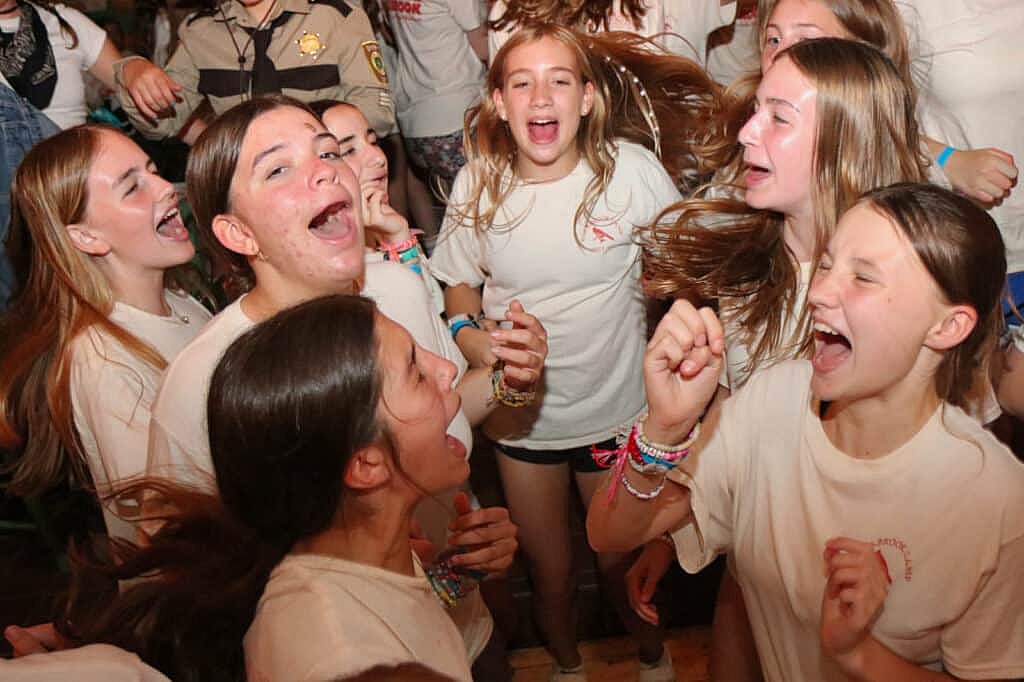 Overall this banquet was another huge success because it combined all these fun elements— unique decorations, elaborate costumes, entertaining choreographed dances and skits, party food and treats, plus plenty of opportunities to get up and dance with friends. It was such a unique camp event and a great way to celebrate our time together this session. Singing at the top of their lungs, dancing in big groups, hair bouncing and flying about, this was a party to remember. Everyone seemed to comfortable and happy, excited just to be a part of it. Take a look at the photo gallery, and you'll see it was an evening of non-stop smiles. Camp is simply great like that!