"Stupefy!" "Expecto Patronum!" "Petrificus Totalus!"
And so began The Wizarding World of Rockbrook Camp, or the day when camp magically turned into Hogwarts School of Witchcraft and Wizardry! After lunch, campers returned to their cabins, and for Harry Potter fans, their dreams came true: their acceptance letter to Hogwarts (finally) arrived! They were witches and were invited to spend the afternoon taking classes along with the rest of their house. Each girl was sorted by cabin into one of the Hogwarts Houses: Hufflepuff, Gryffindor, Ravenclaw, and Slytherin.
We made our way to potions first, and we mixed phoenix tears with unicorn hair and put it in a vile to save for later. Theme music from the Harry Potter movies blasted in the background, setting the tone and putting us all more in the spirit.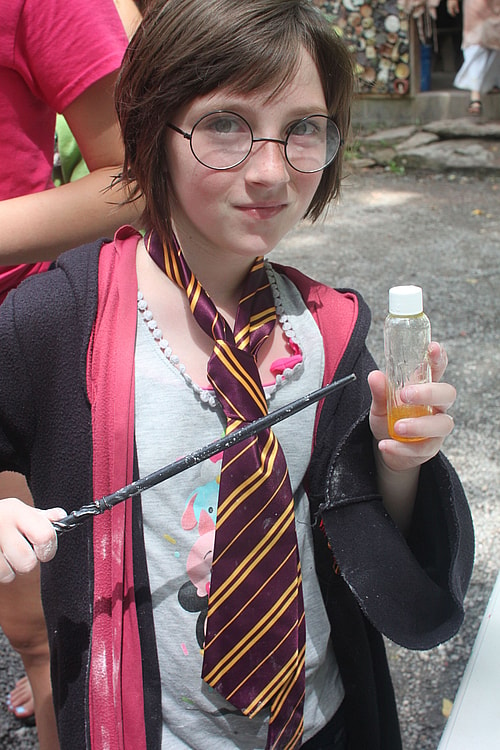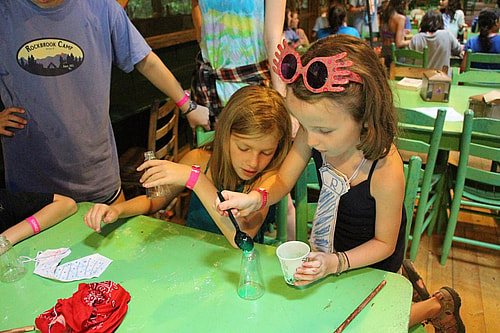 After learning so much in our potions class, we headed down to our Common Room where we drank butterbeer and spent time preparing our uniforms (coloring ties) and listening to Hogwarts History (reading the Harry Potter books). It was a relaxing way to spend time before the next part of our adventure.
We then meandered down to the gym where we took part in important adventures such as rescuing Dobby (clothing relay), Quidditch practice, and walking like a spider. The cabins competed against each other and saved the day every time!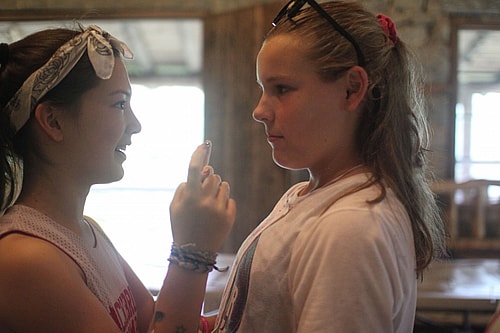 Following our adventures, it was time for another class. We went to Wandmaking where wands chose us and then we spruced them up with paint and a nice handle. Then, a charms professor taught us a few spells, and we practiced them on each other. First, we practiced unfreezing people who had been subject to "petrificus totalus" (by making them laugh) and then we practiced the rest of the spells with a rock-paper-scissors type game.
Afterwards, we looked up and we heard voices of distress—it was Harry Potter flying across the sky (on the zipline) as Voldemort was chasing him! They came down to where the campers were sitting on the hill and dueled—Harry Potter won and we all cheered!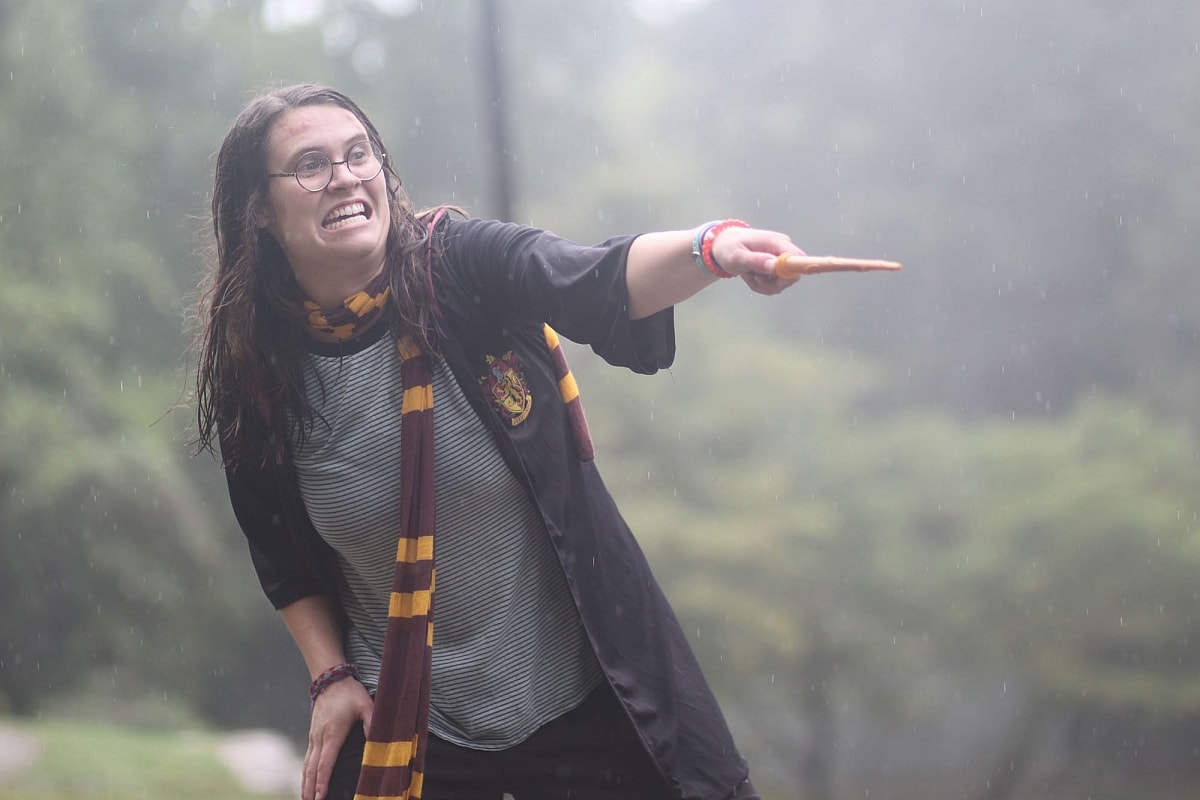 It was then time to attend dinner in The Great Hall. With lightning scars (tattoos), floating candles (posters) and owls overhead (bird cages), we enjoyed a feast. While we were eating, we sorted each other into houses based on cards on each table that listed the personality qualities of each house. We also talked about what patronus (spirit animal) would protect us. The entire day had felt magical, and it continued through announcements when Sarah Carter (filling in for Professor Dumbledore) warned us not to go to the third floor corridor or into the Forbidden Forest.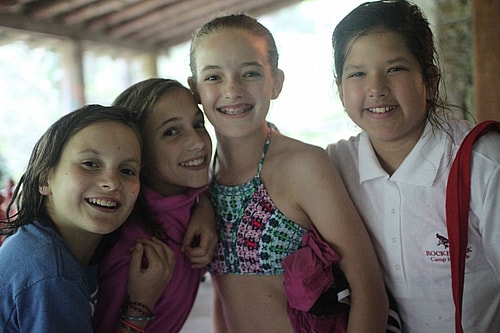 For evening program, the seniors had a different kind of magical experience: it was coffee house! Coffee house is basically open mic night. With a crackling fire in the background and rich hot chocolate in hand, the girls watched their friends perform. Some girls performed songs like "Those Magic Changes" from Grease, "Valerie" by Amy Winehouse and "Put Your Records On" by Corinne Bailey Rae. Everyone sang along with songs like "Riptide" and "A Thousand Years." Other girls performed poems, some that they had written themselves.
My favorite part about coffee house is the amount of support that each girl who performs receives. The entire line cheers for each girl with the bravery to go up and share their talents. Cabins shout, "She's from Cabin 5!" and girls stand on the benches, giving wild applause, after their friends perform. Counselors begin to tear up as they are so proud of their campers' performances and talents. The combination of talent, support, and warmth makes coffee house an unforgettable evening that somehow epitomizes the magic of camp for teenagers. In every way imaginable, today was a truly magical day. We were transported into a different world, but also remembered to be grateful for the camp world we have the privilege to be a part of.