Summer Camp
Horseback Riding
In this video (4:07), learn about horseback riding at Rockbrook Camp for girls. See the horses, the equestrian facilities, and meet the riding instructors.
Transcript – Horseback Riding Video
Our horseback riding program at Rockbrook Camp is based off of the forward riding system. And so we focus a lot on, first of all, safety. We also focus on skill development. And of course, fun. We offer different levels of every rider, from beginners to advanced to girls who just want to ride for fun to girls who really, really want to develop their skills and thinking about being a pretty good rider.
It gives me an experience to ride different horses and try different things, especially because the horses are very special and they're all different.
Every horse in the barn has their own personality, and it's really neat to see how the campers can really identify those personalities. And what's even more neat is that we are able to kinda match those camper personalities with those horse personalities.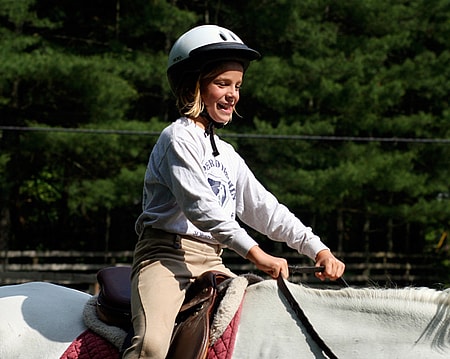 Coby is my favorite. He's super sweet and also funny. And Rodan is another horse I rode. He was also super sweet. And they're both two different rides.
With Rockbrook Camp being an all girls camp, I think it's really important to develop confidence in young girls. Horseback riding is definitely a confidence builder. The majority of our campers that come to Rockbrook, this is the first time that they've ever even touched a horse, let alone sit on its back. And so those are some of our favorite campers, because we really get to see how they develop that love and that relationship with horseback riding, then turns out to be a lifelong love. The advanced riders that come here can ride up to six days a week. A lot of our staff members are recruited from collegiate equestrian programs, and so a lot of those staff members are going through the process of becoming professionals in the horse industry. And so our advanced riders are paired up with some really great instructors. We're very apt as far as with our skill development to really focus on what they want to work on.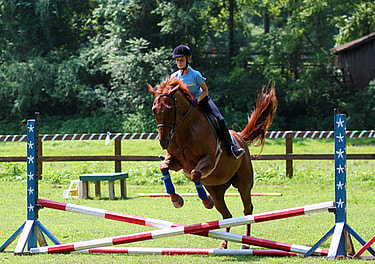 It gives me a chance to become better at riding, because I try different horses and I'm trying new things on different horses. And also I'm learning new things from new people.
We have a full covered arena with lights and fantastic footing. And so rain or shine we're riding horses.
I like the covered because it keeps a lot of the heat away. It's a lot cooler, a lot nicer out here.
We also have some outdoor facilities that we ride in. We have some outdoor arenas that consist of sand footing. And we also have some outdoor arenas that consist of grass footing as well. And we also have the availability to ride in some open fields for the advanced riders. It's also a great place to create relationships. Creating a relationship, whether it's with our two-legged instructors or our four-legged instructors, it's a really great place for the girls to really come and feel loved and to really build those character skills that's important as a young girl.
I personally think it's amazing!