So Yummy!
Delicious Camp Meals
This short video provides a peek into the delicious food we enjoy at Rockbrook. Narrated by our head chef, Rick Hastings, it describes the whole ingredients and cooking philosophy guiding our camp meals.
Camp Food Video Transcript
When you go to summer camp, you're over abiding goal for everything is to have a good time, and enjoy yourself. So my goal is to provide a variety of foods they are both interested in and excited about. We've got a ton of kids here that all love to get their hands in to new stuff. And our kitchen really produces a lot of whole and natural foods and really breaks things down from scratch allowing us to be reconnected to our food source.
Everything is made from scratch. We've got a full bakery, and we serve muffins and a fair amount of bread, and all our muffins and all our pastries are all produced in-house. So, if we're having say, chicken noodle soup here, we're buying whole chickens and breaking these chickens down. So we boil the chickens down, pulling all the meat off the bone, using that stock to make the soup, instead of opening up a can of soup.
Cobblers are another example. If we're doing a peach cobbler, we're going to be breaking down together two or three bushels of peaches and blanching them, peeling them, cutting and processing them, and then making a pastry and baking it up, instead of opening a can of peaches and pouring it in a pan or putting a pre-made pie crust on.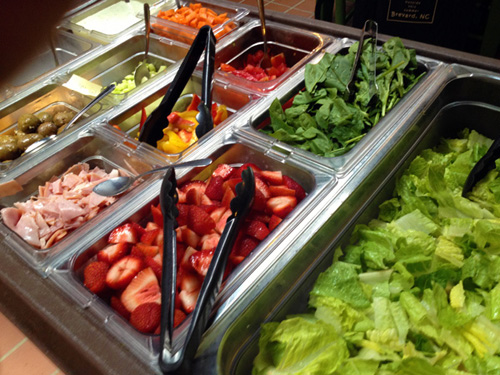 They do a thing here called the "Restaurant Night." There's a different theme for each one. One of the ones we had this year was "Oscar night," and so we ended up doing a lot of appetizer foods and having people walk around with platters and on that night we had cut up fancy cheeses and crackers and we had bacon wraps, scallops, and Spanakopita and kind of traditional appetizer food.
For "International Day," we pick a different country. There's a lot of kids from other countries here. If you come all the way across an ocean to camp, it might be your first experience here, it's great to have something to reconnect you back. So we've had a Russian meal, we've had a Chilean meal, we've done some Middle Eastern food, things that both give people new experiences and a different kind of food to try and also provide comfort for those kids who are a long way from home.
For a lot of kids it's a really foreign thing, and food they've never seen. So to watch them feel comfortable enough and open enough to try these new foods, I feel like it's a great camp experience. It's just one more facet of camp and the things that we can offer kids in terms of broadening their horizons. You might think a 9, 10, 12, 13, 14-year-old girl will have no interest in. And watching them approaching me like that and eat it and come back and say, "I've never had that before, it was so good."
Satisfying Camp Food
It's really satisfying to me, and the food is an enhancement to your experience and not just this obligatory thing we provide because you're here.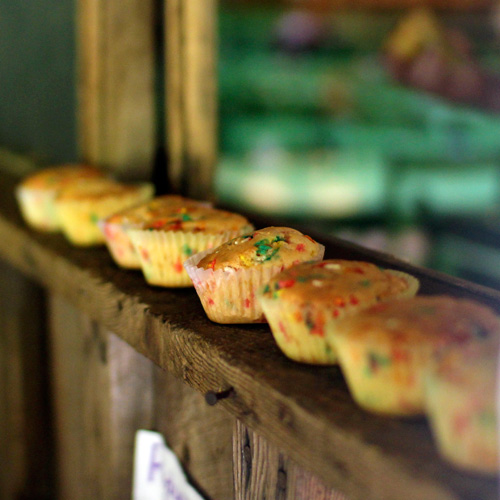 And it's not to say we don't have a lot of sweets and a lot of delicious stuff. But again, we use whole ingredients and whole foods to produce these. Oh, muffins are a huge thing and they're made from scratch everyday. Every morning the baker comes in around six and the first thing she does is make the muffins. Every morning there's a muffin break and it's been a tradition here from years and years and years. They'll start to clamor for the muffins around ten. And it's a big event to run down and get a fresh baked muffin from the bakery.
But one thing that we all talk about in the kitchen a lot is having a good time. You enjoy what you're doing and you put some love into the work and it really shows on the other end. Everyone in the kitchen has a lot of pride in the food they put out. And that attitude in the kitchen feeds out to the kids. You know, the most satisfying is just having some kid come up an say, "I have never tried that kind of soup before and I tried it it was so good." And that may be the first time that kid ever had that soup. That can have real impact on someone's life. That's really touching somebody.
It's a strange job to feel so much satisfaction from, but it's just a great example that any kind of work can be satisfying if you approach it with kind of this excitement that you can do in this new and different way, and that contagion just works really well at a summer camp.
The kids are excited, so you're excited and you're excited, so they are.