By Car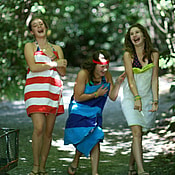 Opening day is a busy and fun time at camp. Plan to arrive according to your assigned time, which varies by grade (between 9:00-12:00 noon). You will be met by camp directors and have the chance to talk with the camp nurse, and meet your camper's counselor. Lunch will be served for the campers at 1:00 PM. After lunch, campers are quickly involved in a variety of activities. These include swimming, hiking, camp tours, and more. Activity sign-ups for the first week are held in the evening and regular activities begin the next day.
On closing day, breakfast is served a bit early so campers can depart anytime after final announcements. We suggest planning to pick up your camper between 9am and 11am. Campers may not leave camp with anyone except their parents or legal guardian unless arrangements have been made with our camp office in advance.
By Air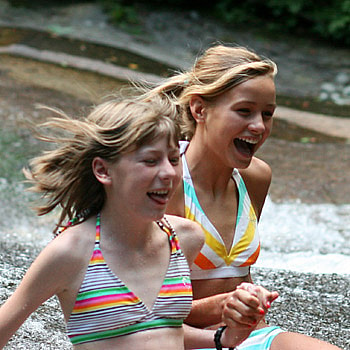 For campers who are flying, we recommend selecting flights that arrive and/or depart the Asheville, NC airport (AVL) in the morning.
We provide a shuttle service to and from the Asheville, NC airport (AVL), but not any other airport.
Campers ages 7-12 must travel with an Unaccompanied Minor Form purchased at the time reservations are made. Please prepay for this service. Before completing the Unaccompanied Minor Form, please contact our office for the name and address of the person who will meet your child at the airport.
Campers are met at the airport by camp personnel wearing Rockbrook apparel and are escorted to our bus for the 30-minute trip to camp. Your daughter should carry a list of phone numbers, including Rockbrook's and a small amount of travel money. We will telephone you when your daughter arrives.
Round trip tickets, passports, money, and Unaccompanied Minor forms will be collected and held in the camp office until departure. One-way paper tickets should be in the camp office at least two weeks prior to departure to help us finalize travel arrangements.
We recommend campers arriving by plane pack a change of clothes, and a swimsuit in a backpack to carry on the plane. This can really help if airport luggage arrives late. Please be sure to label clearly your child's luggage with her name.
International campers should be sure to contact us to make special arrangements. All campers will receive further written information prior to their camp session.