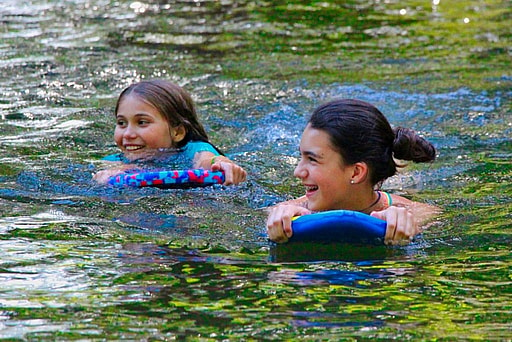 Here are a few things campers and parents have been saying about Rockbrook.
"This was her first time away and she had a wonderful experience. She had excellent counselors, wonderful girls in her bunk, a variety of experiences, and was able to try new things. She came home happy, confident, and full of songs and stories."
— Parent, Naples, FL
"Rockbrook has been a much-anticipated turning point for our daughter. I can't put my finger on it, but she's just a little bit different, in the most wonderful way."
— Parent, Austin, TX
"We love Rockbrook for the friendships, confidence, and joy that come from being a part of a close, happy, unabashedly zaney community!"
— Parent, Asheville, NC
"RBC is a lovely camp in a beautiful setting, that teaches good values. It's safe, good for girls, and it's fun!"
— Parent, Decatur, GA
"This camp is extraordinary, staffed by a team of compassionate, wise and generous people."
— Parent, Park Ridge, IL
"Rockbrook is near and dear to my child's heart. She has grown up coming to camp, has been on all three lines, and is now an independent teenager, full of confidence, self esteem, and spirit, a true 'Rockbrook girl.'"
— Parent, Rome, GA
"We love the camp, the programs and especially the staff. My daughter could not have had a better experience anywhere else."
— Parent, Charlotte, NC
"It's quite true that a spirit of Rockbrook does exist, and it's what brought me back year after year. I could hardly wait for summer, knowing that camp and old friends would be waiting. Many of my dearest friendships were made at RBC and a lot of my philosophy of life was formed there."
— Former Camper, Tallahassee, FL
"Rockbrook is the best camp ever!!! At camp I love cabin day, climbing the alpine tower, movie night, and everything else. The coolest thing about Rockbrook though is that when I went last year I didn't know anyone, but when I got to my cabin everyone was so nice to me and I made friends with almost everyone in my cabin in the first 15 minutes."
— Camper, New Orleans, LA
"My first year at Rockbrook has been the closest to magic I've ever gotten to."
— Camper, Atlanta, GA
Read more reviews.