We began today with another chilly misty morning as campers and staff made their way to the dining hall for breakfast. Excitement soon filled the air as we saw what was for breakfast….waffles!! Some also noticed a banner on the wall, a few tables and chairs missing, and even a kayaking paddle where the missing table should have been. It seems the Hi-Ups had pranked the CAs. Here at Rockbrook we have a few rules about pranking. The first, along with everything else at Rockbrook, is that it must be kind. Second, the prank must be something that can be undone (e.g. nothing broken or ruined). And third, the group who pulls the prank must be willing to help undo it. In this case, the Hi-Ups moved the CA's dining hall tables and chairs to the lake! When the CAs arrived, they were surprised to see their breakfast was being served waterside! Lots of waffle hunting and laughter ensued.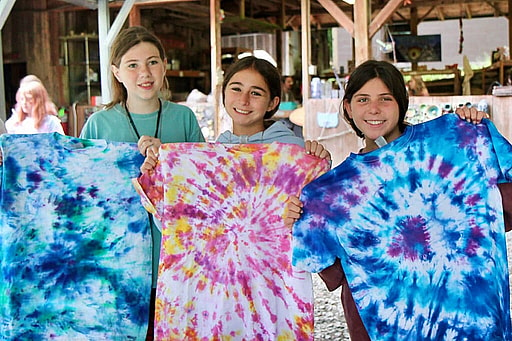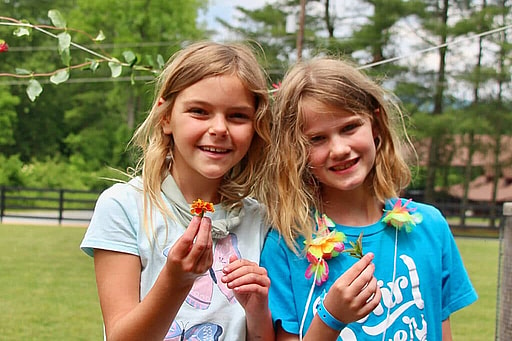 Morning activities kicked right into high gear as campers and staff walked to their first period activities ready to finish out the three-day rotation. Later this evening they'll be signing up for their next set of activities. A couple of lucky cabins took a tour on our zipline and high ropes courses. They all had a wonderful time going across all three ziplines while shrieking with happiness! Today's muffin flavor was blueberry chocolate chip. While most enjoyed the combo, a few picked out their blueberries to have a classic chocolate chip muffin.
At lunch, we announced several special trips: Sliding Rock, Dolly's Dairy Bar, and Pucker Up Berry Farm. Cabins roared with cheers as they heard their cabins being called for some of these fun adventures. Lunch ended with mailboxes being emptied, cabin photos being taken, and the start of a relaxing Rest Hour.
Cabin Day is usually an activity done together as a cabin and is planned out by the counselors. Today, the Senior Line (our 7th-9th graders) did something a little different; they had a line-wide cabin day! The counselors worked hard prepping a unique game that mixed the campers, dividing them into 12 different groups that would compete in the game.
The game was a battle of sorts where each group had "tools" they could use to score points against others. These "tools" were sections of pantyhose filled with flour! Tied into small balls, there were black pantyhose balls and white ones too, each worth different points. A team would score points whenever they hit someone on an opposing team with one of the balls. Needless to say, the girls enjoyed firing these balls at each other on the hill. And since they were all dressed in dark colors, the white flour left a mark when hitting someone. The prize awarded the group with the most points was an ice cream treat.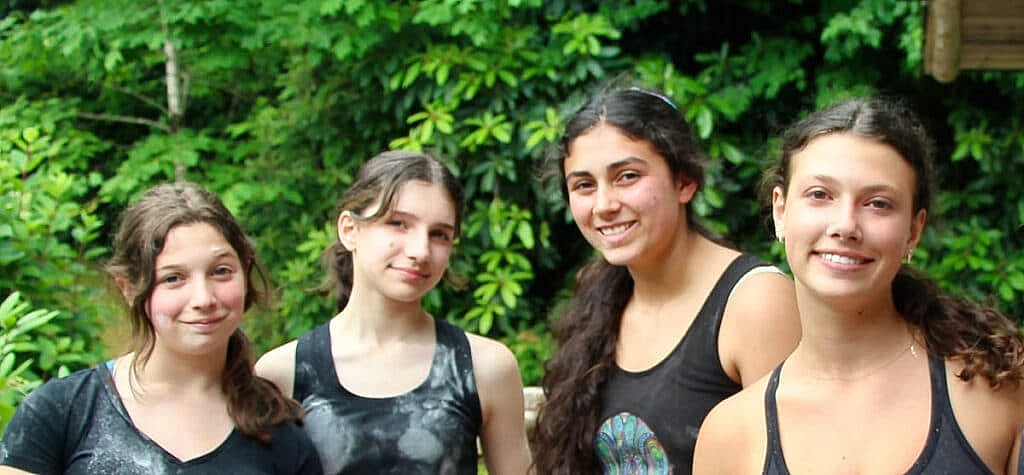 In addition to trying to cover one another in flour, teams walked around camp to find counselors who had special tasks for them to complete in order to earn other candy treats. Some of the tasks included answering trivia questions, building a human pyramid, and various hula hooping challenges. The Seniors roamed all over camp making new friends from other cabins and having a grand afternoon.
Meanwhile, we had cabins watercoloring at Rockbrook Falls, down at the archery range playing games, climbing the alpine tower, and tie dying some t-shirts. By the end of cabin day, everyone looked happy to have spent time with their cabin mates. After dinner, another large group of campers and staff headed off for a chilly evening sliding down the rock— at Sliding Rock, that is! Dressed in swimsuits and ready to slide, the girls sat down in the stream at the top and slid the 60 feet into the pool at the bottom. It's a classic summertime mountain thrill, and these Rockbrook girls loved it! And of course, Dolly's was the final stop of the evening. Another action-packed, happy fun day at camp!
—Casey Blair