Today campers began a new rotation of activities, and experienced a regular Monday at camp. While this may seem pretty unexciting, a typical day at camp is actually when that camp magic happens. Although adventure trips and special Rockbrook surprises are important and provide unique experiences for campers, there is something special and valuable about having a regular day of camp.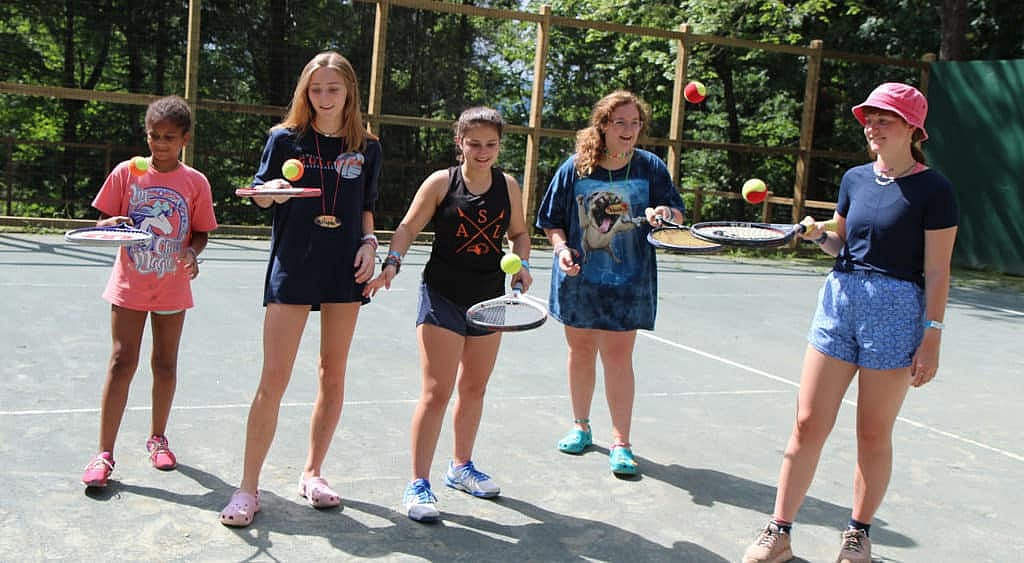 In activities, girls are able to connect with other campers and counselors of their age group, or line, who may not be in their cabin. They get to practice and learn new skills at the same time as building relationships. Campers don't need to go on the zip line or a hike to be pushed out of their comfort zone. Swimming, curosty, or climbing at camp can challenge girls and allow them to grow, while being alongside their peers and counselors.
Free swims are also valuable because twice a day campers can choose their own adventure. For example, they might go to the lake to swim mermaid laps, join in with Rockbrook runners club to run on the trails, or simply sit on the hill and make friendship bracelets. The options are only limited by campers' imaginations! It is important for girls to have this sense of independence and ability to make their own decisions as they are growing up. These free times throughout the regular camp day allow girls to have the social and physical space to be themselves as well as the space to let their imaginations run wild.
A regular day at camp also leads campers to some special places around Rockbrook's property. One path leads past the tennis courts, the Carrier House, and lower pottery to a tunnel that goes underneath Greenville Highway, so girls can safely get to the barn. It's a fun experience to walk down the wooded path, through the darkened tunnel, and pop out on the other side to a scene of green pastures, the horses, and the winding French Broad River. Up in the main part of camp, girls absolutely love to play in the two creeks at the foot of the hill. One creek is diverted from Rockbrook Falls and feeds into the lake, providing us with fresh mountain water to swim in. The other creek comes from Stick Biscuit falls, and winds its way underneath the Dining Hall, past Goodwill, behind Curosty, and down the mountain. There is almost no need to ever leave camp for trips, as we are fully immersed in the beauty of nature right here at Rockbrook!
Trips and special events are certainly beneficial to the overall camp experience, but it is important to remember how special a regular day at camp can be all on its own. The small moments, the in-betweens, the laughs and friends—these are what add up to create a camper's Rockbrook experience. The magic of camp of a great summer camp is already present in the people, places, and spaces at camp, so we hope the campers take every moment they have to experience that magic.