"Letting go" is a phrase that seems particularly apt when you consider life at camp, even more so at an overnight camp like Rockbrook. In so many ways, the campers let go of the familiar while they're here. Think about it. They find themselves sleeping in rustic, 90-year-old wooden cabins with eight or so other people. When they look up in their bed, they more than likely can spot a spider or two. Instead of the whir of an air-conditioning system as they fall asleep, the sounds of crickets and other nocturnal forest creatures linger in the background. Even what they eat— homemade hummus, grilled barbecue tempeh, corn tamales, and strawberry white chocolate muffins, for example —is foreign to many of the girls. All of their familiar screens— TVs, computers, smart phones, and tablets —gone! And of course, most of the activities at camp offer new experiences, from shooting a real gun, climbing a real rock, and using a vintage floor loom, to diving into the freezing cold water of our lake. With so many new things, it's impossible to cling to what you already know.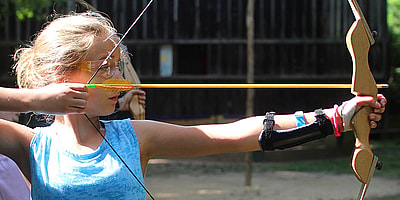 There's more. Camp girls, simply by virtue of being away from home, also let go of their parents in certain ways. Free from the prescriptions, intervention, and inspections of mom and dad, this means making all kinds of decisions on their own. It might mean deciding to adjust certain habits of personal hygiene (brushing hair or taking a shower less often for example) because more important (i.e., more fun) things are happening like a ga-ga ball game before lunch or great conversation before bed. Being at Rockbrook, girls don't depend on their parents to fill their free time, to dictate what always comes next, or to solve every problem. Of course, there are excellent counselors here, wonderful people to guide this freedom, but camp gives girls the opportunity to experiment with things and gain more confidence after seeing how their decisions turn out… good and bad.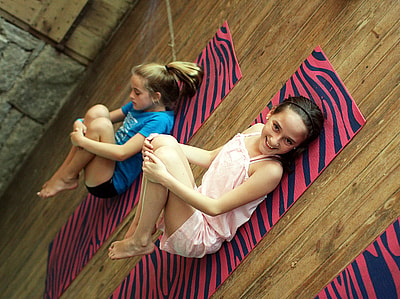 Asking the campers themselves about how they feel at camp, I've heard the older girls say camp is their "happy place" where they can let go of their worries.  Different from the competitive atmosphere of school and the insecurities it can breed, the Rockbrook community is defined by compassion, kindness and generosity. Camp is a place of encouragement where, instead of being left out, ignored, or put down in some way, girls feel supported, respected, and affirmed. In this kind of community, girls don't worry about how they look, whether or not they're "good" at a particular activity, or if they're "cool" enough to be included. All those worries fade away at camp when the point of things has nothing to do with evaluation and everything to do with simply having fun.
Letting go of worries like this also empowers a girl to let go of her polished persona, that "face" she believes others want her to be. Joining a camp community like Rockbrook, knowing she's truly a part of it, trusting the people around her and caring for them in the way they care about her, inspires her true personality, spirit and character to shine through. It can be a remarkable transformation for a person. By being so supportive, camp opens up a space for a girls' authentic self to emerge and grow.
So after letting go of all these things at Rockbrook, what's left? Simple stuff: Authenticity, Nature, Friendship, Joy, Creativity, and Community… a life that feels really good. That is camp.