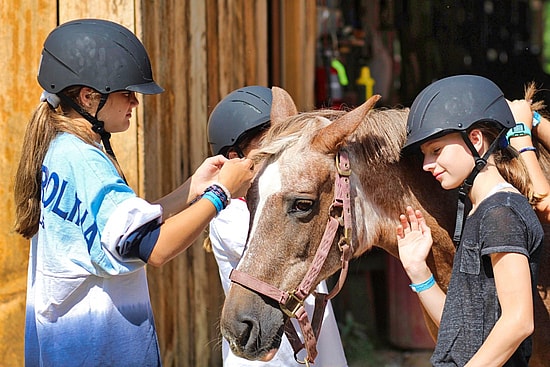 Horseback riding has always been extraordinarily popular at Rockbrook, with at times close to half the girls taking mounted riding lessons at least once (though as many as five times) a week. We have an amazing herd of 30 horses again this summer, all of whom are schooled horses throughout the rest of the year either as competitive show horses or therapeutic riding ponies. This range of horses allows our equestrian staff to find horses that matches each rider's skill level, and to offer a range of mounts. The girls love being able to interact with the horses both on the ground and while on their backs riding. There's always grooming to do, often time for a wash, and all those manes, tails and forelocks happily love being braided. With our current beautiful weather, time at the barn and the riding lessons have been simply glorious.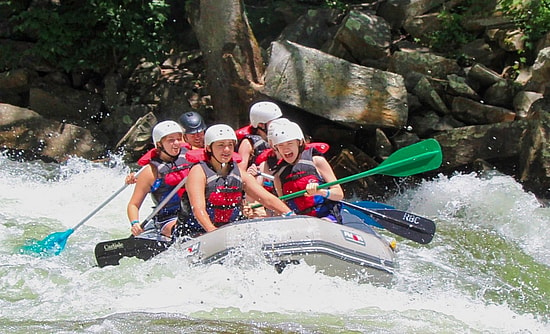 It was time for some outdoor adventure today too because we took our first whitewater rafting trip down the Nantahala river. Three buses left camp early this morning to allow a big group of seniors to spend the morning bumping and splashing down the river over in Swain County. Our team of Rockbrook guides met us at the put in spot and was ready with our fleet of seven RBC rafts, and piles of paddles, life jackets and helmets. Despite the recent heavy rains, the river was only slightly higher than normal, making the trip a little faster, and little more fun too. The warm sunny, cloudless day made it even better, and with very few other people on the water this early in the season, this trip really could not have been better! Check out the photo gallery for a few shots of the day.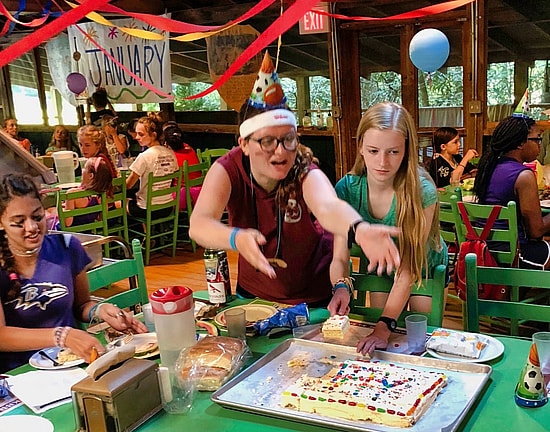 How would you decorate 12 different cakes? That's exactly what our Hi-Ups did this afternoon, helping the kitchen prepare for our special all-camp birthday party at dinner. With two giant tubs of vanilla and chocolate frosting they began with a generous layer on the sheet pan sized cakes (about 18×24 inches), and then worked to decorate a unique design for each month of the year. They used jelly beans, M&Ms, chocolate chips, colorful sprinkles, and even breakfast cereal to spell out the names of months (mostly abbreviated). But why stop there? Soon the cakes were popping with decoration, each Hi-Up having a chance to build a delicious work of art. When the cakes were brought out, the whole dining hall sang "Happy Birthday" and cheered wildly. This "Birthday Night" also had a sports theme where there were decorations and costumes focused on different sports teams and uniforms. It's was a colorful, fun party for the whole camp.
Tonight was the first of our camping trips scheduled for the Juniors. About a quarter of a mile down the path toward Rockbrook Falls (still on the camp property), there's a special area where generations of Rockbrook girls have set up a campsite. Among huge boulders and under beautiful old trees, there are two camping platforms with tin roofs, and a fire ring surrounded by log seating. Two groups of girls hiked out to the campsite after dinner with their sleeping bags, pillows and flashlights, maybe some bug spray and a few stuffed animals too. The staff built a nice campfire and led everyone singing songs, telling riddles, and making s'mores over the fire. For many of the girls, this will be their first time camping, sleeping in the woods without lights or the comfort of a bed. With the sounds of crickets nearby and the waterfall in the distance, it's a very peaceful place to spend the night.