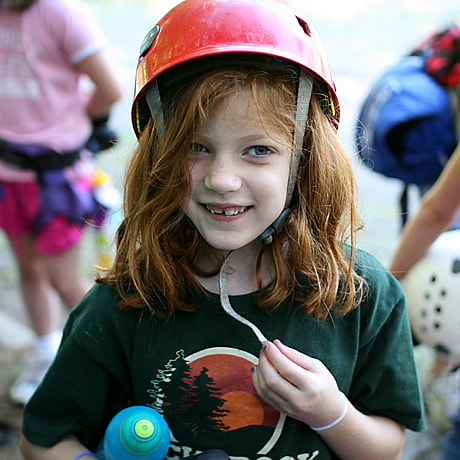 Is my child ready for sleepaway camp?
It's a common question, even from parents who went to camp themselves. Children have such individual needs and develop at so very different rates, there's no age or school grade to point to. One girl might be perfectly ready for camp after kindergarten, and another may want to wait a couple more years before starting. Sleeping away from the comforts, familiarity and consistency of home is a big step for a child, so how is a parent to know if the time is right?
Here are 5 ways to know if your daughter is ready for an overnight camp experience.
1. Emotional Health: This is important to consider because children who are generally happy and enthusiastic do very well at camp. They seek out new experiences and are quick to participate. They recover from setbacks easily, and are comfortable expressing their emotions.
2. Social Proficiency: A sleepaway camp is a very social environment, so being able to make friends easily is an important skill. Children who are outgoing and friendly have fun joining group activities. They feel valued and get excited about being "on the team."
3. Self-Care Skills: Living away from home also requires children to take care of certain personal habits. With minor assistance, they should be able to dress themselves, take a shower, brush their teeth, and sleep well through the night.
4. Following Directions: Joining a community of people means understanding and following a set of rules and expected behaviors. Campers should naturally comply and be happy to follow adult instructions and requests.
5. True Excitement: Girls are ready for sleepaway camp when they are truly excited about the idea. They may have learned about it from friends or family members and now are convinced it will be a super fun way to spend part of their summer. When it's truly her idea, it's a good sign.
Ask yourself if these 5 traits are true for your daughter. If she's honestly excited about camp, follows directions well, can take care of her own hygiene, makes friends easily, and has a happy disposition about most things, then she is probably ready for summer camp. Of course, she doesn't have to be perfect in all of these areas, because camp is a wonderful opportunity to improve them as well.
Going to a sleepaway summer camp is always an adjustment for kids. To one degree or another, each child is stretched in new ways, but with the excellent counselors and long traditions at Rockbrook, each is given phenomenal opportunities to grow as well.