At Rockbrook, every girl who has completed the 5th grade or older (our "Middlers" and "Seniors") can go whitewater rafting on the Nantahala River. For many years now, since the early 1980s, we simply ask the girls "Who wants to go rafting!?" There's no extra charge, no pressure to go, and the girls decide for themselves if they are interested, but without a doubt, rafting has become the most popular outdoor adventure trip we offer. I'd say 95% of the girls old enough to go, do go, and go every year they come to camp. In this way, it's become part of Rockbrook's overall program. Rafting is popular, of course, because it's really fun for the girls. They have an absolute blast rocking and bumping down the river, splashing and being splashed by the cold water, chatting a singing along the way, and laughing hysterically whenever someone falls out of the boat (which happens quite a bit… often intentionally, or at least partly so). Rockbrook is the only girls' camp that has a US Forest service permit to raft the Nantahala, so we can use our own equipment and as guides, our own adventure staff as who are familiar to the girls. For us there's no stranger in your boat, just someone you see around camp ordinarily, and that's really nice for the girls. It was a beautiful, sunny, warm day on the river for all 57 people (plus our 6 guides) who took their trips today. The first rafting day of the summer was an excellent success.
If you don't know about "Muffin Break," let me describe it because it also has become an important feature of camp life at Rockbrook. It's essentially a yummy surprise for the girls each morning provided by one of the bakers in the kitchen, a freshly-baked muffin served as a snack between the first and second activity periods (about 11am). The muffin flavors are different everyday, ranging from traditional varieties like chocolate chip and cinnamon crumble, but often have an added twist. For example, we've seen pumpkin chocolate chip, key lime pie, white chocolate strawberry, and even zucchini sprinkles. Today was another new flavor, maple pancake. The muffins were reminiscent of pancakes, and sure enough, included a drizzle of maple syrup on the top making them sweet and sticky, and fun to eat. The next time you send a letter or email to you daughter, you might ask her about the muffins and if she's had a favorite flavor so far.
On the wall in the dining hall, right up front where everyone can see it, is something we call "The Wheel (of FUN!)." Somewhat like the game show "Wheel of Fortune," our wheel spins and clicks around until stopping on a random section where we've indicated fun activities that the lucky spinner wins. You can see these prizes in the photo above, but they are designed for an entire cabin to enjoy and include things like "Rest Hour at the Lake," "Polar Bear" (an early morning, before breakfast, jump in the lake), Dance Break (picking a song to blast during a meal where everyone stops to get up, sing and dance for a couple of minutes), and "Dress a Director," for example. Though not every time, we often spin the wheel during the lunch announcements. Selecting which camper gets to spin the wheel is a big part of the fun. Chase hops on the mic and has everyone stand up, and then by announcing random qualities, narrows down the crowd. She might say, "Stay standing if you have your hair in a pony tail" and those without pony tails will sit down. Then, "Stay standing if you've made a friendship bracelet," or "Stay standing if you have a brother." As the excitement builds to almost explosive levels, this process continues until only one person remains standing, our wheel spinner. Today that person was Alden and her spin landed on "Pie a Counselor," which to everyone's hilarious delight (well, maybe not so much the counselor) happened after dinner.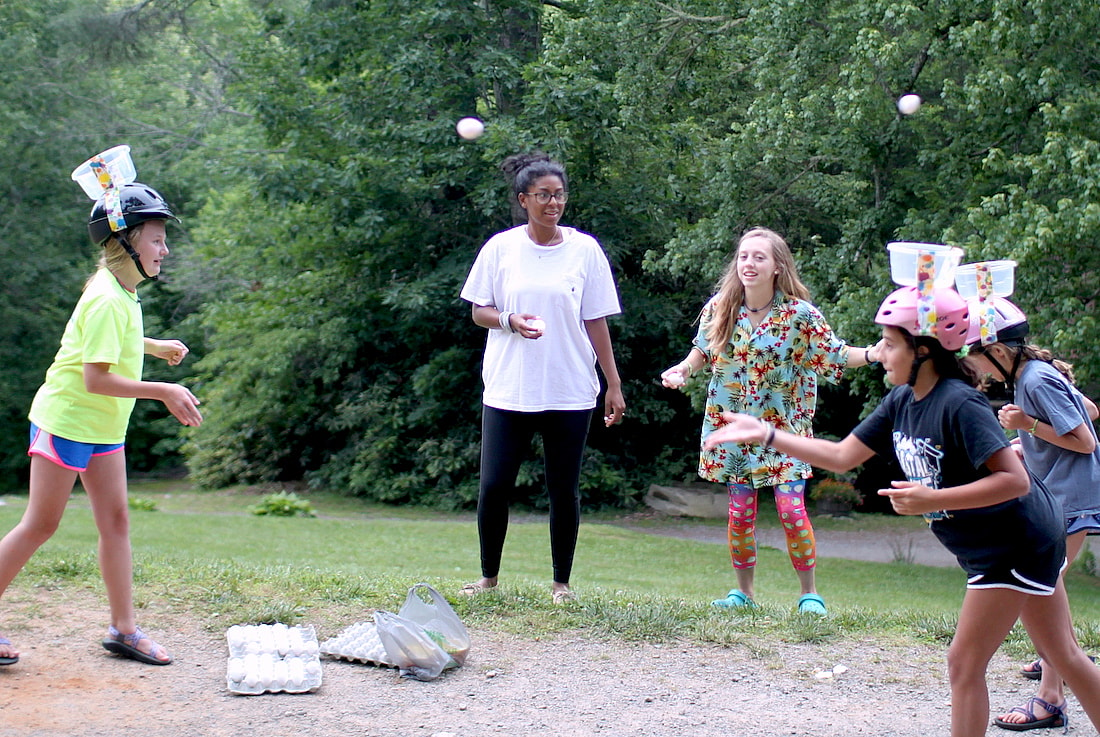 Speaking of dinner, tonight's had a theme: Nickelodeon. The counselors set up the dining hall to play several Nickelodeon-inspired games throughout the meal. First, they surprised the girls by revealing that every chair had a colored "splat" hidden underneath, and that each color indicated they won a small prize, like a jump rope, silly putty, or crazy fidget sticks. The main event though was a game of musical chairs where the counselors roamed about while music (a Nickelodeon theme song, of course!) played, and sat down at a different cabin's table then the music stopped. It was a fun way for the campers to get to know other counselors. For dessert, the kitchen made green "slime" glaze for each table to "slime" it's own chocolate cake. A little messy and a lot of yummy. After dinner the games continued out on the hill. Again inspired by Nickelodeon, the girls tried an egg toss where they had to catch the egg in a pail taped to a helmet. Like the Nickelodeon game show "Double Dare," other groups had a challenge to use only their feet to remove a banana from a tub filled with different types of canned food like cherry pie filling, jello, and sliced beets. I think you can understand why we held these games outside! Sure they were a little gross, but the girls loved playing like this— small physical challenges, silly costumes, messy consequences, with cheering each other all the while. It was one of those wonderful camp moments of full exuberance and laughter that is very difficult to find anywhere else.