People say you never forget your first banquet at Rockbrook. It's simply like no other party experience, and for a girl who's spent time at camp, it's an incredible cap to the fun of the session. Many girls will tell you it's their favorite event at camp, something they look forward to, and during the days leading up to it, they can hardly contain their excitement.
Understanding why the banquet is such a memorable and important experience for Rockbrook girls is not too difficult. It's first of all a sensory overload. The CA campers (9th graders) work hard all session long to accomplish this. They select their secret theme on the first day of their session, and then transform the interior of the dining hall into a new environment using painted banners, lights, balloons, streamers, table decorations, and props. A real opportunity for creativity! These girls then dress in costumes taking on different personalities or roles. They create a playlist of music to complement the theme, and ask the kitchen to cook special foods and snacks to serve.
All of this creates the scene of the party, but what makes it fun is having all your camp friends attending, all the people of camp excited to celebrate their session together, with music, dancing, great food, entertainment, and sweet treats. When friends this close get together, it's an especially fun event.
It's so exciting when it's time to enter the dining hall (which has been hidden all day by sheets hung over the windows while the CAs decorate and prepare). All the campers and staff members, dressed in their camp t-shirts, crawl through the porch to emerge into a line of the dressed CAs and the wildly transformed dining hall. It's such a great feeling to be surprised like that!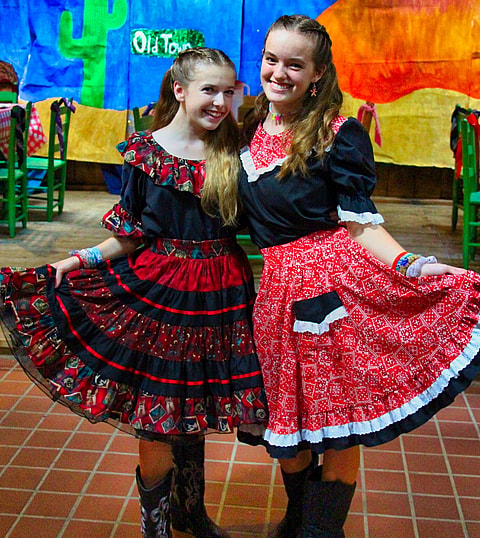 Tonight's banquet had the title, "Welcome to the Wild West." It featured girls dressed in black with bandanas hiding their faces— definitely "robbers." There were two girls dressed as sheriffs on the hunt for those robbers. Cowboys dressed in boots and hats, and square dancers dressed in frilly skirts, performed skits, pausing at times for choreographed dance numbers also. The CA counselors dressed as green desert cacti and performed a dance number as well.
The music was "wild west" related too: "Cotton Eyed Joe," "These Boot are Made for Walkin'," and of course, "Old Town Road" were all included, along with a great mix of popular dance hits. Likewise for the food: "tumble tots" (Tater Tots), "sugar cubes" (apple cubes), "cacti" (green beans), "hay bales" (cornbread), really delicious barbecue chicken, and blackberry cobbler for dessert.
We ended the banquet like we have for decades at camp: singing the song "Rockbrook Camp Forever." The girls stood, arm-in-arm, singing as loudly as they could, "friends true and faithful." Filled with emotion, the girls ended up singing the song multiple times (with no claps at the end)! Thank you CA girls for a wonderful banquet. The whole camp had a fabulous time.