During the Spirit Fire that closed our recent Second Session, Tenisha was one of the first-year counselors who spoke about her experience on the staff at camp. She described her feelings as someone new to Rockbrook, and how the character of our camp community has affected her. We thought it was wonderful, and wanted to share it.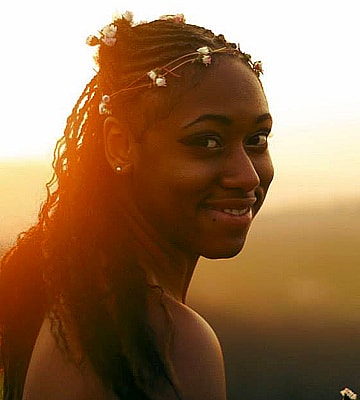 "Sitting at home and thinking about what I would do this summer, I knew I wanted to do something different, something new and extraordinary. I wanted something where I would make memories that I could reminisce about later, something that would teach me lifelong lessons, something that would teach me how to be a better person, but most of all I wanted something that had a positive environment where I could be happy.

After watching the camp videos over and over on the website, I knew I would find all those things at RBC. Seeing all the smiles and laughter, all the costumes and events cemented my decision to apply. When I spoke to Sophie on the phone I knew I made the right choice. Listening to her enthusiasm about camp, my first thought was she's not real. There's no way someone could be that excited about anything, but my second thought was that I have to see what sparked so much happiness and excitement.

From the moment I entered camp I was greeted with genuine welcome from the Directors and counselors I had never met before. Within the first week I had friends and by the third I knew I had found life long friendships. I remember one day I was walking down senior line being greeted by smiling faces and it wasn't until I reached the end that I realized my cheeks were aching from smiling so much. I was genuinely happy. I realized that even though I reached the end of the senior line, I didn't want to reach the end of my time at Rockbrook.

Rockbrook: where girls learn to grow. When I came here, I had no idea I would be one of those girls. With the help of the the Directors, my co-counselors, and other counselors who came to be close friends, I found that I grew into a Rockbrook girl who stops every chance she gets to take in nature and appreciate her, who laughs and smiles everyday because she's surrounded by kindhearted people who care, who wakes up with a spider by her head and doesn't panic but catches it and releases it outside, a girl who became a sponge wanting to soak up every song, every fact about the camp activities and traditions.

And most of all, thanks to Rockbrook, I became a girl who found her very own spirit fire that she had no idea she carried. It burns brighter than ever now. So thank you Rockbrook!"
Thank you, Nisha!