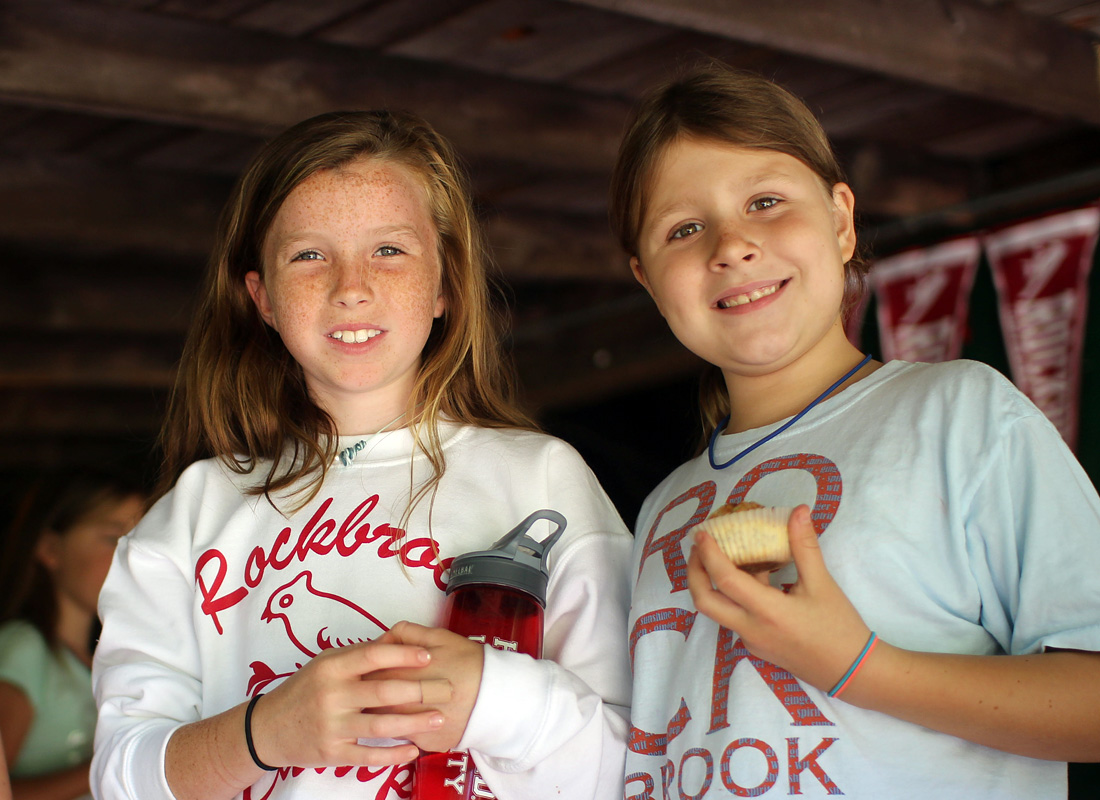 You may already know about "muffin break," that time each morning between the first and second activity periods when the whole camp thinks about one thing. For some of us, though, it's our favorite time of the day, or at least a moment we look forward to with glee. The muffins themselves are obviously the main reason the girls run to the dining hall porch to receive their surprise flavor muffin (Today it was vanilla cherry.), but I think we also love muffin break because it's a great time to check in with everyone. It brings the campers and counselors back together after being scattered about the camp for the various activities. It's a chance to ask, "What did you do in tennis?" or "Wanna go with me down to archery?" I love seeing everyone enjoying their muffin, chatting about their day so far, and excitedly heading to their next activity. It's one of those unique aspects of a typical Rockbrook morning.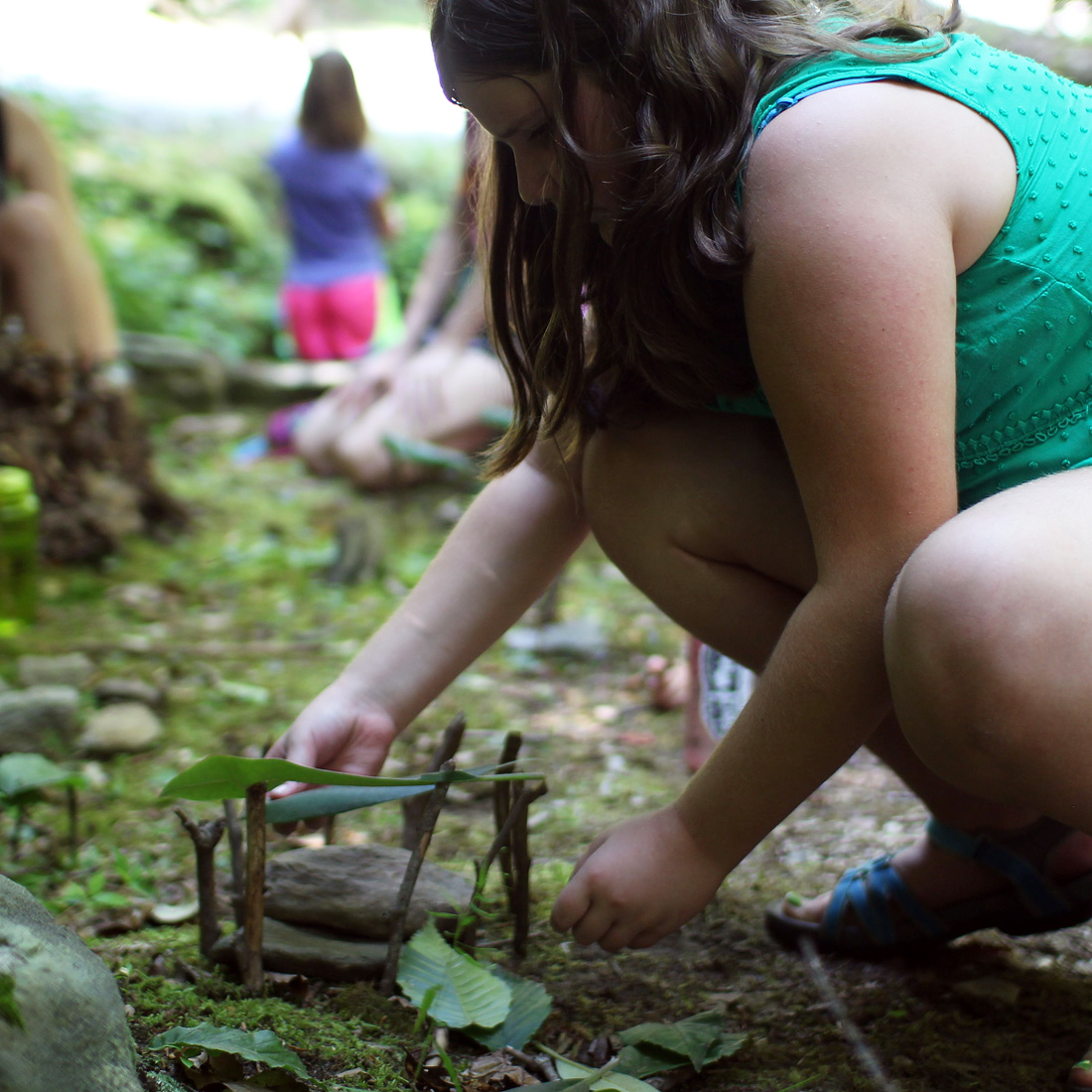 A parent recently wrote thanking us for the experience Rockbrook provided her daughter, in particular the opportunity our program provides girls "to just be girls" and to "play outside." It is one of the principles that has guided us for many years: that girls need time and a place that encourages them to explore nature, really feel the natural elements around us, and ultimately to not fear the outdoors, but see it as beautiful, wonder-full, and a source of comfort. Rockbrook does that; we have plenty of free time built into our daily schedule so the girls can build a fairy house from rocks, leaves, yarn and twigs. Living in open-air cabins, we can't help but hear and smell the forest around us, and perhaps catch a glimpse of a racoon or skunk wandering by. There's bound to be a spider cricket ("Spricket") in the shower or under your bed. There are several creeks to explore and play in, even for just a minute right before lunch. So that's typical around here too— the inescapability of Nature. And as this parent suggested, this experience is "invaluable" in today's modern world. Don't you think?
We received another letter this week (an email actually), this time from a Hi-Up camper who attended the first session of camp this summer. This young lady from Virginia is 16 years old and has been a Rockbrook camper for the last 5 summers. Her letter is also a thank you note of sorts, a note expressing her gratitude for what her Rockbrook experience has provided her. I think the letter is remarkable because she mentions very specific memories like the trail to Castle Rock and the intensity of planning her Banquet as a 9th grader, but also what these experiences have meant to her after camp—loving her true self and bonding so closely with friends. But here, let me share a portion of the letter:
Dear Rockbrook,

I'm writing this to say thanks. Without you, I don't know what kind of person I would be. Without you, I wouldn't know what pure juvenile happiness is like. Thank you for judging me not on my grades or looks but on my kindness, resilience, and the volume of my truest laugh. Thanks for teaching me to cherish the sound of rain on a tin roof and the reviving air of the mountains. Thanks for memories of chasing each other around covered from head to toe in shaving cream, and laughing so hard that tears streamed down our faces. Thanks for helping me be OK with my imperfect skin and to love myself because I'm strong and can climb all the way up the winding path to Castle Rock. Thanks for teaching me endurance and a work ethic because god knows you need that when you have to stay up half the night for three weeks planning for a party just with the hope that'll it make a few little girls smile as huge as you did when you were standing wide eyed at your first banquet. Thanks for giving me the best friends I could ask for– ones who know everything about me and love my realest self. And thanks for making me laugh and cry and scream so dang hard.

Some may not understand how a few weeks out of the year can be so significant in ones life but they've never experienced Rockbrook. The scariest thing about growing up for me is not that I have to apply to college or learn to drive or get a real job, it's that I won't be a camper anymore. You are a hidden gem for girls In a world where things can get overwhelming and frightening at times. When we are put down you lift us up. The tears that come with driving away after squeezing my girls so tight make me realize just how lucky I am to have you. I hope someday my little girls will run down your rolling hills and splash in your cardinal lake and sing to their hearts' content in your dining hall just as I have for so long. Thank you for forever altering my life and my self. Thank you Rockbrook Camp.
—Callan
Wow! Thank you Callan! It's so nice to see this kind of genuine reflection on a girl's experience at Rockbrook, and to learn it has meant so much. The letter is a heart-felt account of what we've often said… that camp is so much more than simply "fun." It's "fun that matters," fun that makes a difference in the lives of the girls who experience it and grow to love it.
I'm still trying to figure it out, but there's something going on here and it's pretty cool.