We closed our third session of camp by gathering around the "Spirit Fire," our traditional campfire that we have held every summer since the founding of Rockbrook in 1921. Many Rockbrook alumnae talk about the spirit of Rockbrook, but what is that exactly? What is this spirit that camp girls refer to, that we write songs about, and that we feel so intently while here.
If we think of spirit as the defining element of a group, then perhaps Rockbrook spirit is a healthy combination of acceptance and adventure.
Rockbrook girls often stand up at the Spirit Fire and declare that they can be their true selves at camp, that they don't need to hide behind a facade that is like all of their friends.
At this session's Spirit Fire, one girl declared that Rockbrook is a place where calling someone "weird" is a compliment. Campers love the fact that they can wear a costume if they choose to and nobody seems to blink an eye. In our most recent chapel program on "individuality," the campers enjoyed the story of "The Big Orange Splot," in which a neighborhood all decides to make the most of a mistaken spilled can of paint on a house by transforming each house into the home of their dreams.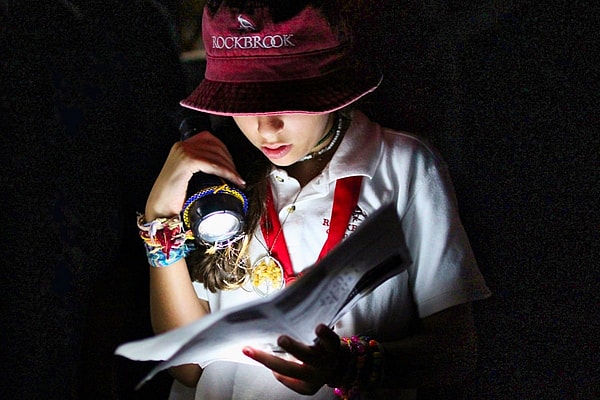 This celebration of being creative and accepted is just one feature of the spirit of Rockbrook, but it also seems the other is a sense of daring and adventure. Campers are exposed to so many options of new things to try at camp, and, with their friends by their side to laugh with them, girls are encouraged to try these new things, to go beyond what's merely comfortable and familiar to them.
It is also fascinating for our current Rockbrook girls to learn more about their predecessors, the campers who came before them. Being our 98th summer, we have been starting to look back and learn more about the women who are the foundation on which our camp began. It is so interesting to learn that those early campers were possibly even more adventurous than our current girls, starting each day with a dip in the lake and setting up exercises before breakfast. They also went on many trips, including the famous three-day canoe trip to Asheville in the old wooden canoes that now decorate our dining hall.
At this session's Spirit Fire, Sarah read a first-hand account from a camper who attended in the 1930s. It was clear even that many years ago that this Spirit of Rockbrook, of acceptance and adventure, was already a deep part of who the camp was and continues to be. As we look around the campfire at the girls of 2019 who share this same spirit, it is exciting to imagine what they will do with those qualities.