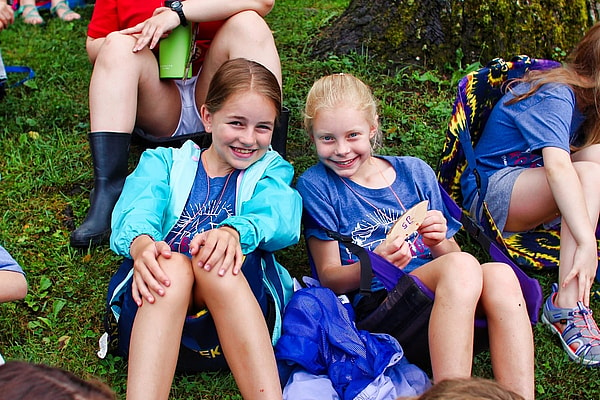 It's the start of something new! It's a new season of summer camp at Rockbrook, and we couldn't be more excited! Today was the day that all of us— staff members, campers, parents, and camp directors —have been waiting for, and beginning about 8:30 this morning that wait was over as we opened the gate and the campers began arriving for the first session of 2019. Our staff members seemed like they were about to pop with eagerness and enthusiasm because for the last week we have been training, talking about camp life, learning about activities and other camp rhythms. The training week was wonderful fun and everyone finished up with even greater bubbling anticipation for having campers back with us. As girls and their families arrived throughout the morning, making the usual stops in the dining hall to check in with the nurses, office folks, and "hair specialists," the camp took on the special energy we all love.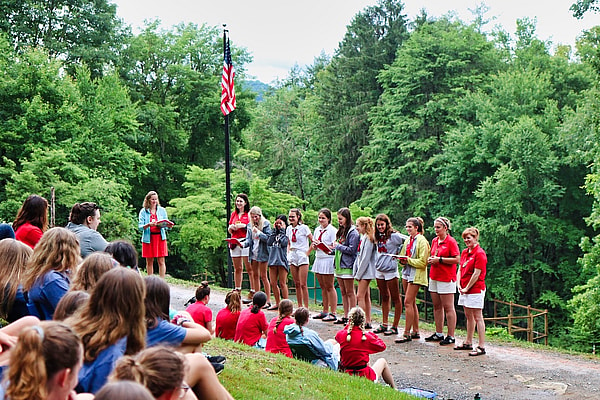 Rain early in the morning happily turned into an occasional drizzle, but that didn't seem to bother us. Soon the tetherball was swinging, girls were beginning their first friendship bracelet, arranging their cabins, rocking in the porch rockers, and everyone could marvel at the beauty of the rich green forest that makes up Rockbrook. Several parents commented on how stunning the camp looks— just the right points of color blending with the trees, rocks and native plants… all made somehow more rich with the rain. As wisps of cloud rolled northward, we all gathered on the hill for an assembly, singing a few songs, meeting key staff members, and hearing a brief introduction to camp from Sarah. It took no time for the whole camp to be standing, clapping and singing together. Finally, it felt like camp.
Rick prepared his signature opening day lunch, mac-n-cheese, and once again it was a huge hit. The crusty top, blend of 4 different cheeses all warm and gooey with the macaroni— it was particularly delicious. On a cool, misty day like today, it really hit the spot. Happily, the rain mostly held off for the afternoon (even with an occasional blip of sunshine!) as each age group made their way to the lake for our swim demonstrations, brief tours around the camp, cabin meetings, and activity skits in the gym. Despite a very wet start of the day, the weather didn't force us to change our opening day plans.
A new season at Rockbrook always means new things around camp, and while some won't be very noticeable, others will be really fun for the campers. Mostly hidden from view this year are things like 4 different roofs, new skylights in the kitchen, several underground (very important!) pipes, electrical wiring of an activity building, road grading, tree removal, and a huge backup generator to protect us if we lose power. More interesting and fun improvements this year are a complete renovation of a camper cabin (floor, rafters, roof, electrical wiring and lights, shelves, screens, and an added porch out the back!), new wooden tennis court fencing with the addition of three pickleball courts, and a new hammock campsite set up in a very unusual location on the camp property (more about that in a future post).
So welcome to Rockbrook everyone. It's a pleasure to welcome so many girls back to camp and to meet new staff members and campers alike. We have wonderful plans for the session, but no matter what, we've also already seen the spirit of Rockbrook begin to shape the caring community so many of us love. Things are certainly damp as the rains came again this evening, but our eagerness to be here together and to enjoy camp life is as bright as can be.