Every camp session has a certain momentum to it, a feeling of accelerating energy, that becomes incredibly powerful with each passing day. The girls enjoy themselves more and more, are more quick to laugh at things, and are more eager to dive deep into camp life. All of those great camp feelings— enthusiastic support from everyone around you, friendly encouragement, a general sense of belonging and wellbeing, a joyful approach to whatever arises —become more regular and true. Part if this is because we are simply more familiar with camp life and therefore we come to expect these feelings. But, of course, the quality of our camp experience is mostly derived from the the deepening friendships we form while here. All this time together, doing so much together, creates a special kind of energy that builds on itself, day after day.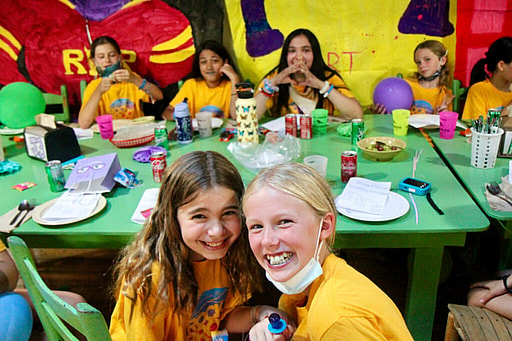 The end-of-session all-camp events, for this reason, are particularly exciting and powerful. One such event is the camp play, which this session was "Shrek the Musical." This was a chance for campers to play their favorite Shrek characters, including that beloved green ogre, the princess Fiona, the evil Lord Farquaad, and Donkey. In addition to spoken parts telling the story of Shrek rescuing Princess Fiona, the show included singing and fun dance routines.
The other event held at the end of the main sessions is the "Banquet." This is a BIG deal, and is something everyone looks forward to. It's essentially a huge party with music and dancing, decorations, special food, and costumed characters entertaining. The 9th grade campers (our CAs) plan and present the banquet, keeping its theme a secret until revealing it on the second to last day of camp.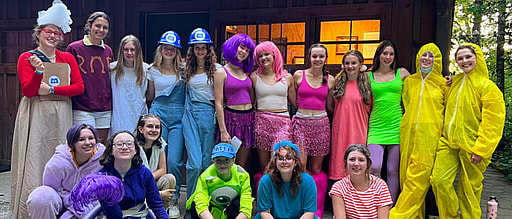 This session the theme focused on the Pixar characters from the movies Monsters, Inc. and Monsters University. They called it, "Monsters Incamporated." This was a colorful and fun banquet theme. Taking styles from the movies, the dining hall was decorated with painted doors, Monster University sorority and fraternity insignias, well-known characters from the movies, balloons and streamers. The CAs themselves dressed up too. We saw Mike Wazowski, Sully, Randall, Celia, Art, Janitors, Members of the PNK (Python Nu Kappa) Sorority, Hardscrabble, Johnny, Roz and others. There were skits enacting a couple of scenes, and dance numbers combining several characters.
The tables of the dining hall were arranged to leave plenty of space for dancing, which everyone enjoyed between scenes performed by the CAs. The tables had decorated cups for everyone, a variety of candy treats, and small cans of soda. The meal was "Ears and Eyes" (tortellini and meatballs), "Mini Mikes" (green grapes), and "Green Goo" (Chips and Guacamole). Dancing and singing, eating and drinking, colorful and loud— it was a fabulous party.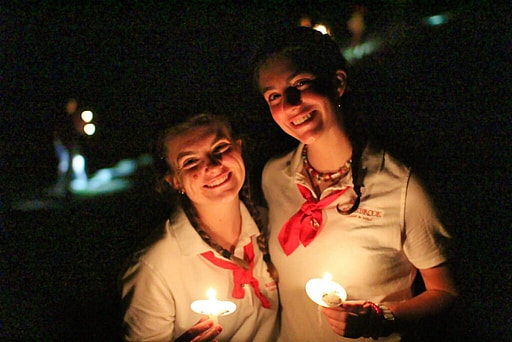 The final event of the session, which occurred on the last evening, was the closing campfire. This "Spirit Fire" is a tradition reaching back to Rockbrook's very first summer more than 100 years ago. It's a chance to reflect on the session and what we've all learned from being together at camp. Different campers and counselors take turns giving short speeches, alternating with traditional songs sung around a roaring campfire. Tonight we heard a camper talk about feeling immediately accepted at Rockbrook. Another said that she had found "another home" at camp. One staff member was surprised how much camp meant to her after taking a few years off from being here.
The Spirit Fire brings up these sorts of feelings. Sitting shoulder to shoulder with so many friends with whom you've shared so much— it brings up emotions. It makes you appreciate what's special about camp. It makes you feel good about yourself and your place in this positive community. The Spirit Fire ends with each person lighting a small white candle and then processing around the lake. This creates a beautiful ring of candlelight reflecting off the water of the lake. The girls sing softly and after a few minutes head back to their cabins for their last night at camp.
Thank you everyone for being a part of camp this session. Thank you for recognizing the value of camp, and for trusting Rockbrook to provide the kind of summer experience your girls need. It's been a wonderful session, and we look forward to seeing everyone again very soon.