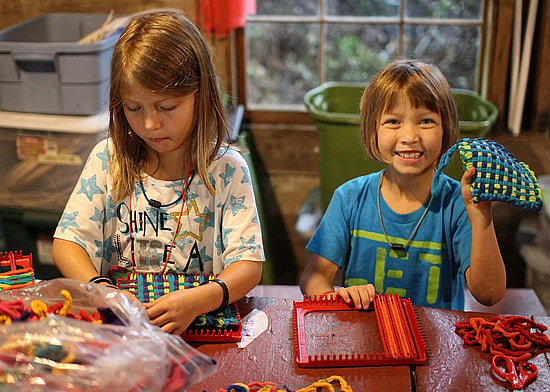 Why are there so many craft activities at Rockbrook and why are they so popular? It seems like everywhere you turn there are girls creating something complex and colorful, combining unexpected materials, contrasting and coordinating with beautiful results. One answer is that there are intriguing techniques to learn and inspiring instructors excited to share what they know. In pottery, for example, the girls have become fascinated by the wheel and have been eagerly giving them a spin. It's fascinating to watch a carefully centered ball of clay turn, and then muddy yet steady hands, gradually shape and pull the clay into a bowl or cup. Just seeing it makes you want to try it. Likewise, there's a fascination to tie dying, the careful folding, twisting and tying of the white t-shirts. When the richly colored dyes soak into the shirts after being selectively applied from plastic squirt bottles, it's like a flower blooming in slow motion. It literally brings out "ooohs and aaahs."
I also think there is a pervasive spirit of creativity here at Rockbrook, and while that spirit also drives our enthusiasm for costumes, writing and singing songs together, and performing skits for each other, it finds daily expression through the many craft activities available. Weaving potholders or larger fabrics on the floor looms, layering colors of paint on paper, tying intricate knots in cotton thread and stringing beads for a bracelet, the girls can be imaginative and inventive in ways that we are quick to celebrate. That kind of encouragement to be boldly creative feels really good and is lots of fun.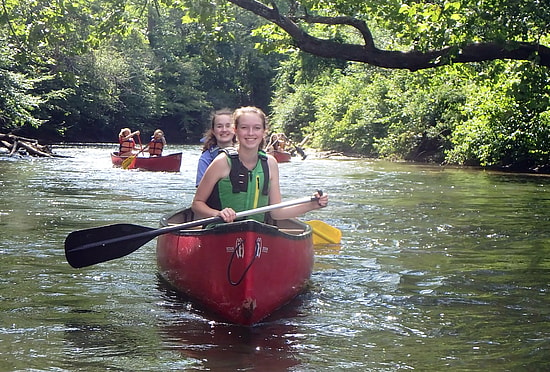 Finally, I'd say our craft activities are popular with the girls because here at camp— and this is true for almost everything we do —we do them together. We share the experience with each other, with people we care about and know so well. In other words, the camp community enhances the process of making art, of being creative, and developing artistic skills. With a group of girls knitting on the back porch of Curosty, the group will be laughing and chatting. Being social, reacting to each other's excitement, or perhaps being quick to lend a hand with a challenging bit, adds to the joy of weaving a basket with your feet in the creek… "Doesn't the sun feel really good next to this cold water?" Whether it's paddling a canoe down the French Broad River, shooting archery, or decorating a memory box, having good friends around to do it with makes the activity more meaningful. Being a little slower paced, our camp craft activities are particularly good examples of this, but doing so much around here together, as a community, is another reason camp life is so great.
And none of these reasons craft activities are popular at camp (the inherent opportunities to learn, create and socialize) rely on the quality of the final products the girls make— the paintings, pottery sculptures, weavings, and so forth. The real rewards come from the process rather than the end result. The process of making crafts together is way more important than having the crafts they make. Sure, the girls are also proud of what they make, and they'll probably present something they've made to you as a gift on closing day, but while they're here, the fun is in the making. It's in dressing up, and not so much in the nature of your costume. The fun is the hiking, and not the destination (Turn that goal into a stroll!). I think that focus is another ingredient in the secret sauce that is camp.