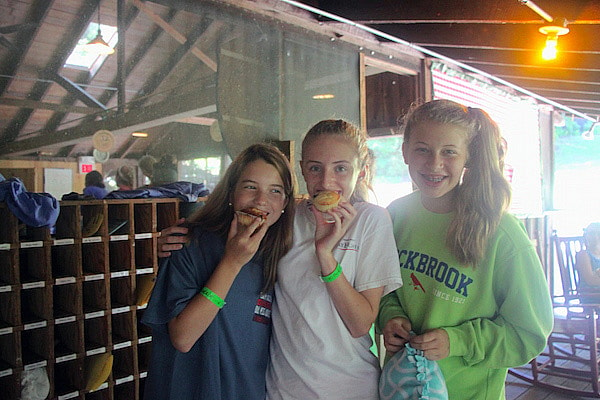 Here's a photo that illustrates a few very important things about life at Rockbrook. First notice what the girls are nibbling; it's today's flavor of muffin. As you may already know —since this Rockbrook tradition is truly legendary— we serve fresh baked muffins everyday between the first and second activity periods. Brigid and Becky, our camp bakers, surprise us with these special treats creating all kinds of unique flavors. Yesterday is was pumpkin chocolate chip, which is always popular, but today we enjoyed a completely new variety: vanilla bean, cherry muffins. Man, they were good! Rick explained that they soaked vanilla beans and used locally grown cherries in the recipe. Outrageous!
The girls are also standing in front of the camper mailboxes on the dining hall porch. Mail. Everybody loves it at camp. Being away from home and isolated to some extent from the outside world makes receiving mail even more delightful. Send us some news. Maybe add a silly joke, like one of these jokes for kids written by Sofie. Have you been sending letters to your daughter, or at least emails? She will love it, and if you're lucky will write you back.
It looks like (By the way, clicking the photos of the blog will bring up a larger version) Ellie is holding a Hodge Podge project popular right now, a tie pillow. It's a pillow made from two pieces of cloth "sewn" together by tying knots in strips cut around the edges. These are sometimes called 'no-sew pillows." They are quick and fun to make, and often become quite elaborate as the girls then decorate them with fabric paint, beads and other shiny bits.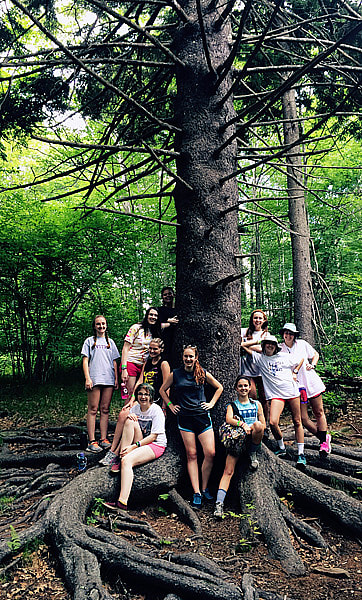 Finally, this photo nicely typifies how happy and relaxed the campers are at Rockbrook. Quick to smile, embrace each other, and support their friends with true feelings of generosity and care, these girls are peeling away layers of habits and concerns, and discovering how good it feels to be who they really are. In the context of a community brimming with encouragement, these girls can't help but blossom. It's not magic, but it is marvelous.
Isn't that an amazing tree! Just a root of it is bigger than two people! Located in the Pisgah Forest at an elevation above 5100 feet, it's an example of an old-growth evergreen tree that's very rare in the forest these days, following the extensive logging of this area in the early twentieth century. We stumbled upon it this morning while out hiking with the Hi-Ups (our sixteen year old campers). Of course we couldn't just walk by without touching it, feeling it, smelling and even tasting it! And grabbing a quick snap to share.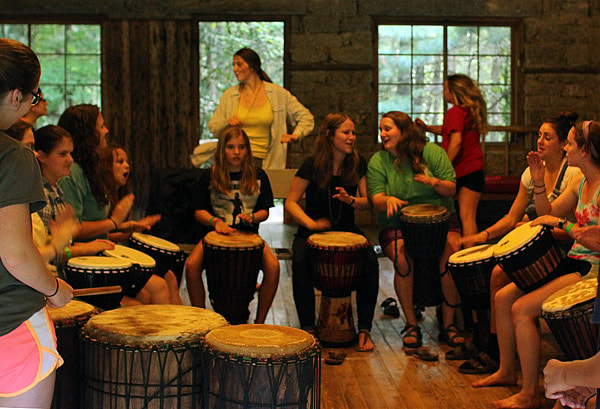 The hour of free time after dinner we call "Twilight" brought the return tonight of our friend and master drummer Billy Zanski. He arrived from Asheville ready to teach any interested girls how to play the Djembe and DunDun drums, and to lead everyone in what essentially became a drumming dance party in the hillside lodge. Campers and counselors alike took turns drumming and dancing, each whirling their hands over the skins of the drums and their feet across the wood floor of the lodge. The whole scene was energizing and fun, a special kind of group experience that we love at Rockbrook.