Everyone looks forward to it. It's a wonderful surprise. It's a celebration. Some call it a "blow out." It's guaranteed to be unique, fantastic, incredible. It takes weeks of planning and hard work preparing. It's loud and colorful, entertaining and enticing. It's campy and creative. It makes everyone smile, laugh and dance. Here at camp, it's a gathering of your very best friends. This is the banquet.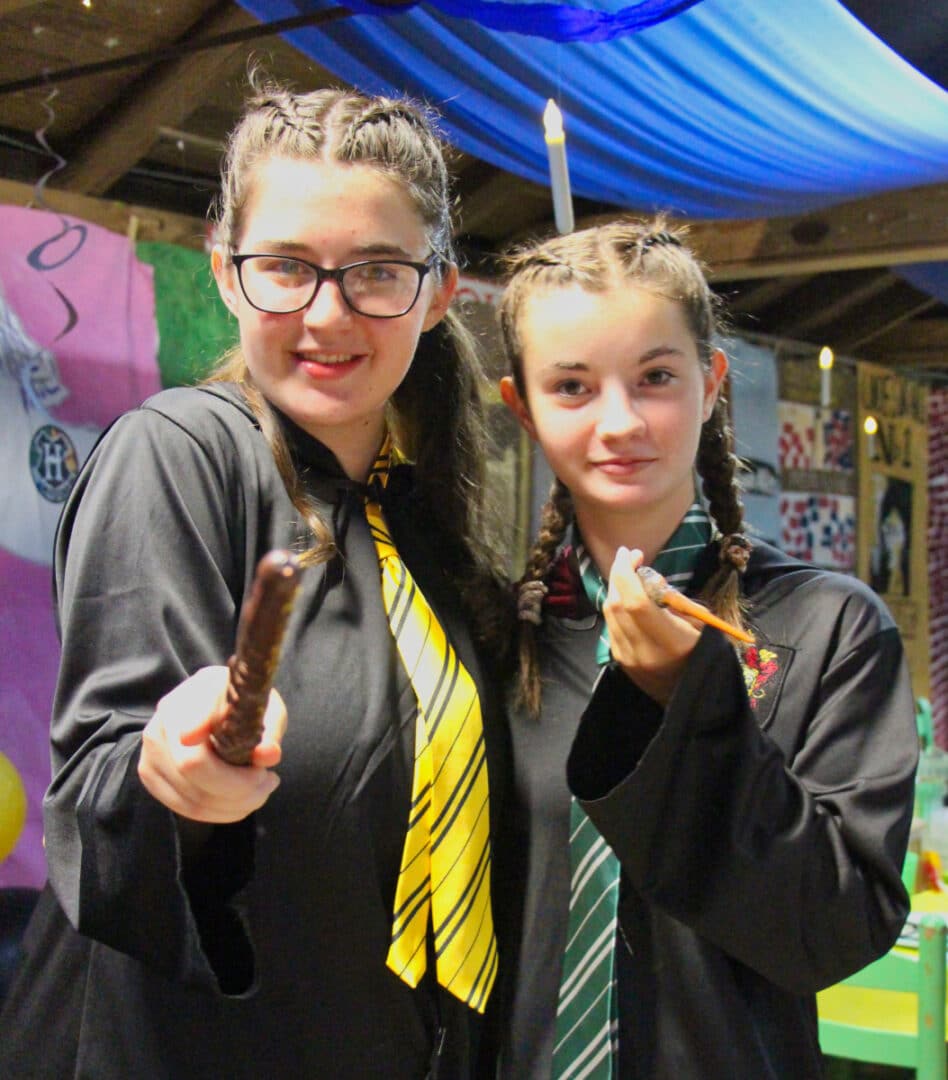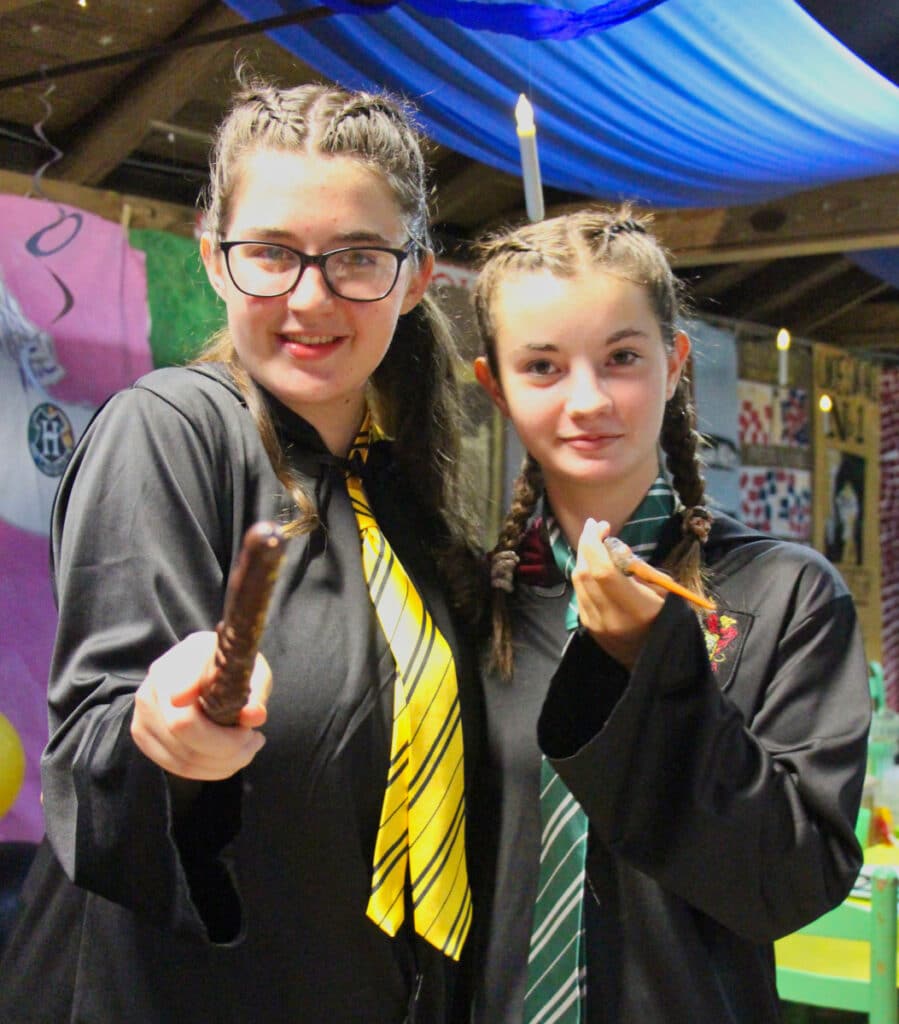 The theme for our third session 2022 banquet was focused on the characters and styling of the Harry Potter book and movie series. The CA girls (9th graders) and their counselors worked their incredible magic to transform the dining hall into the great hall of Hogwarts with its long tables and floating candles.
They painted more than 100 panels depicting scenes from the books— portraits of Sirius Black, Harry Potter, Dumbledore, Dobby, and Nearly Headless Nick.
There were paintings of broom sticks, owls dropping letters, the flying car, Hagrid's motor bike, wands, chocolate frogs, and Bertie Botts Beans. There was also the Mirror of Erised, Fluffy the 3-headed dog, Fawkes the phoenix, and Hedwig the owl.
They displayed detailed drawings of all four of the Hogwarts House crests: Gryffindor, Hufflepuff, Ravenclaw, and Slytherin.
On the tables, each camper found a pair of Harry Potter glasses, a magical wand, and a Hogwarts Express train ticket. Spider ring and lightning bolt temporary tattoos were there too. Everyone also enjoyed a souvenir cup and of course fun candy treats to help amplify the mood between each course of the meal.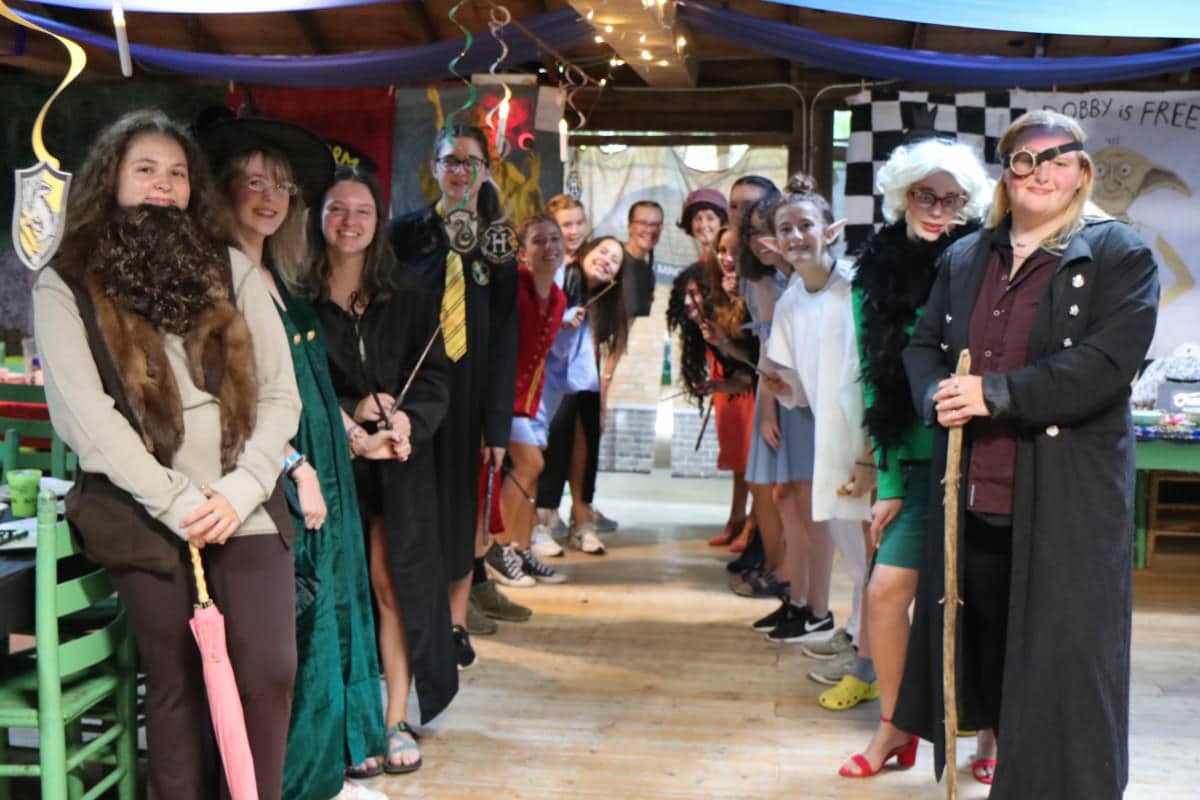 The CA costumes represented an amazing range of Harry Potter characters. The cast list included students from each house, but also some of the Hogwarts professors like Mad Eye Moody, Professor Snape, Professor McGonagall, even Professor Dolores Umbridge. One student dressed up as Dobby the house elf. There were two french Beauxbaton girls. There was also Rita Sceeter, Bellatrix Lestrange, and Hagrid roaming about the banquet.
These characters worked together to perform choreographed group dances to "Magic" by One Direction, "Black Magic" by Little Mix, and "Enchanted" by Taylor Swift. Between those performances, we all got up and danced to other pop songs. This was a dance party filled with a celebratory energy.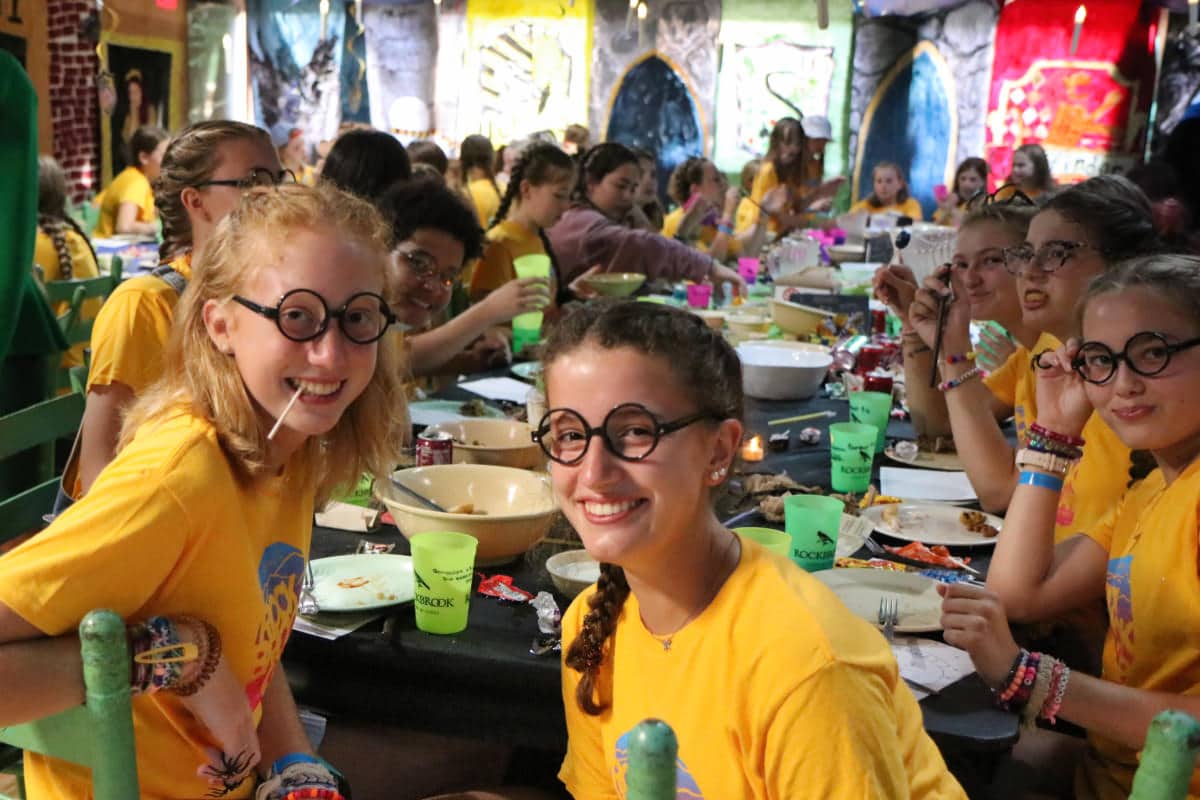 The food was magical too! The menu included: "Magic Wands and Potion Chips," "Mrs. Weasley's Chicken Tenders," and "Troll Tater Tots." The dessert was particularly creative— "Golden Snitches" made of cookie dough balls rolled in gold colored sugar. Each camper had a small can of soda to drink as well.
Whether the campers were familiar with the world of Harry Potter or not, there was a magical, other worldly quality to the whole event. The CA girls transformed the dining hall turning it into a unique, immersive experience like we've never encountered before. For some campers, this was their first banquet, and for others this was another great one to remember.
Like one of the main themes in the Harry Potter novels, this banquet was proof of the power of friendship. It was more than it could have been and was elevated above the ordinary because it happened at camp, a place where the girls already know each other, care for each other and feel accepted and encouraged. Smiling, singing and dancing, this banquet had great energy. A magical time together at camp.