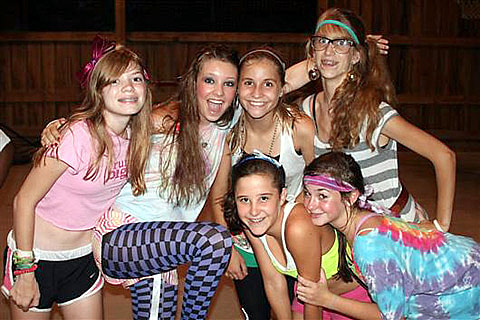 Let's flashback to the 80s. That's exactly what the whole camp did on Tuesday night this week! The word went out at dinner that everyone should bust out their best 80s attire, that they should go back in time and transform themselves into jazzercise junkies and big-haired beauties ready to bop to the top pop of our favorite retro decade. There were so many tie-dyed, oversized t-shirts torn and slung from one shoulder, lycra tights and sweat bands, jean jackets and Ray-Ban sunglasses, it would make your head spin. But is was also hilarious to see how well the girls could look the part and how many of the songs they could sing— 867-5309 Jenny, I Want Candy, Mickey, Girls Just Wanna Have Fun, and of course, Thriller. The counselors had just as much fun as the campers dancing, making a conga line, and leading different group dance moves. Just like working out in the 80s, we all were sweating and having loads of fun.
It's been a couple of days of wildlife sightings here at Rockbrook. The coolest was a peregrine falcon spotted down near the Castle Rock Lodge. We've known that a falcon was nesting up on Dunn's Rock, but this was the first time someone had seen it near camp. Up until 1999, the peregrine falcon was listed as an endangered species by the federal government, and even though it was de-listed then, the NC Wildlife Resources Commission has kept the bird on North Carolina's list of endangered species because peregrine falcons have not recovered fully in North Carolina. Last night Sarah caught a glimpse of a gray fox cutting across the hill. We've seen these shy, bushy-tailed, nocturnal animals at camp before, but they are rare, so it's a nice treat to be reminded that they are roaming around these hills. Rockbrook really is a wildlife sanctuary of sorts. With more than 200 acres of wooded land that remains undisturbed most of the year, it's easy to see why.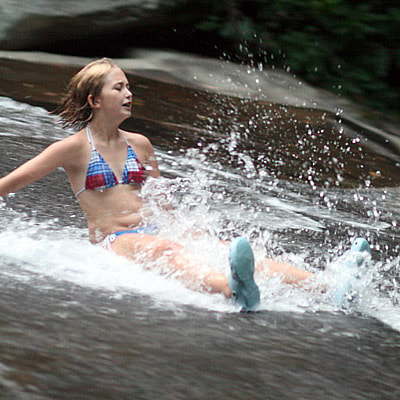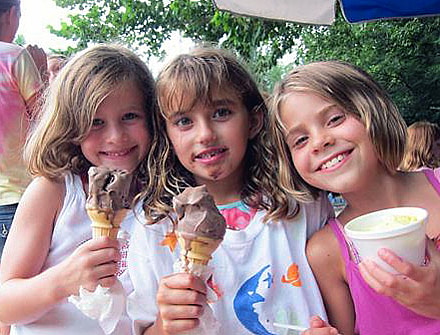 For our Wednesday afternoon cabin day, the Juniors held a swim party down at the lake with Luau music and games. A perfect way to spend a hot afternoon, but also made complete by a quick trip over to Dolly's for an ice cream cone. The Middlers' cabin day was a trip to Sliding Rock up in the Pisgah National Forest. We carted the entire line, eighty something people, to the rock after dinner when we could have the place to ourselves. I think most of the girls were able to slide 6 or 7 times before it was too dark to continue. Naturally, we all had to stop at Dolly's on the way home for a cone of "Rockbrook Chocolate Illusion," or some other yummy flavor. Everyone was eager to pick their favorite flavor even after dunking ourselves in the cold Looking Glass Creek water of Sliding Rock.
Oh, I forgot to mention that Rick and his kitchen magicians amazed us all again with a dinner of homemade pork barbecue, beans, coleslaw, fresh cut fruit, and chips. It takes all day to prepare the barbecue, but it's worth it. We've been hearing the "Cook's" appreciation song sung a lot these days!