The first full day of camp today came alive beautifully. You might think that the girls would ease into things, maybe need some further introductions or explanations, and therefore move a little slowly at first. You might think some lingering uncertainty about what to do would keep certain things from happening right away. But none of that is true. Instead, like a light switch, everything at camp energized simultaneously.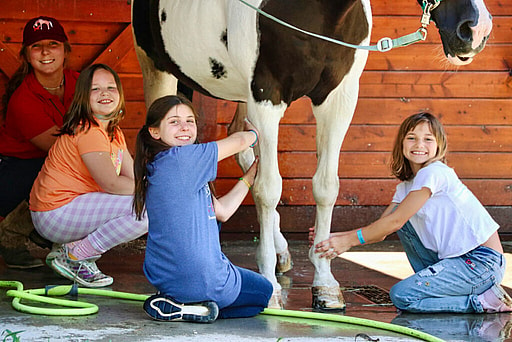 For example, down at the riding center our staff taught lessons in all four rings for all four activity periods. The girls are assigned different lessons based on their ability and experience riding, and hence there are many lessons happening at once. This allows the more advanced girls to ride different horses and work on different skills. It's quite a complex task to organize 32 horses and 7 instructors to teach these lessons everyday, but our Riding Director Kelsi has years of experience taking care of it. Our "Stable Club" also met today. It's a chance for interested girls to spend more time with the horses, helping with grooming and washing them for example. It's a great way to increase their understanding of horsemanship.
The zipline was likewise squealing with excitement today as the first cabin groups took their turn on the course. With three zips (the first of which glides past "Stick Biscuit Falls," the waterfall up behind the camp office) and three wiggly challenge bridges, it's an exciting adventure. We're planning for everyone, all ages of girls at camp (Yes! even the Juniors!), to have a chance to ride the ziplines this summer.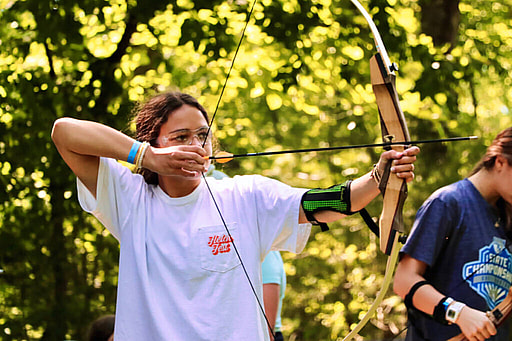 Archery and riflery are always popular activities at Rockbrook, quick to fill up with eager shooters. One girl told me she would take riflery every period if she could! Archery is similar in that anyone can learn to do it, and see real improvement in a short amount of time. Our instructors teach the important safety protocols and the essential techniques, and then the girls improve simply through practice. It's a satisfying accomplishment when they hit a bullseye and join the "Bullseye Club."
Over in the gym, Leo, our new gymnastics and tumbling coach, taught several classes of girls how to do cartwheels and back walkovers. He's got years of teaching cheer squads and is great at providing tips and tricks that make learning these moves a lot easier. The girls are really excited to make progress on learning those skills.
All over camp today there was virtually no hesitation to leap into camp life. We're playing games, and spending all day outside. We're laughing and learning. We're enjoying each others company and conversation. We're hiking and swimming, eating well and sleeping even better. Camp life feels really good, and the girls are really enjoying it, even more than perhaps expected.
That's a true joy to see.