There's a certain power to kids being kids. Especially when together and when fully involved with some kind of real world activity, when actually doing something physical with other kids. You might just call that "play," but it can be more than that. Today at camp was rife with that power. It was our first full day of camp activities and we saw it everywhere.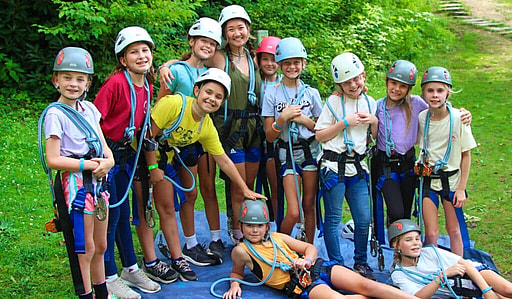 After a yummy breakfast of Rick's homemade oatmeal, fresh cut fruit, granola, yogurts and cereal, everyone at camp fanned out all over to get started with the whole range of camp activities. Each camper had chosen their activity schedule the night before, and now it was time to begin with the first of the four today.
All ten of the craft activities sprang to life. Girls were soon weaving colorful yarns on looms in Curosty with Lucy. They were pinching and rolling clay in one of the 2 pottery studios. They were learning to tie special knots to make their first friendship bracelet. They were twisting t-shirts and dripping dye on them, sticking scraps of paper to "memory boxes," weaving wet reeds to make baskets, sewing pillows, dipping brushes into watercolor paints, and carefully measuring thin planks of wood before making their first cuts in woodworking. Many art projects had begun!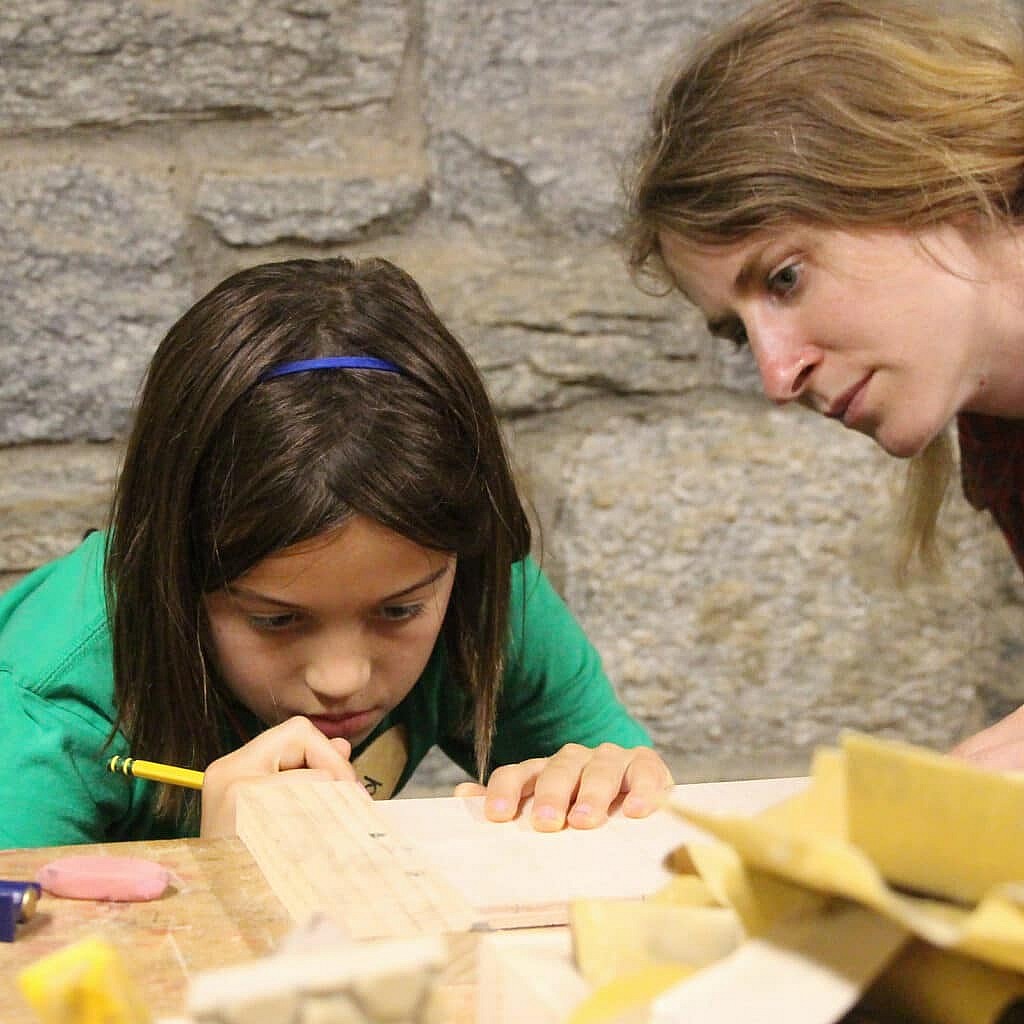 Sports too! The campers shot rifles and bows with .22 caliber bullets and arrows hitting their paper targets. They balanced on the beam after stretching in the gymnastics area of the gym. The tennis courts saw various tennis drills and short games. The gaga ball pit also was stirred up by game after game, with girls jumping and swatting as the ball bounced in their direction. For something more relaxed, there were yoga classes being held in the hillside lodge. Of course the lake, which (after to the dining hall!) is probably the most popular place in camp, was humming with fun as the girls zipped down the water slide, invented silly poses while jumping off the diving board, and just played around on different floating toys. As the weather was perfectly warm and sunny throughout the day, the lake was a great place to be.
The first riding lessons also took place today, with the campers who wanted to ride meeting new horses. There were riders in every ring walking, trotting and cantering their way around. The outdoor adventure staff offered climbing on the Alpine tower, trips through the zip line course here at camp, a hiking trip to High Falls in the Dupont State Forest, and chances to begin learning the basics of whitewater kayaking down at the lake.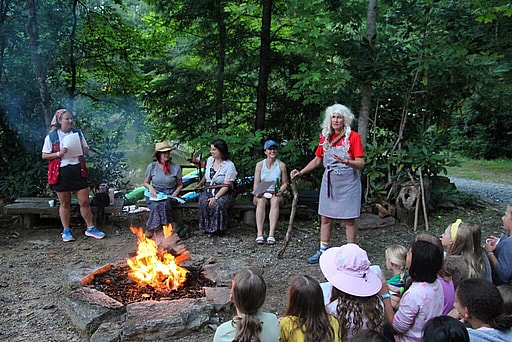 Dinner was a hotdog picnic on the hill— dogs (and veggie dogs), buns and regular "fixins," homemade coleslaw, salad and potato chips. We also had freshly baked cookie bars for dessert. With ideal, almost cool, evening weather, we all enjoyed a breezy feeling dinner that was just the right balance of hanging out and silliness.
Tonight's evening program was an all-camp campfire we call "Jug Band." This is a silly program of traditional Appalachian songs and stories that the counselors, Hi-Ups and other directors present. Sarah dresses up like an old woman named "Sayree" and brings her fiddle to play. Tonight a guitar and ukelele joined in to play "She'll be Comin' 'Round the Mountian," "Mountain Dew," and "Little Cabin in the Woods," which were clear favorites with the campers. This was classic camp fun, and an excellent way to end the day.
It was wonderful to feel the energy of kids being kids at camp. Everyone seemed happy and excited, and nicely settled in. These camper are already feeling comfortable and enjoying camp life. My hunch is that it'll soon be even better!