Our youngest campers at Rockbrook are girls who have finished Kindergarten, and although someone this young is rare, they can be just 5 years old. Often those "itty-bitty" girls have older sisters who come to camp, or have some other family member who has been telling them about Rockbrook. For example, they're often children of alumnae. Along with girls who are a few years older (up to 4th grade), these youngest girls are our "Juniors."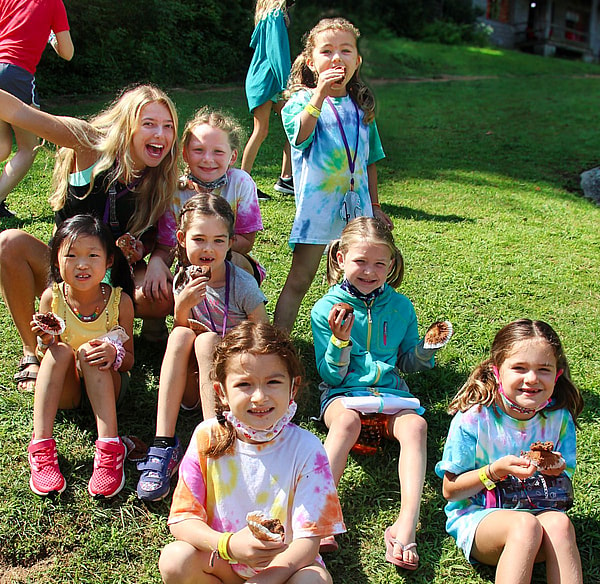 The Juniors are mostly like all the other campers at Rockbrook. They sleep in cabins with other girls their same age. They eat their meals as a cabin group in the dining hall or on one of our alfresco dining porches. They also are able to take all of the in-camp activities. Like the "big girls," they'll shoot archery and riflery while they're here. They'll climb the Alpine Tower and fly through the trees (screaming their heads off with excitement!) on the zipline course. They'll make a tie-dye t-shirt, a clay sculpture, or perhaps a woven hat of yarn. They'll learn to ride a horse if they want to, do a cartwheel, and maybe paddle a canoe.
One difference, though, is that we don't take Juniors on out-of-camp adventure trips like whitewater rafting, kayaking, or backpacking. In some cases our Forest Service permits include an age restriction, and in others we have found Juniors generally don't have the strength or attention to detail that certain activities require. For the most part, Juniors stay on camp during their session, the main exception being a fun afternoon trip to Dolly's. Dolly's ice cream is so good, we make sure everyone goes at least once when they come to camp.
We do plan a special in-camp adventure for the Juniors each session— a sleep-out camping trip at our outpost campsite located a short distance from the center of camp. It's an overnight for Juniors, or as many now call it, a "Jovernight."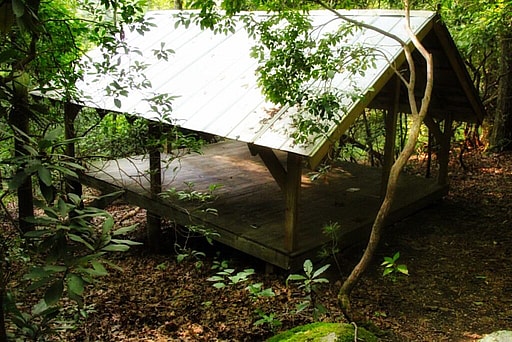 This outpost campsite includes two sleeping platforms covered with tin roofs. They are open on the sides allowing the girls to stay dry under the roofs but also feel close to the forest around them. There's also a nice fire ring so the groups staying out there can build a campfire.
Two cabins of Juniors at a time go on a Jovernight together, one for each sleeping platform. They leave after dinner to make the short walk to the Outpost, each girl carrying her sleeping bag, pillow, water bottle, and crazy creek chair. Once out there, they lay out their sleeping bags and enjoy sitting around the campfire, singing songs, and roasting marshmallows for s'mores.
When it's time to settle down for the night, it's exciting to hear the sounds of the forest— crickets clicking, frogs chirping, and birds hooting. This is very different from their silent rooms at home, and can be a little unnerving for some. Lying side by side on the platforms, usually with the counselors on the outside edge, the girls can comfort each other and talk. There's always some concern about the bugs.
As the girls share this new experience, gradually growing more comfortable, they eventually fall asleep. The counselors tell me that keeping flashlights off is the secret to getting the girls to settle down… fewer bugs in view that way! Sometimes, if the weather is threatening rain, we'll have everyone sleep in the hillside lodge and build a nice roaring fire in the fireplace. It's a similar experience, and a nice alternative on an extra rainy night.
Sleeping in the woods, like many of the small challenges girls experience at camp— encountering unfamiliar foods, new activities, and uncomfortable weather, for example —usually creates just a blip of concern for camp girls. They know that things aren't always comfortable, but also that they can adapt, overcome apparent obstacles, and solve problems when they arise… and all without their parents swooping in to make it easier. With the encouragement and support of their friends in the camp community, and with the "can do" spirit of this all-girls environment, it's just easier to feel empowered and have more grit. Slowly, as these many experiences build, camp girls gain more confidence overall. Instead of being overwhelmed, together they're more open and excited for whatever comes along. It's just an overnight, but at camp, it's much, much more.