Packing to go home from camp, as the girls did this morning, is a little like getting ready for camp, just a lot less orderly. For example, there's no "repacking list," no careful accounting of t-shirts and socks, and no folding of anything whatsoever. Instead, there is some effort at gathering their belongings, fighting the force of entropy (which is only magnified by any group of children), and then plenty of determined stuffing. The goal is simply to shove everything back into the trunk, suitcase or duffle bag and get it closed with only a couple of loose items like crazy creek chairs, pillows and stuffed animals, for example. Of course, not everything makes it back, and despite our regular "lost and found fashion shows" in the dining hall, we are always left with a sizable pile of forgotten items. When your girls return home, and if you are missing something special, please contact our office so we can search that pile for you. We'll be happy to return it.
This afternoon, all of the campers and counselors, along with several invited parents of cast members, assembled in the gym, literally packed the house, to see this session's camp musical production of The Jungle Book. Using just a simple set of painted jungle vines, flowers and other vegetation, the girls transformed themselves into the familiar characters: the singing bear, Baloo, the boy who was raised in the jungle, Mowgli, the python Kaa, the frightening tiger Shere Khan, the girl from the village, Shanti, and a host of monkeys and elephants. The girls had only a couple of weeks to rehearse all of the songs, choreography, and speaking parts, so to perform like this was impressive. They all did a great job singing the classic Jungle Book songs like "I Wanna Be Like You" and the "Bare Necessities."
Every summer since 1921 when Rockbrook was founded, the campers and their counselors have joined the directors for a final campfire, a special gathering held at the end of each session we call the "Spirit Fire."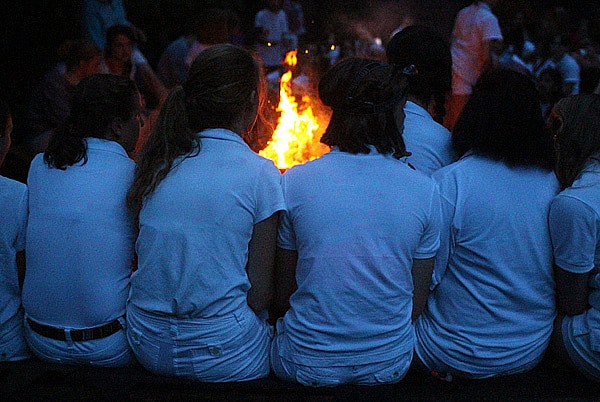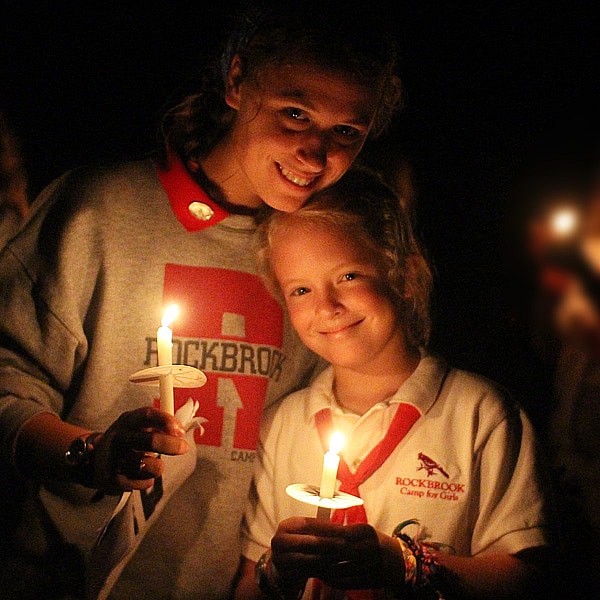 This is a more ceremonial occasion when we wear our red and white camp uniforms, sing many traditional songs, and reflect upon our time together at camp.
For many of us, and especially tonight since this was our last Spirit Fire of the summer, this is an emotional time. There's just something about the setting that brings out the strong feelings we have for each other… dusk fading to dark, the crackle and heat of the campfire, sitting tightly side by side with arms around shoulders, the sweet sound of everyone singing softly, and the candle-lit procession around the lake as its conclusion. The entire evening is ineffably beautiful, and immensely meaningful.