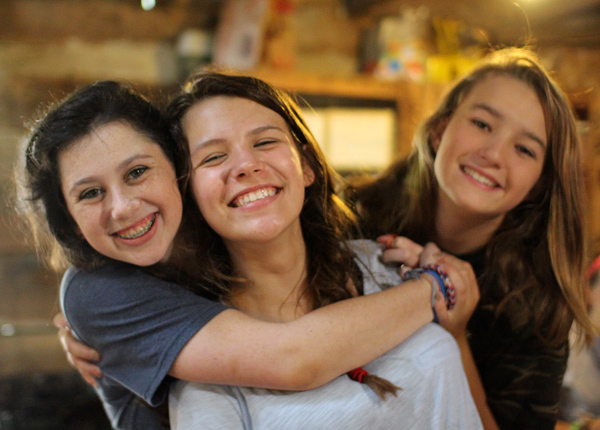 One of deepest and longest lasting rewards of a residential camp experience, particularly true here at Rockbrook, is the quality of the friendships formed between the girls. Camp friends are special for some reason, closer and more satisfying than the people you know at home or at school. Why that's the case is interesting.
Rockbrook is a "haven for close friendships" partly because it is a community built foremost upon warmth and caring for everyone. Camp is a place were every girl here belongs, and is fully included, respected and valued. From the directors and staff members on down, we begin with compassion and generosity, with spirited communication and cooperation, and end up with genuine encouragement. This is powerful stuff when you experience it everyday from everyone around you. It becomes a positive force that encourages the girls, indeed the counselors too, to move past what they believe others (parents and peers, for example) want them to be, and to explore their true personality, spirit and character, their "authentic selves." This is a welcome feeling of freedom, but it's also the secret to making really deep friendships. Camp has the power to dissolve that common artificiality driving so many "real world" interactions, and thereby also to fuel the genuine connections that bind true friends. Camp proves how posing is the enemy of friendship.
Combined with the shared experience of camp— the activities, meals and free time together —and the "boy-distraction-free" environment we enjoy, Rockbrook empowers girls to make friends by having the confidence to be themselves.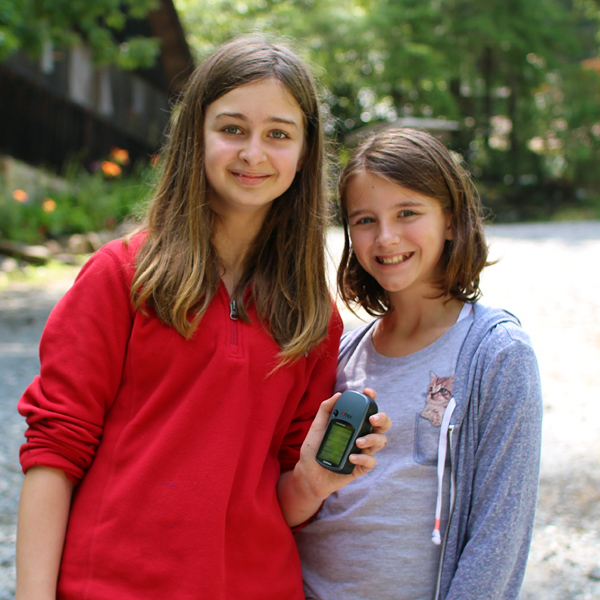 This morning our friend Matt Christian arrived to offer the campers an introduction to "geocaching." Geocaching is essentially a "real-world treasure hunt" where players use GPS devices to find hidden "caches," often waterproof boxes containing notepads to sign when found, and other surprising knickknacks. Matt carefully positioned several caches around camp for the girls, and after teaming up into groups of 2 or 3, and learning to use the GPS units, they explored the camp property looking for their "treasures." Some were easy to spot, being out in the open, but others were truly camouflaged. Geocaching is a worldwide phenomenon, and can be something fun to do even at home. Here's the official Web site to learn more.
Tonight we held a camp tradition that seems to always send a shudder of excitement through the dining hall when it's announced. The deafening roar proved it today at lunch when the girls learned we would be dancing with the boys of Camp Carolina tonight. Fire up the showers, bust out the clean shirt, find your hairbrush (or in one case I noticed… your hair curlers), and for some, devise your best silly costume… dance night can take some preparation! We held 2 simultaneous dances, one here at Rockbrook for the youngest girls, and the other at Carolina for the Seniors and Hi-Ups. This made the number of children manageable at both camps, and allowed for more age-appropriate dances and music. The younger campers had a great time dancing together and with their counselors, mostly oblivious to the boys, while the older girls jumped around, laughing, singing (and sweating) to the beat. Tonight was also fun to see several brothers and sisters finding each other and being happy to reunite after being away at different camps. The whole evening was sweet and lighthearted with your girls being polite and gracious in every way.
Lastly, I wanted to pass along news that Rockbrook is being briefly recognized in the current summer issue of Preservation: The Magazine of the National Trust for Historic Preservation. The article mentions our 19th-century log cabins, "Goodwill" and "Curosty," as examples of well-preserved summer camp architecture still in use today.