There is a secret about the western part of North Carolina, something few people know. It is home to more that 50 distinct species of salamanders (Order Caudata), with North Carolina as a whole having the highest salamander diversity in the world! The so-called "Lungless Salamanders" (Family Plethodontidae) are the most numerous and include one species listed as Rare and Endangered by the State: the Green Salamander (Aneides aeneus). This is the only salamander in North America with green markings, hence its name. These little guys have very specific habitat requirements and are rarely seen.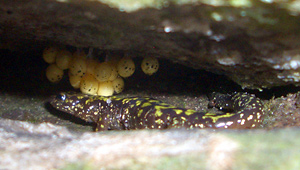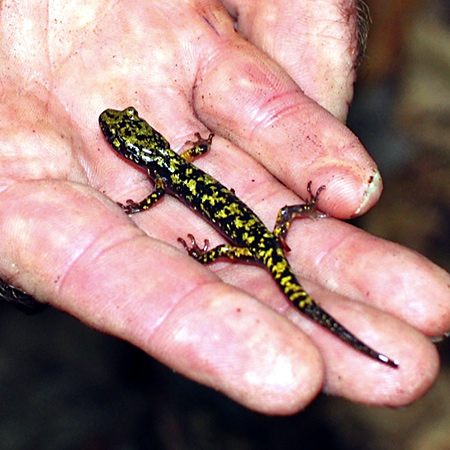 It just so happens, though, Rockbrook's Castle Rock and Dunn's Rock provide a perfect habitat for the Green Salamander. There are plenty of moist, shaded rock crevices for the salamanders to hide in, and for the females, to lay their eggs. Green Salamanders spend most of the year in cool rock crevices, but hide in trees during the summer. They ordinarily live to become 10-15 years old.
Today, Alan Cameron, a 7-year volunteer with the NC Wildlife Resources Commission, came out to Rockbrook for a Green Salamander field expedition. Another naturalist had observed Green Salamanders at the base of Dunn's Rock, so Alan wanted to verify his hunch that they would be on Castle Rock too. Within 4 minutes of arriving at the rock, he found a Green! Alan believes that the environment on the camp property is ideal for this salamander and that there is likely a very healthy population of them here.
It's neat to know (now definitely) that Rockbrook is home to this rare and endangered species of salamander. This is important because Rockbrook will always preserve its unique habitat and thereby help insure this special amphibian survives.