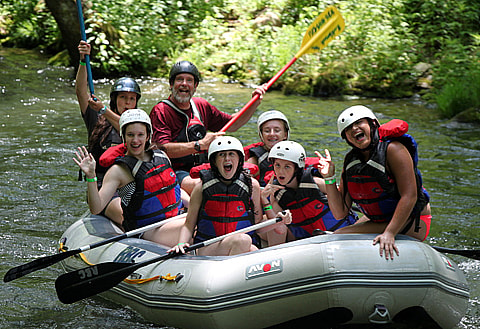 Of all the outdoor adventure trips offered at Rockbrook, whitewater rafting continues to be the most popular. More than kayaking, canoeing, rock climbing (though that's a clear second), day hiking and backpacking, leaving camp to raft the Nantahala River inspires campers to sign up, even as that means missing their regularly scheduled activities. In fact, I'd estimate 90% of the girls old enough to go —Middlers and Seniors only, due to a Forest Service restriction— elect to take a day trip down the river, or to raft and spend the night at our outpost camp located near the river in Swain County. Rockbrook has been guiding these whitewater trips since the early 1980s, when it received one of the few Forest Service rafting permits awarded organizations. Rockbrook remains the only girls summer camp authorized to guide its own trips like this.
Why is whitewater rafting so popular with our girls?
If you ask the girls, they'll say things like "It's just so much fun!" Or, "It's a thrilling ride." As you can see from these photos, they are really enjoying it, but is there something special about a rafting adventure that makes it so "awesome?"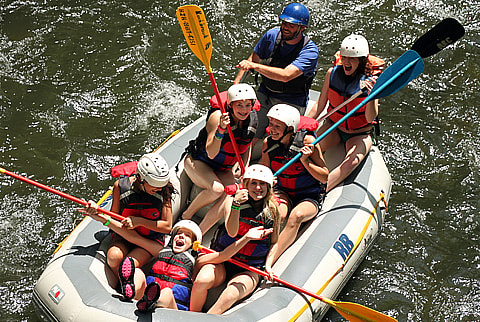 Beyond the cool gear you get to wear (a helmet and PDF), the excellent Rockbrook guides steering the rafts down the river, and the sheer novelty of the experience, my hunch is that whitewater rafting is particularly fun for our girls because it is foremost a lighthearted social experience. More so than other adventure sports, rafting is a group event. All down the river, the girls in each boat are together, chatting with each other, singing songs, and reacting to all the bumps and splashes. In particular, each rapid of the river provides an opportunity to laugh hysterically when someone falls into the boat, or even bounces out into the river unexpectedly. Rafting, especially with a group of girls, is simply fun and funny in this way.
Likewise, even though some might wish for something warmer, I think rafting on the Nantahala river is extra fun because the water is always about 53 degrees. It makes every splash more intense, and if someone gets in the water, you can only imagine how that can produce quite a shocking scream!
We'll be doing more rafting as the session progresses, but for now you can see more photos in the online gallery. It was a great day on the water… Warm and sunny weather, 7 Rockbrook rafts, almost 50 people, and a special experience for everyone.