There I was walking up the driveway from the lake after taking a dip in the warm sun. I looked to my left and spotted a friendly familiar face peeking out from behind the ferns. I ran over and announced to my friends that I had found the gnome.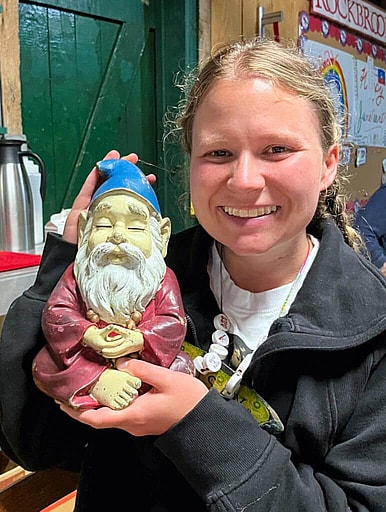 What is the gnome you may ask? The gnome first came to Rockbrook back in the 2000s as a fun game introduced by a Hi-Up. She had brought a ceramic gnome to camp and announced after lunch that she was going to hide the gnome and the rest of camp had to find it. Whoever found the gnome was then tasked to share where they found it before hiding it themselves. Since this game started, we have had a few different gnomes (sadly, ceramic gnomes can break easily when dropped.) Currently, we have Lawrence the meditating gnome.
There's nothing quite like finding the gnome. Out of my nine years here at Rockbrook Camp, this was the very first time I (or anyone in my cabin) had found the gnome. I felt so proud, I couldn't wait to announce to the entire camp that I had found it.
I recently interviewed a few lucky individuals who also shared the experience of finding the gnome during their camp career. Current Hi-Up Susanna shared, "when a girl in my cabin found the gnome I was very prideful." When asked how she would feel finding the gnome herself she immediately added, "it would be a sense of accomplishment and completeness to my camp experience." When asking long time camper/counselor Mary Holland if she had ever found the gnome, with such sadness she said, "not finding the gnome has been a true source of pain for me." I then asked her what feelings would come to the surface if she had found the gnome. She replied, "finding the gnome would be the best day of my life. All I want is to find Lawrence one day." Mary Holland, we wish you the best.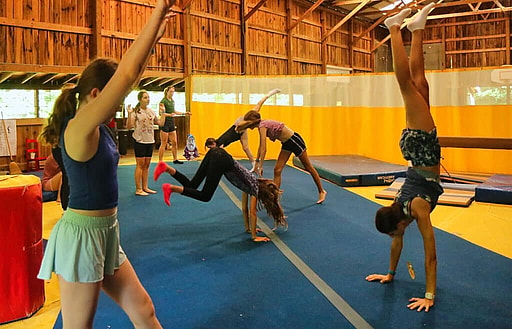 When it was my time to hide the gnome I had to focus on what was important to me when the next person found where I hid Lawrence. How tricky did I want it to be? Did I want to make them laugh because of the location he was in (such as placing him in a pipe by the creek?) What area of camp did I want to hide him?
Out in the field, I asked camper Reagan from M7 what she thought was most important when hiding the gnome. She replied, "in a dense area where people may not think to look…but not in a spot where it's impossible to find him." Reagan summed it up so well! When hiding Lawrence, he has to be outside of any building, he must be within camp boundaries, and he must be slightly visible so he can eventually be found! Sometimes Lawrence has gone weeks without being found because he was hidden a little too well.
I decided I wanted Lawrence to be found in a serene spot that would make someone giggle when they noticed his little blue hat sticking slightly above the plants. After hiding him, a camper found him later that day on her way down to the garden. I smiled happily as it was her turn to then hide the gnome.