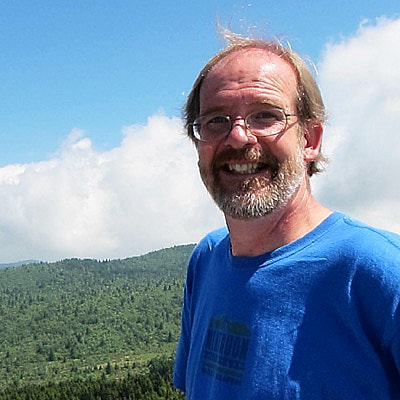 We're so pleased and proud to announce that Clyde Carter, our amazing Outdoor Adventure Director, has been named the Outstanding Experiential Education Teacher of the year by the Association for Experiential Education (AEE). This is an international award recognizing that Clyde has "demonstrated an active passion for experiential education principles and theories," has "practiced innovative, experiential educational methodologies," and has consistently shown "the highest ethical standards in working with students." We knew Clyde had been nominated for this prestigious award, and recently that he had won. In late November, he accepted the award at the AEE International conference in Las Vegas, Nevada.
In addition to working full time in the summer as Rockbrook's Adventure Director, Clyde is an Associate Professor of Recreation/Wilderness Leadership and Experiential Education at Brevard College. In 1989, with encouragement from Jerry Stone, Rockbrook's Director at the time, Clyde came to Brevard to establish the College's Outdoor Leadership major, one of it's most popular offerings. He helped develop Brevard College's Voice of the Rivers (VOR) program in 1997 and led expeditions in 1999 and 2008. Throughout the year you can find Clyde teaching courses on Risk Management, Experiential Education, Wilderness Leadership, as well as Rock Climbing and Kayaking.
Congratulations Clyde!