Greetings from the Curosty cabin! I'm Naomi, this summer's weaving specialist. Curosty, a regional term for "know-how", is home to our fiber arts activities with weaving and basketry taught inside, and knitting, cross stitch, embroidery, crochet, and sewing outside on the porch in another activity, Needlecraft, taught by specialist Cindy.
Stepping inside Curosty is like stepping back in time. Passing the thin, weathered log benches against each side of the door and beneath the crocheted cardinal and community frame loom, you push hard on the heavy wooden door, stiff from years of warm summers and afternoon showers. Dappled light greets you through cheerful red and white gingham curtains above the paned cottage windows, falling on the large floor looms and smaller tabletop ones waiting to be put to work by campers' hands. Later in the day, when the sun through the branches is just right, a prism scatters the warm light into streaks of rainbows across the looms, the tables, and the campers as they work.
Years of handmade baskets, weavings, woven purses and belts decorate the ancient rough hewn walls (some still with faint markings from when the cabin was disassembled) and the perennial favorite potholders hang like festive garlands above the windows. Baskets and woven work adorn the mantlepiece of the thick stone fireplace, a spinning wheel at the ready on the hearthstone, the smoky evidence of the warmth of many years painting its interior black. You follow your ears and walk through to the back door, swinging it open to reveal the calming rush of the creek, the gurgling of cool water off the porch as sunlight casts rhododendron leaf shadows on the mossy gray rocks. Taking a seat at the glossy red benches, it's the perfect place to sew, embroider, or crochet your way to peace.
I asked my class of Middlers the other day how they would describe Curosty. "Homey." "Rustic." "A fairytale cottage like the one in Little Red Riding Hood." Smelling of "wood" and "wood shavings." "Dust." And "New string but dusty." More than 200 years old, this 19th century log cabin has seen many lives. Found abandoned by Williamson Creek in Brevard, Curosty was added to Rockbrook during its fourth year in 1924. Then it was the Camp Headquarters, aka "The Q." The August 1924 edition of the Carrier Pigeon describes the cabin:
"For more than a hundred years it withstood the forces of nature on Williamson's Creek, just before the opening this year it was taken down, each log numbered and reassembled […] Here we hope it will stand another century, a model of the artistry with which our fathers built their pioneer homes."
The Chicken Club
But not all is ancient and unchanged inside these well-loved walls. With such a variety of fiber crafts to make, one can never predict what new project campers invent or what is going to trend. Remember those potholders I mentioned hanging from the walls and windows? The ones that maybe you made yourself as a child? They have risen in great popularity due to the hatching of: The Chicken Club! Wanting an opportunity for the craft-loving campers to be announced for an accomplishment like those who get bullseyes in archery and riflery or bounces in tennis, we combined the skills of Curosty and Needlecraft (with a nod to our beloved feathered friends in Garden Art) to challenge campers with the task of turning potholders into chickens. A project idea found in a Klutz "Potholders & Other Loops Projects" book, campers must first weave a potholder, grab a skein of yarn to crochet a border of looped chains to keep the potholder loops from unweaving, fold their potholder in half into a triangle, and then crochet the sides closed for stuffing by "jumping" the loops of each layer through one another. Then campers are free to put their unique spin on their creations, bringing their chickens to life with tails, feet, wings, combs, and the fan favorite, googly eyes!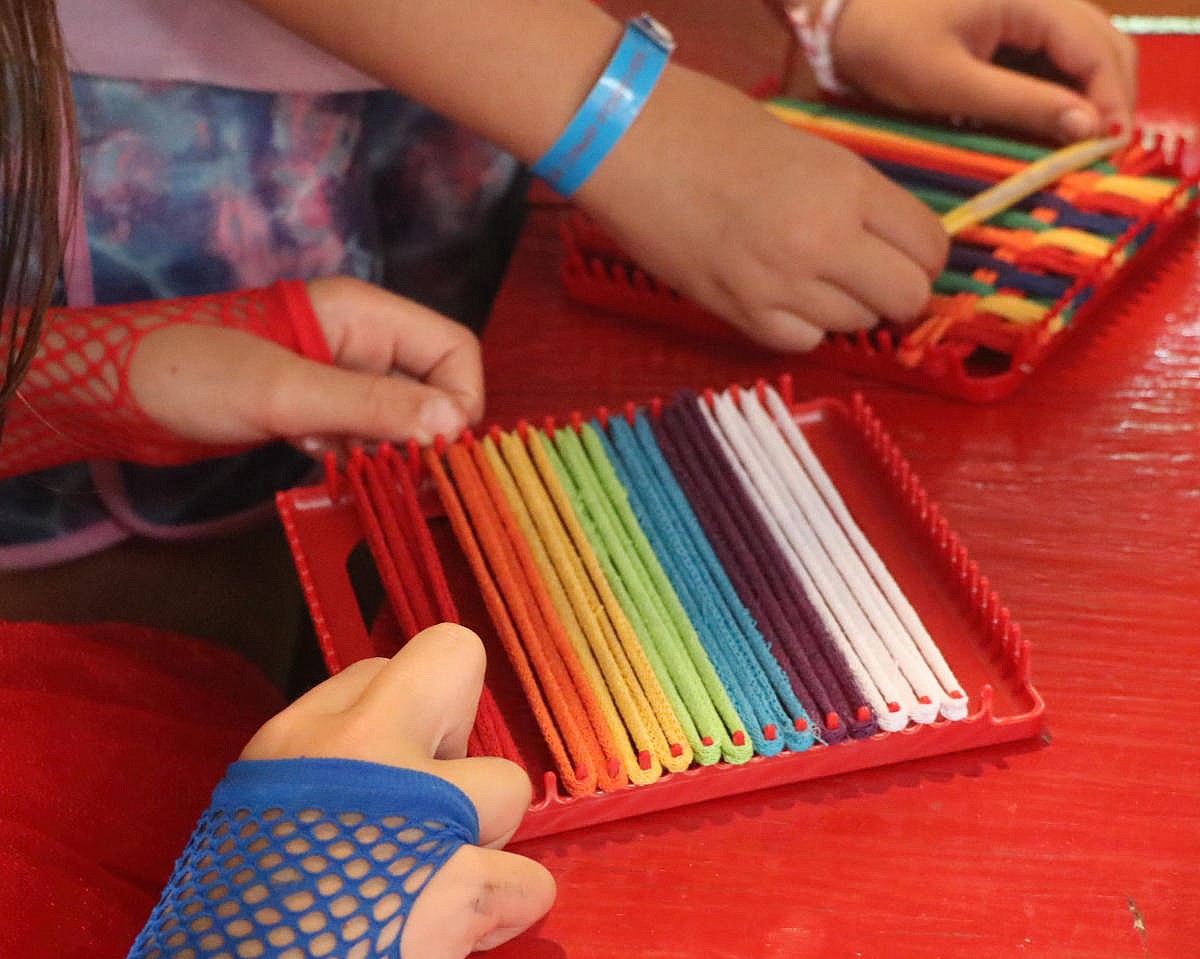 After one chicken, made all on their own, campers officially become part of "The Coop." But campers are not stopping at one chicken, oh no. Five chickens and they earn the title of "Farmer" in honor of founder Nancy Carrier's father, Henry P. Clarke, known in his time as a "gentleman farmer." Ten chickens and they'll be dubbed "Poultry Prince," "Princess," or "Regent," earning a tiny chicken charm. So far this session we have two Farmers in our midst — senior camper Toby and Hi-Up Ty — pecking their way to poultry royalty.

Fair weather or fowl, campers are flocking to Curosty to see what everyone's clucking about!
By Naomi Penner and Melody Parish