Today was the first day of activities for this session, a day when camp was busy in every way. Last night the girls were presented with the different options, and after much discussion among their friends decided on their first set of four activities.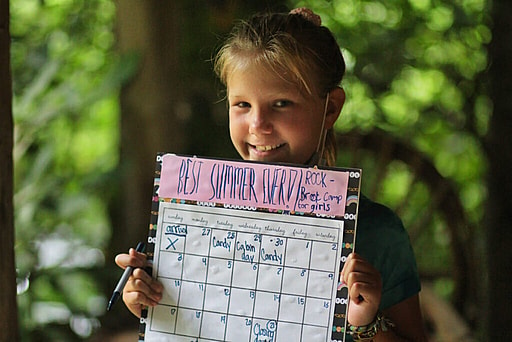 This practice of having the girls select their own activities has long been a part of Rockbrook. We believe that having to choose on their own, away from parents, is a really good experience for the girls. It's empowering for them to make this decision, to make it based entirely on their own desires and interests. It might mean doing lots of crafts, or perhaps spending extra time at the barn with the horses. Or it might mean taking a break from tennis since that's a regular thing at home. Parents are sometimes surprised to learn what their child selects, and they may even wish their camper would branch out more, or be inspired to try something different. Some of that variety happens on its own as the various options are limited, and peers often encourage each other to do things together. But the girls really appreciate this independence. Wednesday night, all the girls will select a new set of activities, giving them a chance to switch things up. Horseback riding operates differently. Girls can keep riding on the schedule arranged with Kelsi our riding director. They can switch up their riding days, but most don't want to.
With the campers schedules set, they were off…. off to shoot arrows, to climb the alpine tower, and to twist, tie and dye white t-shirts. They were calming down and stretching out in a yoga class held in the stone hillside lodge. They were learning tricks to perfect a cartwheel in the gymnastics activity. They were getting the hang of operating the floor looms in weaving and the feel of cool clay in the two pottery studios. They were swimming in the lake and riding horses in the rings, smacking tetherballs and gaga balls, making friendship bracelets and painting flowers. They were busy!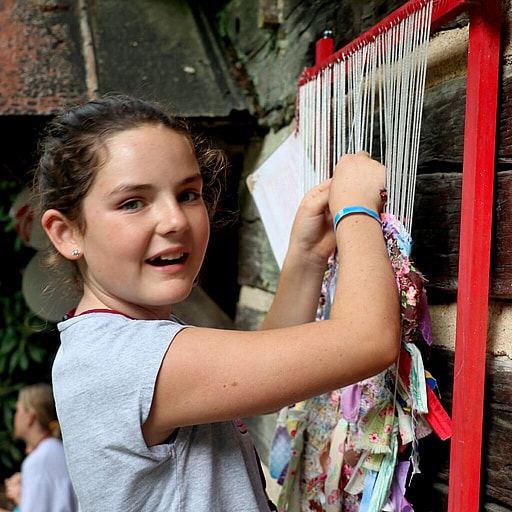 There were trips happening too. Two different kayaking trips went out to the French Broad river, one in the morning and one after lunch. The CA campers (9th graders) took a hike in the Dupont State Forest to discuss and select their secret Banquet theme. Starting with about 80 different ideas, they narrowed down the options and ended up with a single theme that will focus their planning for the end-of-session party they host for the whole camp. Now, they have a theme, and it's a good one.
In camp, zipline trips were happening all day as well. Different cabin groups were assigned specific times. This allows us to make sure that everyone, even the smallest Junior, has the option to take a ride through the course. Wearing a harness tethered to a dual-wheeled pulley and a steel backup carabiner, the girls also put on a helmet before following the adventure staff up into the forest where the course begins. With three zips and 3 different challenge bridges strung between huge boulders, the course is uniquely thrilling and beautiful at the same time.
I should add that despite this busyness, our regular daily schedule also includes three periods of "free time" when the girls can just hang out. They can join various clubs, swim in the lake, or play several games during these times, but they can also sit and read under the walnut tree on the hill, goof around in the creek by Curosty, or just sit and chat with a friend in one of the red porch rocking chairs. Here too, the girls decide for themselves how to spend this free time. Unable to default to technology or passive entertainment, it's interesting to see them be more creative and active than they might be otherwise. They have plenty of friends to do things with, so their "free time" can seem busy as well.
Yes camp is busy, but it's a good kind of busy. It's self-directed and fun, filled with extraordinary opportunities to experience new things, and includes built-in companionship and support. It's a busy that helps a girl grow.