Throughout the session, girls have signed up for three different activities in the hopes of traveling to Camp Carolina for the end of session tournament. The first activity with the opportunity to go to the tournament is tennis! Each activity period, girls walk down to the clay courts with tennis shoes on and racket in hand. At the courts they practice their groundstrokes and volleys by playing a variety of tennis games. This year, we also added three new pickle ball courts to our tennis area for a new game for the girls to learn and enjoy.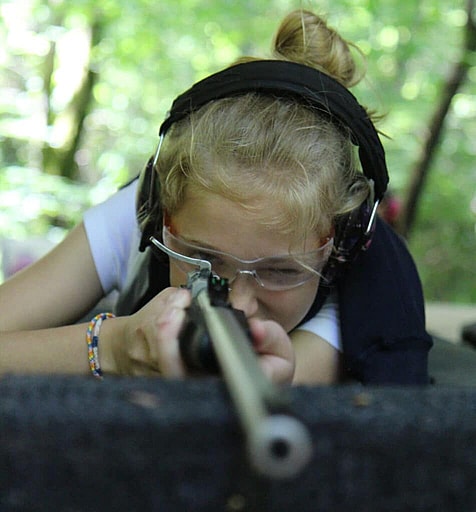 The second activity is riflery. In riflery, girls venture down the front driveway and wait for permission to enter the range. Once there, they have the opportunity to pick their favorite rifle to shoot at the target. Each of our rifles have their own special "sweet spot" and over the session the goal is to figure out the sweet spot in order to hit a bullseye.
The third activity is archery. With hair back, close-toed shoes, safety glasses, and arm guards attached, girls step up to the platform to try and shoot the golden circle in the middle of the target. It's a huge accomplishment to get a bullseye. In fact, many girls go back to the range in attempt to hit ten bullseyes in order to receive a golden arrow. If a girl hits fifty bullseyes they get a cake and one hundred bullseyes earns a golden bow.
It's getting close to the end of our camps and the tennis, archery, and riflery instructors are in line to make an announcement at dinner. Most of the girls in the dining hall knows this means the participants of the tournament are about to be revealed! Those who continuously take these activities usually get their chance to travel to Camp Carolina to participate in the tournament.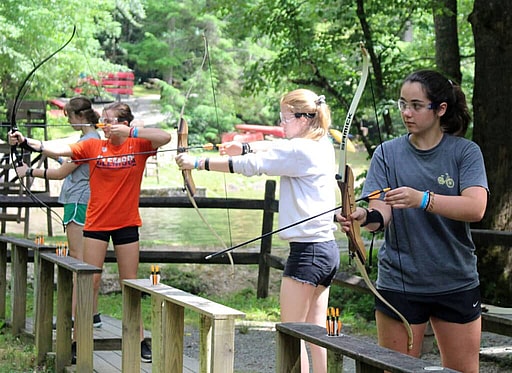 While at the tournament girls have the opportunity to partake in some friendly competition! Often times the girls arrive wearing matching t-shirts, eye black, or bucket hats to show their cohesion. When we first arrived the girls were excited but a little nervous. As soon as they stepped onto the courts and the range they felt excited, confident, and comfortable. Girls cheered on and encouraged one another as they waited for their time to shine.
At the end of the tournament the girls are always concerned with who won but overall the tournament is about the girls stepping outside of their comfort zone and having fun! They love the opportunity to see another camp, cheer on their friends, and to show off the talents they worked so hard at practicing.