Welcome to camp! "We welcome you to Rockbrook Camp, we're mighty glad you're here!" …as the camp song goes. Today the girls attending our June Mini session arrived to begin their long awaited time at camp. Driving through our new check-in procedure, we saw plenty of excited girls eager to hop out of their cars and get started. There may have been an occasional dose of nervous butterflies, both for some campers and their parents— which is completely normal even for seasoned campers —but all the smiling faces and enthusiastic people to meet helped smooth things along nicely. Thanks to everyone for helping make this opening so smooth. Arriving on time, having your forms completed, and organizing medications and other medical needs, benefitted everyone.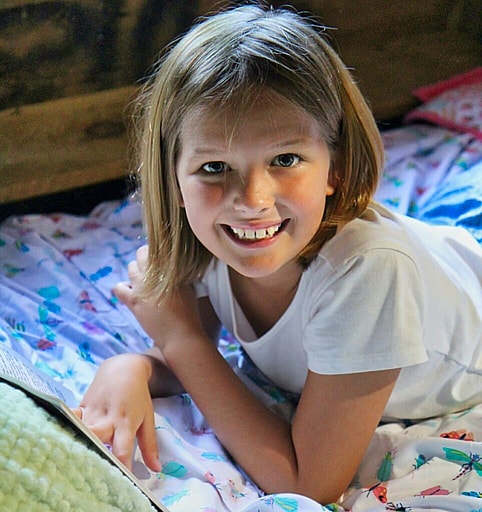 When they arrived, every camper received a personalized name tag made from a slice of mountain laurel strung on a length of lanyard. We've made tags like these at Rockbrook for generations. The girls decorate them further over the course of their session, and over the years build quite a collection. I've even seen alumnae return to camp years later wearing the name tag they personalized as a child.
While our maintenance crew moved luggage to the cabins, the counselors played get-to-know you games with the girls who had already arrived. The name tags help with that! The rest of the morning was spent setting up the cabins, each group of girls and their counselors making beds, arranging trunks, and hanging decorations. Our cabins, most of which are original to the camp, are simple and rustic— all wood, screened windows, and a couple of lights. No air conditioning! No electrical outlets! But they are cozy! Once the girls settle in, comforters go on beds, books on shelves, and towels hung in the "dog trot" area, the cabins are quite comfortable. Something tells me that despite starting out clean and organized, they won't stay that way for long!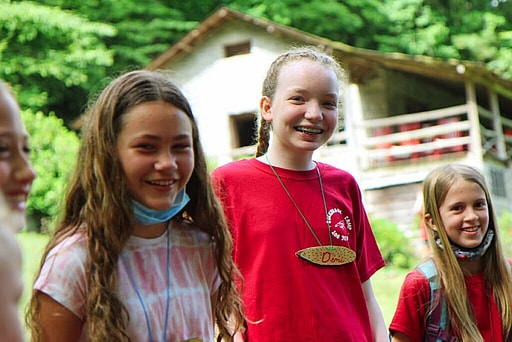 With getting to know their cabin mates underway, we also spent some time getting to know the camp environment. Groups toured about learning the major landmarks like the dining hall, activity locations, and the office. While the entire camp property covers 220 acres, most of that is forest with the core part of camp being tucked into a valley easily navigated by foot. When the camp bell is rung to change activity periods or to call everyone to a meal, it can be heard everywhere.
After lunch, these new campers were introduced to the lake area too. Each cabin group took turns coming down to learn the lake protocols and to take the "swim test," which we soften a bit by calling it the "swim demonstration" or "swim demo." Showing the lifeguards that you can be comfortable in the water, swim confidently, and tread water without struggling is the goal. But no matter what a girl's swimming ability, if she wants to enjoy the lake, we have a way for her to do it safely, perhaps by avoiding the deep sections of the lake or by wearing a PFD while in the water. As temperatures heat up during the day, the free swim times at the lake become very popular with the girls. Most days right before lunch, the lake is the place to be!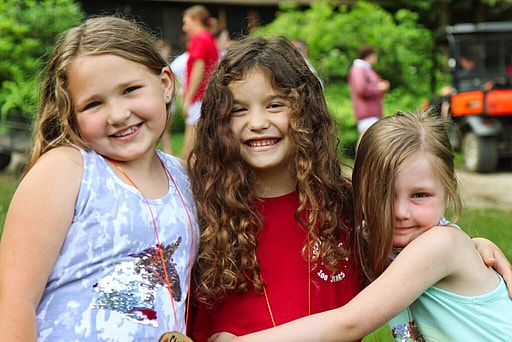 Walking around, seeing campers happily engaged with each other, laughing and smiling at the simplest things, I can already tell this is going to be a great session. There's such a sense of freedom. And what a relief that is after the COVID restrictions of last year, not to mention the regular academic and social pressures of ordinary school life. It's a joy for all of us at Rockbrook to have kids being kids here at camp, singing and playing, challenging themselves with new activities, and connecting with loads of good friendly people. There are stories to be shared, natural wonders to discover, and so many avenues of growth to explore. There'll be a surprise everyday, perhaps an entirely unplanned encounter, but there'll be something marvelous that will make your girl smile.
Life at camp will bring all this and more. Stay tuned!