Let's take a quick look at camp "free time." If you've seen the Rockbrook daily schedule, you'll notice there are three main blocks when the girls are not scheduled to be at a certain activity, meal, or age group gathering— "First Free Swim" right before lunch, "Second Free Swim" right before dinner, and "Twilight" right after dinner. The idea behind all this free time is to avoid over scheduling the campers' days (something that's pretty common the rest of the year) and to provide them with even more opportunities to decide for themselves how to fill their days. We think it adds significantly to that great feeling of freedom the girls love about camp.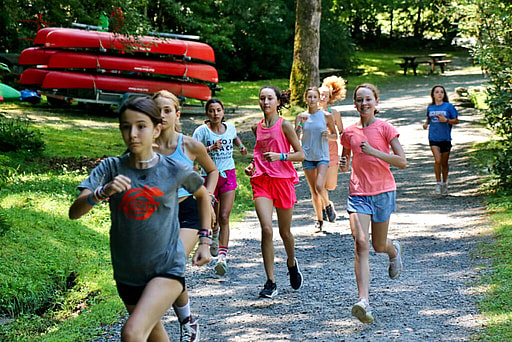 How the campers spend their free time is fascinating. It varies widely. They have the whole camp at their disposal, and while certain activities that require skilled instruction or special supervision for safety reasons are closed, many areas are open. So we provide lots of options, but don't require any particular thing. For example, the girls can finish craft projects in one the many craft areas if they like. They can visit the tennis courts to practice serving or the gym to shoot some hoops, and of course the lake is staffed for those who might want to swim or cool off with a ride down the waterslide.
There are a couple of organized clubs that meet during the First Free Swim. One is the "Rockbrook Runners" running club. Anyone interested can meet at Hiker's Rock near the dining hall and join the group as they head out on a 2-mile loop through the woods of camp. Some folks run, and others walk. It's a gathering of all age groups and abilities. For those dedicated runners, logging 26 miles (13 for mini session campers) earns them a spot in the "Marathon Club."
Another club meets at the lake for a different form of exercise— swimming laps. Here too, the goal is for anyone interested to swim a certain number of laps and be inducted into the "Mermaid Club." There are different amounts of laps that each age group needs to swim to be deemed a "mermaid," but when they complete the number, the lifeguards announce their name in the dining hall. This is true for all of the various club achievements; we recognize members during the announcements that follow a meal.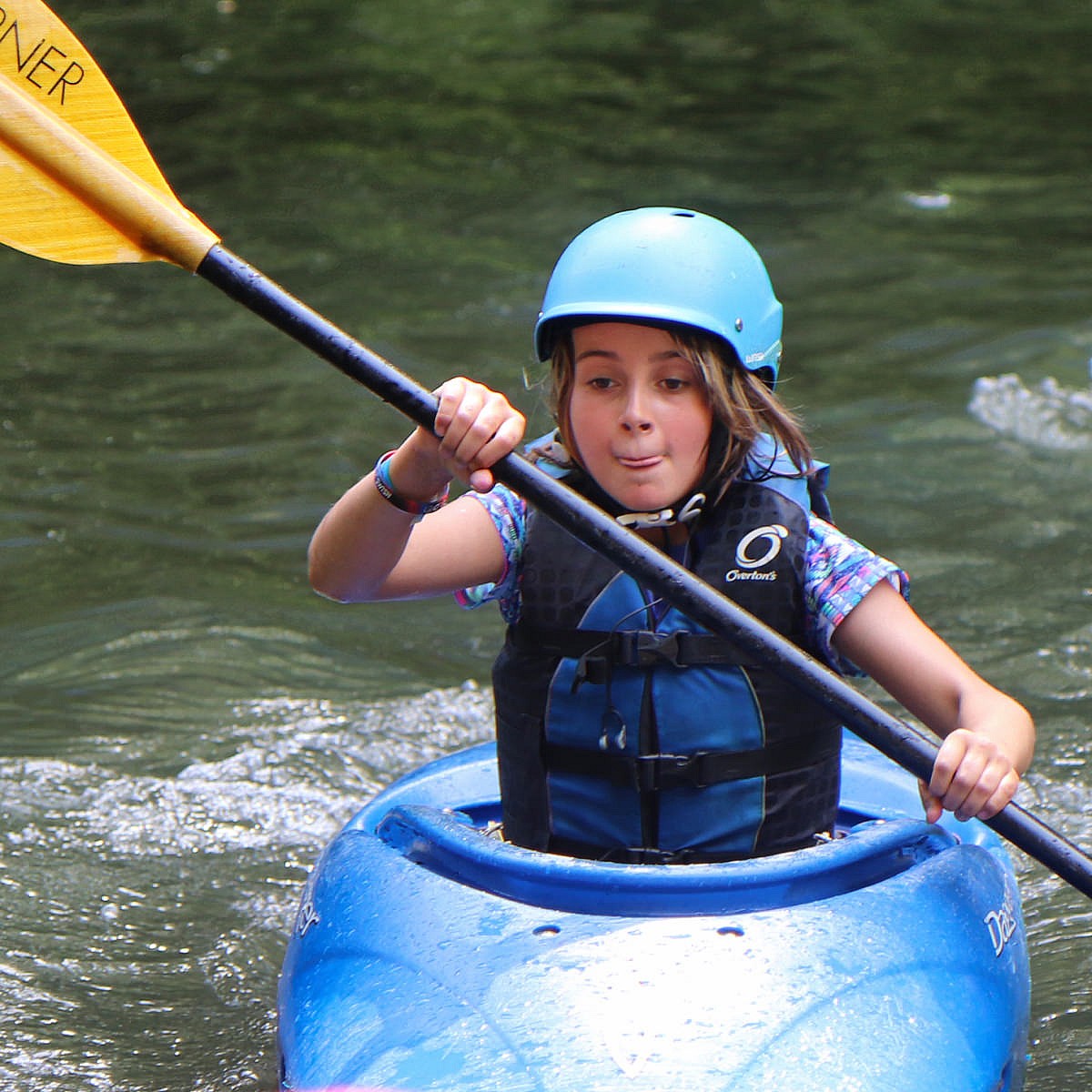 It's also common for campers to use these free swim periods to meet up with friends from different cabins or even different age groups. They'll meet at one of the tetherball courts, the gagaball pit, or the new nine square in the air court. The youngest girls have fun during free time playing in the creek by Curosty. They'll take their shoes off and wade in the water, rearranging rocks to make waterfalls and currents. Others will grab their crazy creek chairs and sit on the hill reading. It's the same for the many red rocking chairs on all the porches at camp; they're great places to relax and read a book.
During the after-dinner "twilight" time, we always schedule some kind of optional activity. It varies from playing a huge game of dodgeball in the gym to a hula hooping contest on the hill. Last night, a couple of counselors led a session of joke telling, essentially a group stand up comedy show. The counselors take turns leading these twilight activities, so you never know what will be announced at dinner.
Perhaps the best thing, however, to do with this free time is to take advantage of the freedom and simply do nothing. Yep, it's nice for these campers to give themselves permission to just relax with no expectations of productivity or progress. Some of the older girls love this. They take showers, hang out and talk, and just soak in the vibe of camp… completely at their leisure. Like that resort vacation where you spend all day at the pool ignoring other amenities and activities, these girls enjoy just being at camp with their friends. That's the core experience for them, and it's made even better somehow during their free time. For them, it might be "free," but that makes even more valuable.