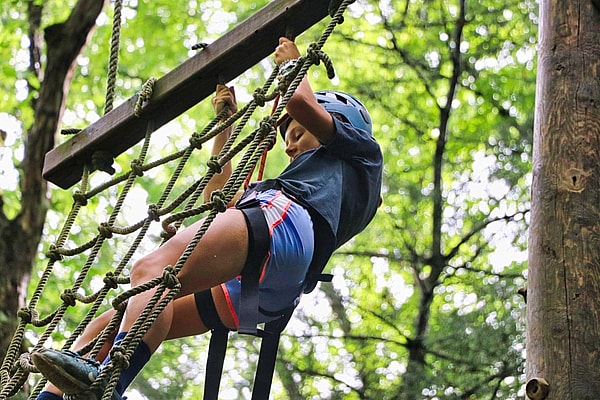 Watch out for those climbers! All morning at the high ropes climbing tower set in the woods behind the gym, girls were scurrying up different elements to reach the 50-foot-high platform perched high in the trees. Three girls can climb on the tower at the same time, each pulling up on a different rope, log, or handhold. This allows the ordinary group of nine girls to climb multiple times during their 1-hour activity period. During the class of older girls, the climbing staff was teaching belay techniques, giving those interested a chance to run the rope for a climber. With the staff member keeping two hands on the rope as a backup, the girls had fun helping each stay safe while climbing… not to mention, climbing themselves!
Since it's Wednesday, we paused our regular activity schedule in the afternoon for a chance to do something special as cabin groups. Ordinarily the girls run off and follow an individually selected set of activities, so it's nice to do something together once a week. The cabin group and their counselors decide what to do too!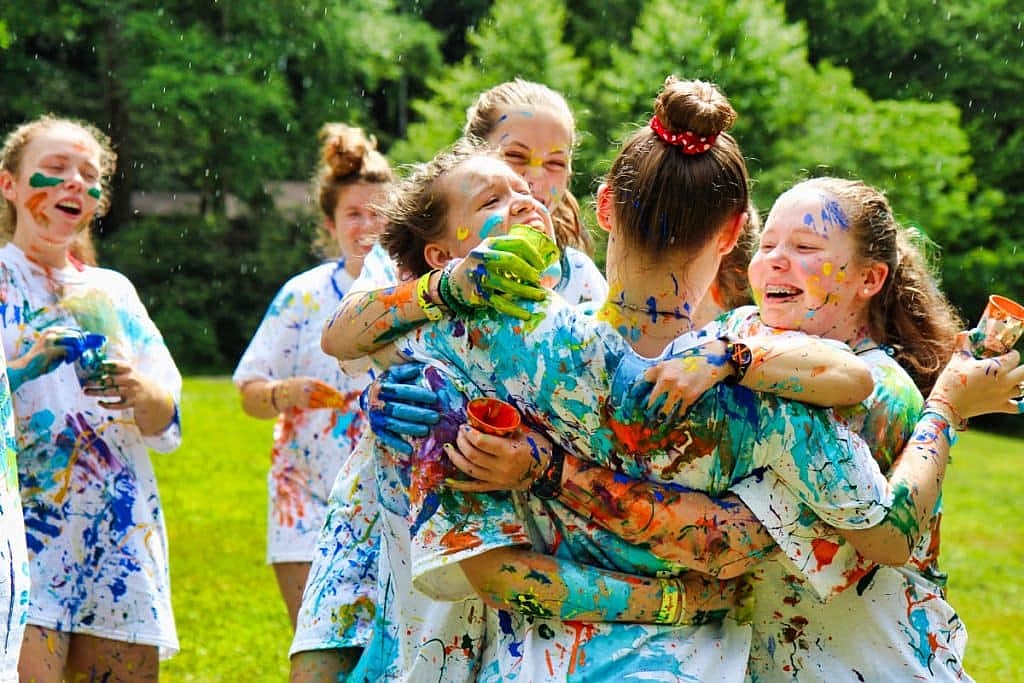 Today there were some really fun cabin day activities going on. One group hung out at the lake, while another took a hike to Rockbrook Falls. The CA girls did a blind trust walk led by their counselors, eventually ending up to watch a movie. Another Senior cabin enjoyed a "color war" of sorts on the hill. They all put on new white t-shirts and, armed with cups of colorful paint, had a hilarious time splattering each other and being joyfully messy. A cabin of Juniors decided to have an afternoon, outdoor spa experience that involved giving each other an avocado face mask complete with a cucumber eye treatment. Very fancy! There was a little joyful mess here too as the girls relaxed on the grassy hill by the creek allowing their cleansing treatments to do their work.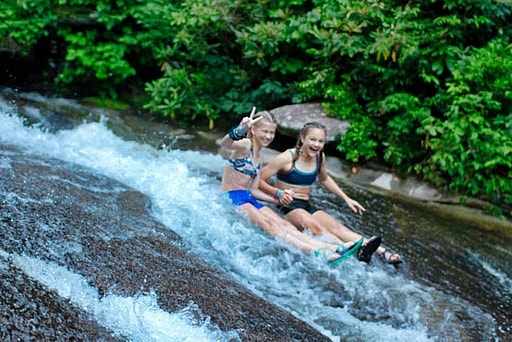 For all the Middler girls and their counselors, today was their chance to visit one of the most popular spots in the Pisgah National Forest— Sliding Rock. Like a little army of 100 people, we drove into the forest to have a picnic dinner and run around a bit. The kitchen packed us trays of hot pasta, salad and fruit, more than we could possibly eat. We arrived at Sliding Rock and found it deserted, perfect for our army to conquer! After a brief introduction, it took no time for our middlers to be zipping down the 60-foot water slide to the pool below where our lifeguards were waiting. We slid for more than an hour, until it was getting a little dark. Our final stop was Dolly's Dairy bar, everyone's favorite ice cream shop conveniently located at the entrance of the forest. You have to drive by it to go to Pisgah, so we can't not stop on the way home. And the girls, of course, love it! Dolly's has specialty flavors named after many of the local summer camps. "Rockbrook Chocolate Illusion" seems to always be popular with the girls. Very chocolatey, and delicious. A little chilled, but still excited and happy, the girls returned to camp ready to warm up and rest of the night. It was a great day.