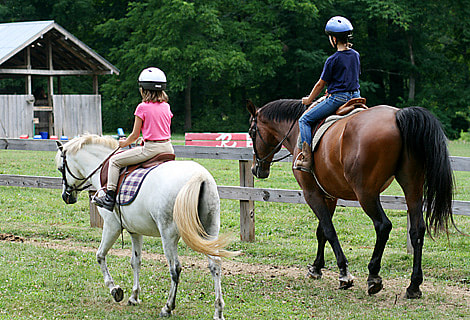 One common question about our horseback riding program is whether all the girls at camp, from the smallest kindergartners to the oldest teenagers, can ride while attending Rockbrook. The answer is yes! We are very careful to tailor our riding lessons to accommodate both absolute beginners as well as those teen horse girls who want to spend as much time as possible at the equestrian center.
For those girls who are brand new to riding, camp is a perfect place to develop their interest and take their very first ride. They will learn important safety rules, how to mount, riding positions, how to communicate with their horse, and so much more. They will get to know some of the experienced, gentle ponies Rockbrook has especially suited for beginning horseback riders.
For older, and more advanced horse girls, there are special mounted lessons to match their ability as well. The Rockbrook horseback riding program is ready to teach more difficult riding techniques and likewise has great, well-schooled horses for skilled riders.
There's horseback riding for everyone at Rockbrook!