Let's start with the food. It's really been fabulous this summer, and today's meals stand out.
Lunch was a chance to get creative as Rick and his crew provided an array of ingredients for everyone to make their own "breakfast sandwich." Breakfast for Lunch! He had english muffins, with eggs and cheese, breakfast meats, avocado, lettuce, tomato, and an array of condiments. He served fresh local blackberries on the side. But for dinner, as part of our "centennial celebration," Rick pulled out all the stops! He made fried chicken, mounds of mashed potatoes, gravy, fresh green beans, and homemade biscuits… 770 homemade, cut-by-hand, biscuits! What a meal! Then to top it off, let me introduce you to the dessert known around here as a "Rockbrookie." Sydney, one of our bakers, invented these triple-layer bars: chocolate chip cookie on the bottom, a layer of Oreo cookie in the middle, and brownie on the top. One of a kind delicious!
Just about all day, and almost everyday, the looms in Curosty are in motion. Girls of all ages take turns sitting and working the warp and weft, using colorful yarns to weave swatches. Often, the girls keep these handmade pieces of cloth to use them as placemats or simple decorative pieces, but they can also be sewn into small pillows or bags.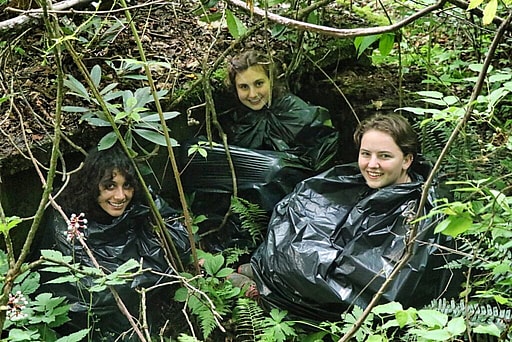 After dinner tonight, we held a counselor hunt. This is a very popular all-camp activity where the staff members do their best to hide somewhere in camp and the girls travel around in the their cabin groups searching. Being so wooded, Rockbrook has loads of great hiding spots. Many counselors dress all in black, and often cover themselves with a trash bag. One actually hid inside a trash bag, inside a trashcan! Others hid inside canoes, or covered themselves with leaves. The girls have a great time racing around the camp searching for these hidden staff members. Some were found right away, and others not at all. When we rang the bell to signal the "all clear," all but a handful were found. Each counselor hiding had a key that they gave to the cabin group who found them. Then out of all the keys, only one opened a "treasure box" that contained a few small gifts for the cabin. The cabin groups took turns trying their keys to see if theirs was the one. The box also revealed that later tonight we would have a fireworks show!
When we show fireworks at camp, it's a great time for the girls. They gather on the hill in their crazy creek chairs and look toward the sky above the lake. We launch from the lake, so when the colors burst in the sky, they are easily seen by the girls on the hill above. We play fun dance music, hand out glow sticks for everyone, and serve popsicles right before getting started. There's nothing quite like fireworks to celebrate, and since it's Rockbrook's 100th birthday this year, this was perfect.
I'll leave you with a short video clip of the show. You can just make out the singing and cheering over the sound of the explosions.