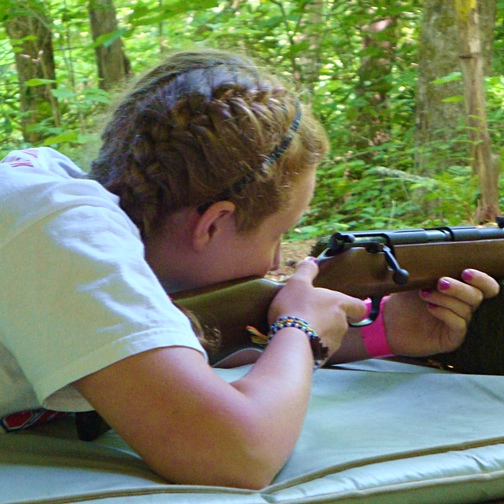 The riflery activity at camp, target rifle shooting, is something that really grows on you. Once you learn the safety rules at the rifle range, and get used to the basic techniques (not to mention the sound and smell of guns going off!), what can you do to improve your shot at camp?
Well, here are two important tips for shooting well. First, you need to have smooth trigger control. Learn to apply slow, consistent pressure to the trigger of the rifle so you can fire it without jerking. Squeezing the trigger quickly or erratically will definitely throw off your aim and mess up your shot. Next, it's just as important to control your breathing when shooting, to take deep slow breaths rather than quick or hurried breaths. Here too, breathing too rapidly can make it difficult to aim steadily. Holding your breath just before pulling the trigger can help. Overall the goal here is to hold really still so you can make very small adjustments while aiming your rifle.
Back at camp you'll have plenty of time to practice your shooting.