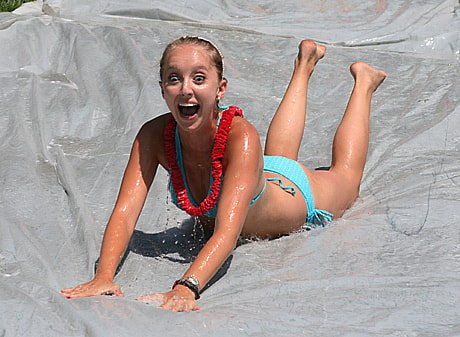 Being a camp counselor at Rockbrook is a lot of things. It's a job that requires you to be a well-rounded mentor, someone who is part friend, part older sister, part parent, and part teacher. It means wearing lots of hats, cheerfully accepting a wide range of responsibilities. It definitely requires hard work, creativity, patience and stamina. The pace of camp life is full speed!
But perhaps surprisingly, for the counselors at Rockbrook, working at camp is also unbelievably fun. This is because our staff members simply love being around kids. They enjoy helping the campers with their activities, participating along the way. They get a huge kick from dressing up, singing songs, playing games, and generally being pretty silly— just like the campers. Cannonball off the diving board? You bet. Trip down the slip 'n slide? Oh yes. Wear a Super Hero costume to dinner. Definitely. Rockbrook counselors are the kind of people who wouldn't think of passing up a chance to join the girls in whatever they're doing.
That's why it's such a blast to work at camp. It's nonstop action. It's being right smack in the middle of a hugely fun time for everyone.