As we said goodbye to our July Mini I campers today (we miss you already!), many of us took the chance to look back on the last two weeks at camp and celebrate all the memories we made together. The night before campers leave is a perfect time to reminisce on the session — the whole camp comes together for one of our oldest traditions, Spirit Fire. We gather at the campfire circle at Vesper Rock, which overlooks our beautiful lake. As the sun sets, we sing classic Rockbrook songs and listen to fellow campers and counselors speak about what their time at camp has meant to them. Once it's completely dark, the directors begin lighting candles!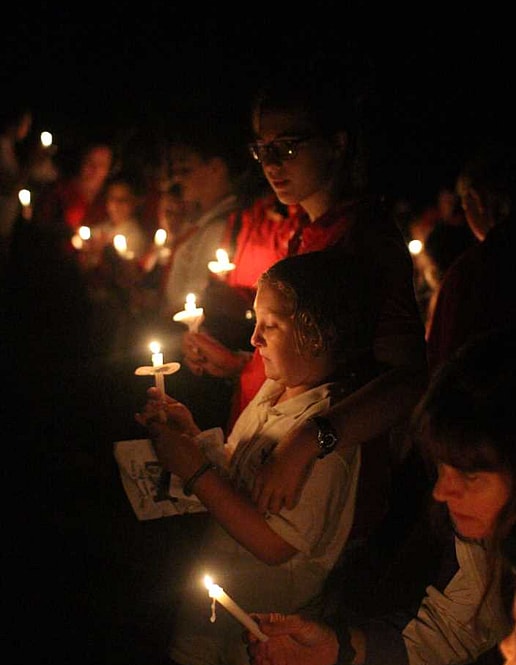 We circle the lake, lit by candlelight, and enjoy our last moments together. Spirit Fire is one of my favorite traditions at Rockbrook. My favorite part is listening to what each speaker has to offer. Campers from each line speak — a perfect mix of new and returning girls. Some are funny, some are sweet, some are wise, and all are perfect in their own ways. As we said goodbye to our mini-session campers last night, one counselor perfectly captured the feel of Rockbrook, no matter whether it is your first year or you've been coming to camp for as long as you can remember.
"It can be hard to take it all in. That's why my favorite thing to do at Rockbrook is close my eyes. The first time I remember doing this was a spirit fire. I shut my eyes, soft singing still in my ears, and when I opened them I could see all the candles reflected in the lake and all the faces that looked like they were glowing from within. There are moments like that here, that feel so bright it's overwhelming. It helps if you close your eyes and try to absorb as much as possible…Then, when it's winter and I'm home, I can close my eyes and picture it all again, knowing that when I'm really there, it's better than I can imagine." – Miriam Ellis
We can't wait to see all our July Mini I campers again next year, but for now, close your eyes and picture all your favorite moments again. And for our Mini II campers coming on Sunday, we can't wait to see you! Whether you've been to Rockbrook before or not, I can promise that no matter what, it'll be better than you can imagine.