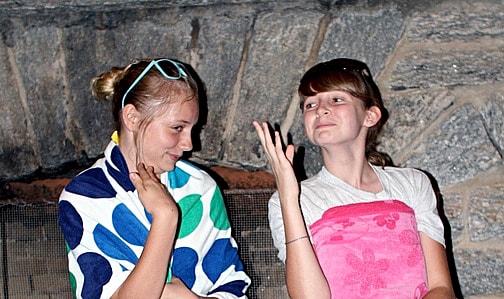 OK. So you've always thought it would be fun to act… perform a short scene, maybe create a character or personality, develop a story line. You're a secret performer at heart. Sure, but the problem is, when do you do it? Who's going to be watching? What will people think if suddenly you turn into a sweet old lady, or a glamorous Hollywood starlet, or a cranky bus driver?
That's another fun thing about camp; there's plenty of chances for acting. In addition to the Drama activity that meets most every day, you can join the group of girls producing the end-of-session musical (Did I mention singing too?). Also, some of the evening program activities provide opportunities to perform for your friends.
A great example of this is "Fractured Fairy Tales," a fun game where each cabin of girls presents a skit combining more than one classic fairy tale. Can you imagine Little Red Riding Hood and the Three Little Pigs in the same story? Needless to say, it can be pretty funny. Each cabin takes a turn performing its skit. With so many characters, everyone plays a part. It's also fun to watch the other skits when its not your cabin's turn.
Once you try acting at camp, it could become one of your favorite things to do!