Welcome to Rockbrook Camp for Girls
Rockbrook is a sleepaway summer camp for girls located in the "heart of a wooded mountain" in western North Carolina. Founded over 100 years ago in 1921, our summer camp continues to provide an exciting and enriching, fun and formative, camp experience for girls and teens ages 6 – 16.
A Unique Camp Experience for Girls
Rockbrook provides a unique overnight summer camp program of recreation, adventure, creativity and fun. From horseback riding, whitewater rafting, pottery, and swimming to camp fires and exploring a chilly mountain stream, each day at camp is filled with new experiences and great opportunities to develop lasting friendships.
How it's so Special
Life at Camp
There's a magic of fun and friendship, a real caring community, that feels 100% amazing.

See it in action in this short video!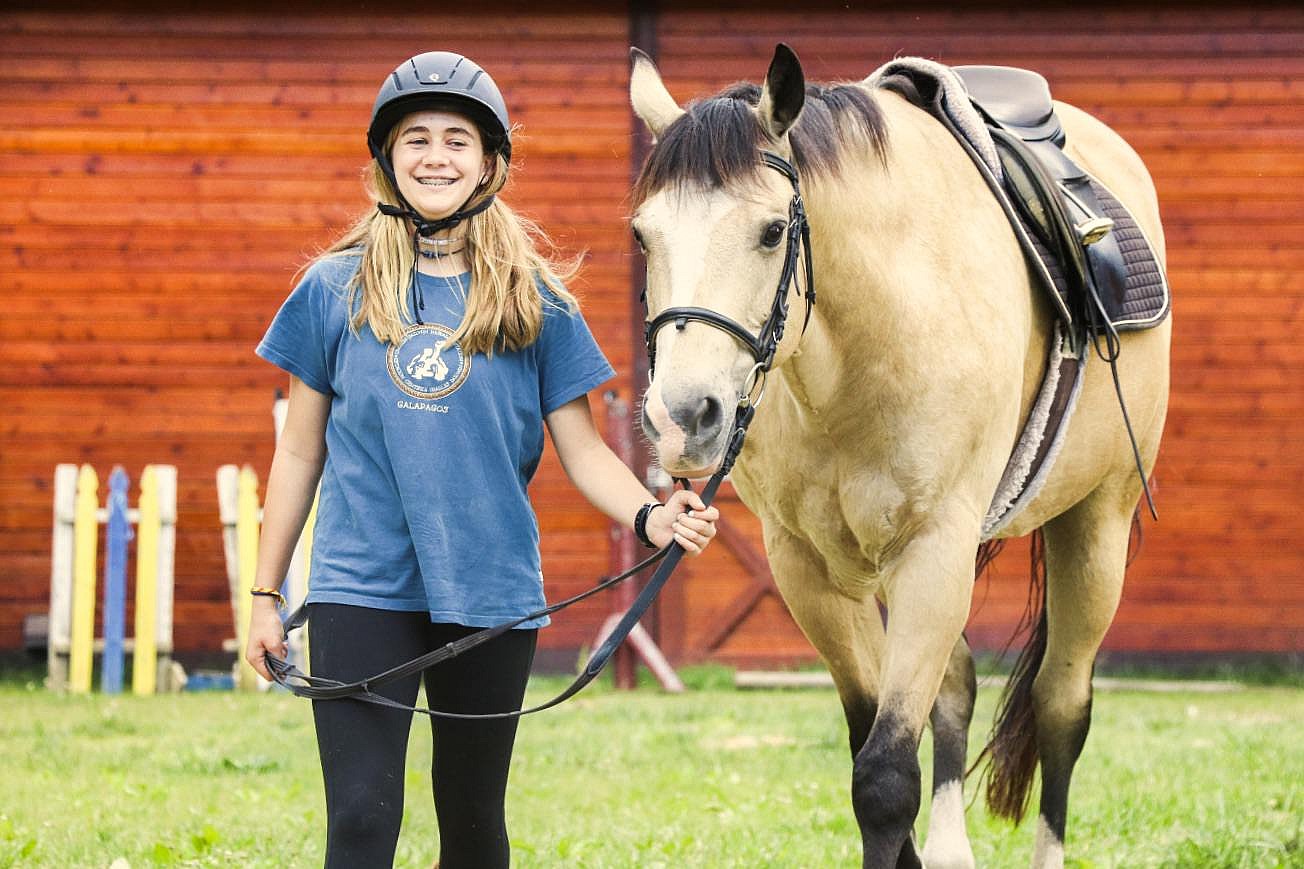 Horse Crazy?
Summer Horseback Riding Camps
The Rockbrook equestrian program combines qualified staff, experienced horses, and excellent facilities to create an atmosphere where girls can advance their horseback riding skills, expand their horsemanship knowledge, and enjoy riding with friends.
Learn about Riding at Camp
"My daughter came home just bubbling with self confidence! She had a wonderful counselor and I'm so pleased with how much she's grown personally and socially. Absolutely priceless!"
Sports and Games
Rockbrook has an fun sports and games program of activities for its campers. With an emphasis on fun and action, girls at camp can play different ball games, learn target shooting sports, heat up with field sports, and cool off at our unique mountain waterfront. There are seven different sports activities available.
Camp Sports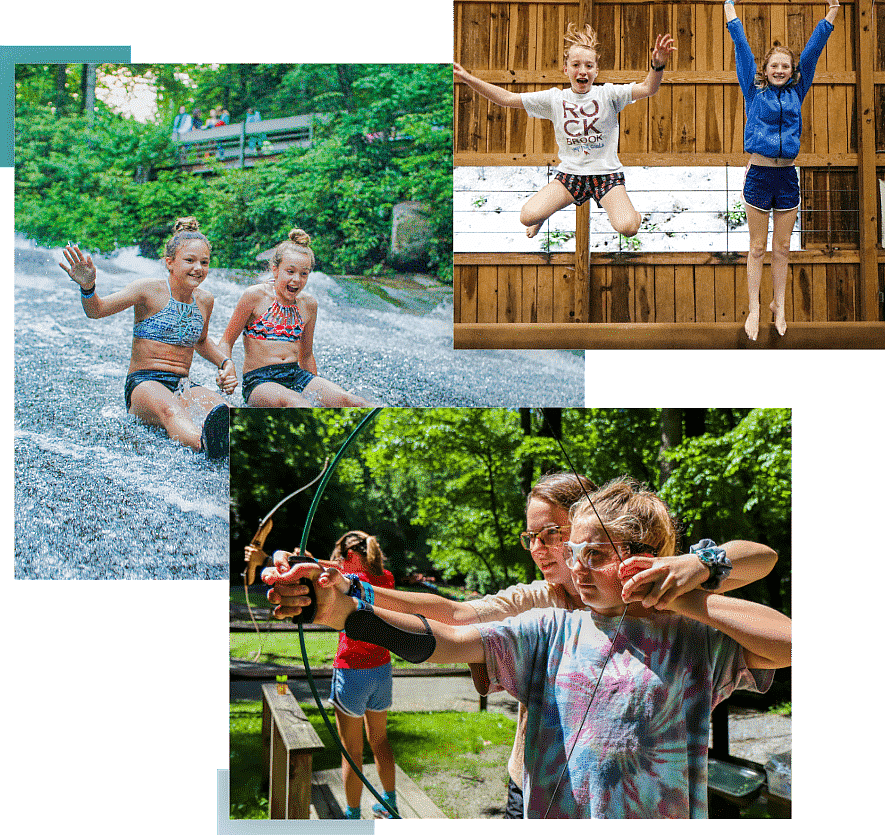 Explore your Creative Side
Rockbrook has an extensive arts and crafts program designed for its campers. With an emphasis on fun and creativity, girls at camp can be immersed in color while learning to weave, to throw a bowl on the potters wheel, to paint, to sew, and so much more! There are seven different craft activities available.
Camp Arts and Crafts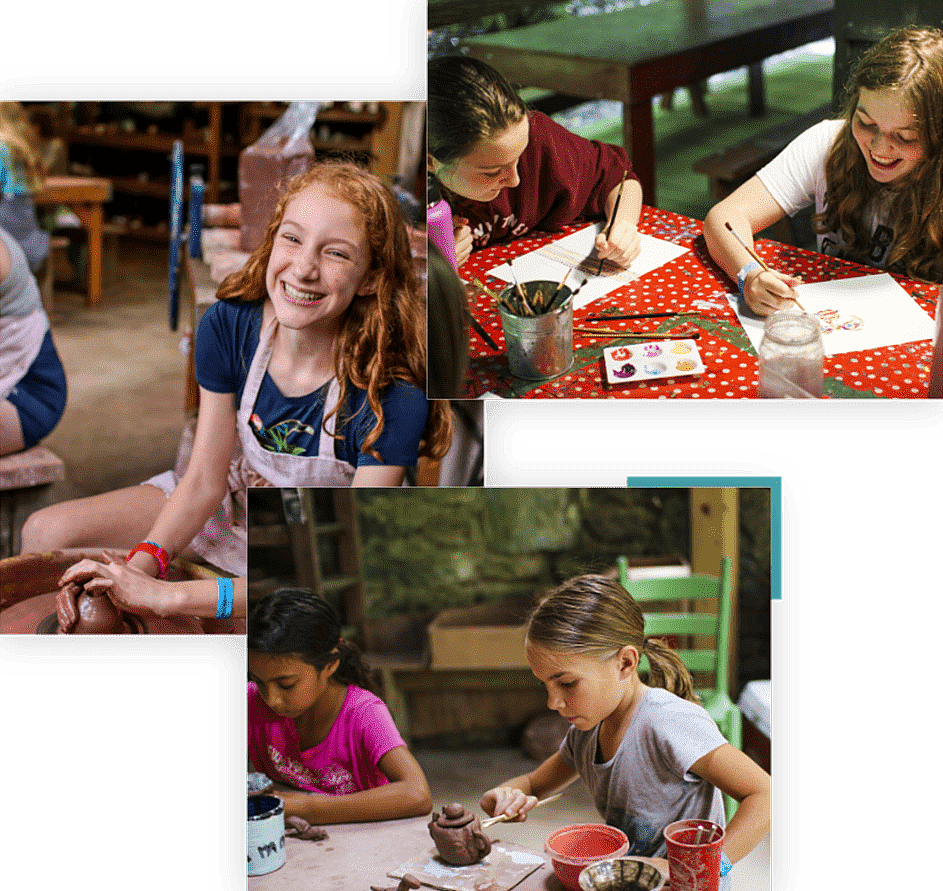 Outdoor Adventure
Paddle, Hike, Climb!
There's adventure and outdoor thrills around every corner at Rockbrook. Blast through the rapids rafting and kayaking. Hit the trail for a backpacking or hiking trip. Scream through the trees on our zipline course. Rock climb to the top for an amazing view.
We're outside at camp!
Adventure Activities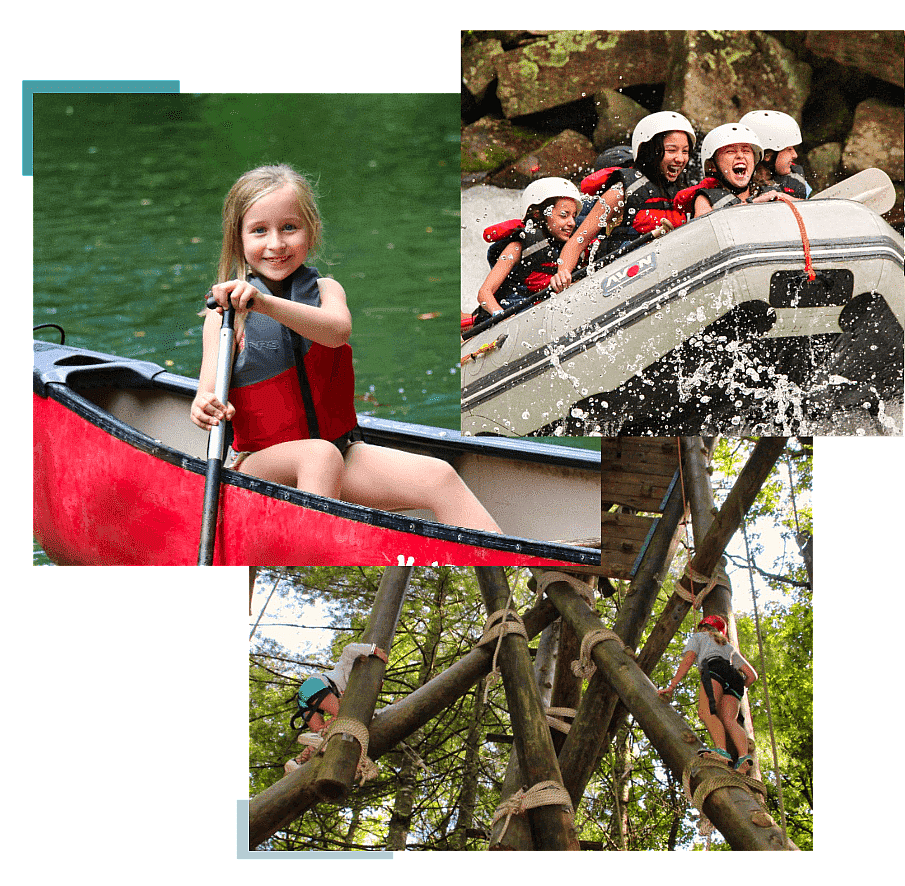 For many of us this was an especially emotional evening because we held our last Spirit Fire of the summer. The Spirit Fire is another of the long traditions at Rockbrook, something that's been a closing ceremony for every session since the camp's founding more than 100 years ago. It's a campfire ceremony held on…
Read More

: A Profound Closeness
The surprise everyone was waiting for was finally revealed last night. Planned from the very first day of camp, this was a well-kept secret all session long. The CA campers (9th graders) presented their banquet, an all-camp party to celebrate the session and our time together at camp. What's kept a secret is the theme…
Read More

: A Rockbrook Slumber Party
My friend recently visited Rockbrook with her daughter, a prospective Rockbrook camper. They had a wonderful visit, and I wasn't surprised when she described Rockbrook as "magical." If you read the camp blog on a regular basis, you know that the magic of Rockbrook is a recurring theme. Over the past few years, there have…
Read More

: Magic from the Outside
We would be happy to send you a copy of our camp catalog. It's a great way to learn even more about Rockbrook, its programs, different sessions and activities.
Get your copy now