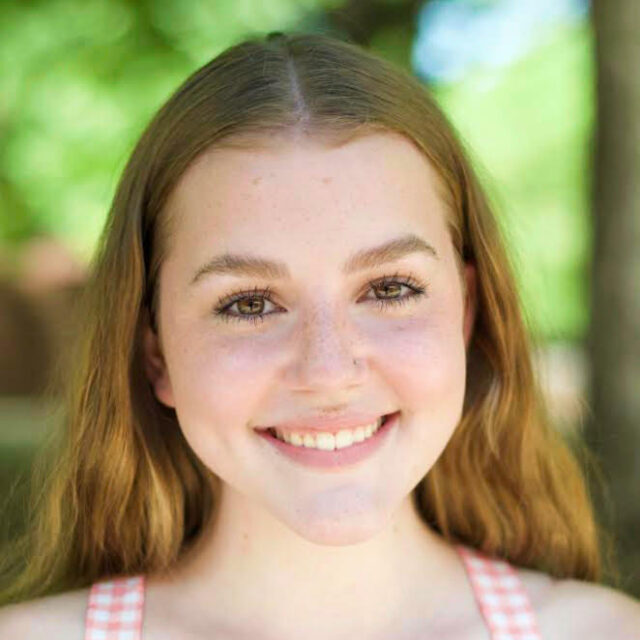 Sophie Lyman
Hey there, hi there… I'm Sophie, and I can't wait to be back for my 7th summer at Rockbrook! I'm about to graduate from Paideia School in Atlanta, GA but I'll be moving to St. Louis, MO in the fall as a freshman at WashU. GO BEARS!! At camp, I'll be a cabin counselor (likely on the Middler line) and activity teacher during the June and July sessions. MY favorite spot at Rockbrook is the Middler Lodge porch. I love listening to the creek from up there while I work on a friendship bracelet! In my free time at home, you can find me playing ultimate frisbee, on stage in a musical, or coaching Girls on the Run. My perfect day consists of a trip to the thrift store with friends, homemade dinner, and a terrible movie we can laugh at. I'm so excited to meet you all in the heart of a wooded mountain! See you soon!
Fun Facts
A Surprising Thing About Me
I'm a captain of my school's quiz bowl team!
Favorite Quote
"But no living man am I! You look upon a woman." -Eowyn, Lord of the Rings
Favorite Movie
Booksmart (dir. Olivia Wilde)
With an hour of free time, I like to...
do a really nice facemask
Sing, Dance, or Both?
Both! A musical!
Last Book I Read?
"The Girl With the Dragon Tattoo" by Stieg Larsson
Personal Interests
singing, sewing, skincare, reading,
Favorite Camp Food
Funfetti muffins. Forever a classic.