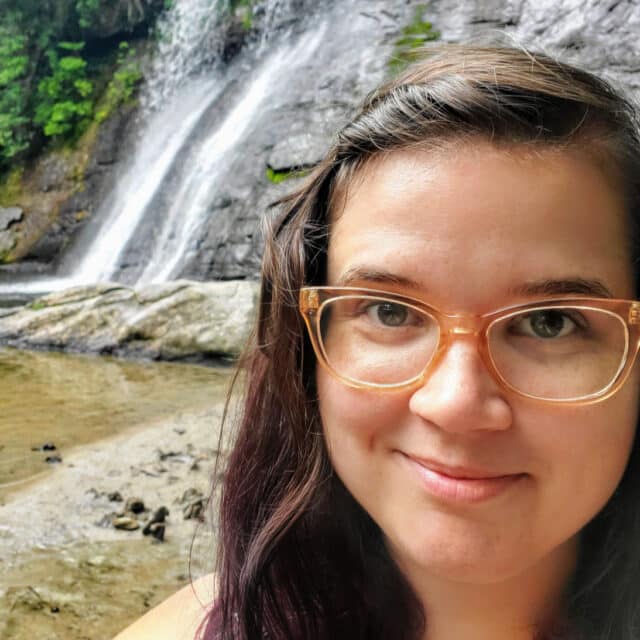 Melody Parish
Hello! I am originally from Kentuckiana (or Indyucky), the southern Indiana-Louisville, Kentucky border, but have been in Brevard now a little over a year. This will be my second year at Rockbrook and I'm happy to be "back": I've loved my time spending the fall and spring cleaning up beds, planting and transplanting new flowers and plants, and bordering the gardens around camp. Last year I immensely enjoyed my time as a photographer, hiking around camp all day capturing campers' smiling faces and all the beauty and fun of life on camp. This year I am excited to be one of the Needlecraft specialists, sharing my love for embroidery, creative mending, and any form of creativity with a needle and thread. When I'm not on the Curosty porch, you'll find me admiring and identifying native plants and critters, pulling errant blades of grass from flower beds, refilling the bee and butterfly waterer, and sticking my feet in the creek.
Fun Facts
Favorite Movie
Hocus Pocus
With an hour of free time, I like to...
Be outside with my dog, Pete-za, or watch something funny
Sing, Dance, or Both?
Sing-especially harmonize
Last Book I Read?
'Woodsqueer: Crafting a Sustainable Rural Life' by Gretchen Legler
Personal Interests
Playing old time and folk music, growing things, crafts of all kinds
Favorite Camp Food
I *cannot* get enough oat bars!